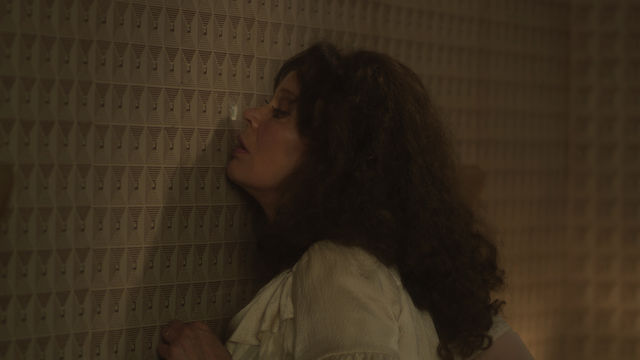 Hammer Projects: Aïda Ruilova
–

This is a past exhibition
In her expressive and rhythmic films and videos, Aïda Ruilova deftly manipulates sound and expression and her fascination with horror movies always hovers near the surface. Her more recent, longer works take her gothic, B-movie style further with short narratives that are never fully resolved and always leave us wanting more. For her Hammer Projects exhibition in the Video Gallery, Ruilova will produce a new film or video in Los Angeles as part of her Hammer residency.
Organized by Hammer curator Ali Subotnick.
Biography
Aïda Ruilova was born in 1974 in Wheeling, West Virginia, and lives in New York City. A major traveling exhibition of her work, Aïda Ruilova: The Singles, 1999–Now, co-organized by the Aspen Art Museum and Contemporary Art Museum St. Louis, is on view at the Contemporary Arts Center New Orleans through July 14, 2009, and concludes its tour at the Museum of Contemporary Art Cleveland. Her work has been included in several important international exhibitions, including Sympathy for the Devil (Museum of Contemporary Art, Chicago, 2008), the Whitney Biennial (2004), the Berlin Biennial (2006), Uncertain States of America (Astrup Fearnley Museum, Oslo, 2005), and the Venice Biennale (2003). She has had solo exhibitions at the Kitchen, New York; the Moore Space, Miami; and the Center for Curatorial Studies, Bard College, Annandale-on-Hudson, New York.
Essay
By Sonia Campagnola
Dreams and nightmares often leave a vivid impression in our memory, but describing them can be very difficult. Although we know exactly what the feeling was, the plot is fuzzy, and the details fade into one another. Imagination supplements their daylight reconstruction. Such is the nature of Aïda Ruilova's short films and videos.
Most of Ruilova's earlier videos are less than a minute long. Like haiku, they aren't narrative, but they concisely illuminate a situation. Shots of lone young women or men gesturing obsessively or keening idiosyncratic sounds or words in corridors, basements, stairs, or cellars are broken down into short sequences of a second or less. The editing—cognizant of the teachings of structuralist cinema and earlier experimental filmmakers such as Sergei Eisenstein— employs jump cuts, repetition, and loops. As a result, the characters seem trapped in an evil spell. Although infused with irony, they are in distress, possessed by paranoia, tics, and erratic behavior. For their condition there is no epiphany. In the videos Let's Go (2004), Uh Oh (2004), Um (2004), Ok (2005), and Alright (2005), each character mutters the work's titular syllables. The shots are taken from extreme angles, and the camera swings obliquely, abruptly zooming in on details like a chin or a hand or using a simple architectural element to mask part of a subject's body and obtain an almost abstract composition. Sound is treated as image: short segments—for example, the ringing of a bell or overheard voices—are intercut in syncopated rhythms. So fast is the editing that memory is reduced to single frames and fragments.
For Ruilova—a former member of a noise punk band—music, and especially punk rock and noise metal, is also an iconographic source. You're pretty (1999) takes place in a cavelike basement in which a frantic young man alternately scratches a vinyl record on the floor and emphatically embraces an amplifier while repeating the title phrase. The détournement of punk-rock icons to objects of sexual desire is humorous, but the scene is nightmarish and conveys a palpable sense of torture and aggression. Black metal music evokes associations with horror stories, secret rituals, zombiism, and esoteric Blakean visions. In It had no feelings (2003), two diaphanous girls recite an enigmatic litany standing in the dark water of a pool in the moonlight. (The dark, impenetrable surface of water is a recurring motif in Ruilova's work, implying the unseen and the unknown. In Two-Timers (2008), a woman recites poetry to a rat she holds in her hands while immersed in a moonlit pond.) The themes in Ruilova's lexicon—esotericism, suspense, the macabre, eroticism—are also paradigmatic of gore, vampire, X-rated, and B movies. French filmmaker Jean Rollin, master of soft-core horror, is literally the artist's mentor. An homage to his persona, life like (2006) combines footage from his movies and shots of an actress (impersonating the artist) either cuddling the supine body of Rollin (who plays himself, dead) or forcing him to perform an endless series of autographs. Parts of the video were shot in Rollin's Paris apartment, a setting that in some sense represents Ruilova's cultural origins.
Meet the Eye (2009), debuting at the Hammer Museum, is Ruilova's latest work and so far her most ambitious, and here the location is equally critical. Shot on a soundstage in Los Angeles and performed by two L.A. cult figures, Meet the Eye focuses on a couple. The man—played by artist Raymond Pettibon—torpidly repeats the same lines over and over. The woman—played by Karen Black, the quintessential experimental actress wavering between Hollywood classics and B movies—is transfixed, trying to remember something. There is no explicit sexual encounter between them but rather a seductive tension.
In a hotel bedroom set in an indeterminate present, the man is secretly cutting a peephole into a wall. Exerting a controlling influence on the woman (suggestive of the powerful gaze of the camera itself), he slowly leads her toward the hole. She finally finds it, looks through it, and sees a scene of death. In a dark, smoky void, a body lies on the ground wrapped in a blanket. It's the same scene she was trying to recall earlier. Maybe she is remembering something, recounting her own death, or having a vision. The plot is open to interpretation, but the feeling is that—in this uncanny, dreamlike dimension—she ultimately meets herself. Images generated by internal reverie may be ephemeral, but their power to influence our perception of reality is enormous. The woman's confused mental and physical milieu is emphasized by occasional shifts from glossy images shot with Red digital, a new technology with the resolution of 35mm film, to pixilated low-resolution scenes shot with a now-obsolete Hi8 camera.
The two locations—hotel bedroom and dark void—are not only archetypes of cinema noir, they are also allegories for two mental environments. If in Roman Polanski's Repulsion a sinister, claustrophobic apartment becomes a projection of the protagonist's deteriorating mental state, in Meet the Eye the bedroom reflects the characters' disoriented psyches, and the hazy, undefined nonsite conveys the dimension of illusion. The peephole serves as passageway between the two dimensions. 
In painting, the window has been a favored motif for suggesting a transition to another world. But moving images have multiplied such visual metaphors: windows, holes, keyholes, doors, mirrors, camera lenses. Add to that the numerous depictions of the eye: faceless, disembodied, and evil, eyes peering through holes, glinting throughout horror movies and thrillers. And it is no less a trope in seminal avant-garde cinema. Think of the violated eye at the beginning of Luis Buñuel's Un chien andalou; Dziga Vertov's dissolve from eye to camera lens—thus shifting from representational to authorial space—in Man with a Movie Camera; Maya Deren's sequences of a key, a keyhole, a door, an empty house, a window, and finally the eye of the protagonist to introduce Meshes of the Afternoon. The semiotics of vision found solid roots in the movie industry too: in Alfred Hitchcock's Spellbound, a theater curtain patterned with drawings of eyes opens onto a story of paranoia and lost memory; in Michelangelo Antonioni's Blow Up, the image of a photographer's camera is the narrative device that brings the protagonist to discover a new reality. All these symbols—door, window, disembodied eye—are used in the opening sequence of the late 1950s TV series The Twilight Zone to invoke "another dimension." 
A revelatory sequence closes Meet the Eye: while the characters gaze through the peephole, the camera looks back and exposes the two sets for what they are. At the same time the noise of a hole being cut into a wall gets increasingly louder. What the subjects watch—what we watch—is an illusion. 
The epitome of imagistic evanescence can be experienced in Marcel Duchamp's installation Étant donnés (1946/66). The gaze though two peepholes in a wooden door brings the viewer into a brilliantly illuminated, phantasmic landscape in which the figure of a nude woman lies with her legs open and her sex exposed. The visitor unintentionally turns into a voyeur and an accomplice, but the instant he/she steps back from the door, the image dissolves like a mirage. Just as in Ruilova's Meet the Eye, memory will reconstruct a new version of it—one as vivid yet as vague as that of dreams.
Sonia Campagnola is an art critic and curator based in Los Angeles. She is an editor of Flash Art and has written for a variety of publications, including Frieze, Rolling Stone Italia, Art and Auction, and Afterall online.
Hammer Projects is made possible with major gifts from Susan Bay-Nimoy and Leonard Nimoy and The Horace W. Goldsmith Foundation.
 
Additional generous support is provided by the Los Angeles County Arts Commission, Good Works Foundation and Laura Donnelley, L A Art House Foundation, the City of Los Angeles, Department of Cultural Affairs, the David Teiger Curatorial Travel Fund, and Fox Entertainment Group's Arts Development Fee. 
Hammer Projects: Aïda Ruilova is presented through a residency at the Hammer Museum. Meet the Eye was produced as part of the Hammer Museum's Artist Residency Program. The Hammer Museum's Artist  Residency Program was initiated with funding from the Nimoy Foundation and is supported through a significant grant from the James Irvine Foundation.
Special thanks to Maximum Entertainment and Isolated Ground for their generous support.