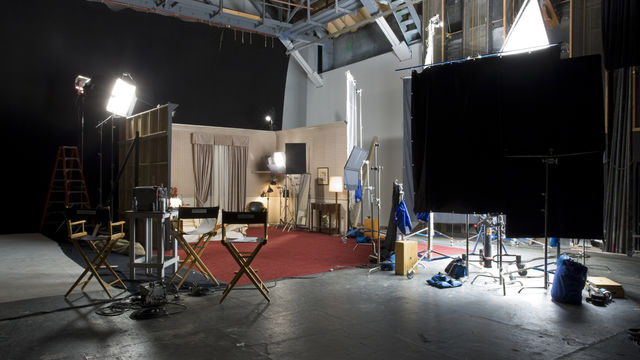 New York–based artist Aïda Ruilova conceived and produced her most ambitious work to date during her eleven-month Hammer residency, from August 2008 to June 2009. After multiple short trips to Los Angeles—during which she visited historic locations and architecturally significant buildings and met with actors and artists who appealed to her interests in noir and L.A. iconography—Ruilova shot Meet the Eye (2009), starring actor Karen Black and artist Raymond Pettibon, on a soundstage in Silver Lake.
Ruilova's work often deals with themes prevalent in B horror movies—including suspense, the macabre, rituals, and eroticism—and she seized upon Los Angeles as an inspiration for a deeper exploration of these threads. Among the sites she visited were Frank Lloyd Wright's Hollyhock House, the Hollywood Forever Cemetery, Forest Lawn Cemetery, and Chinatown. As she explains: "I was watching all of these classics, like noir films that I hadn't seen, Kiss Me Deadly and other films with archetypal aspects of L.A. So I started writing a script, which I've never done before."
Always a writer and a storyteller, Ruilova said that writing a script felt natural for this project, especially in the heart of the film industry. Her process for making the film became more ambitious as a result, and she felt that working with a professional actor for the first time was necessary to the success of the project. "When I started writing, I thought it would be great to have a real actor work with the script. I've always been used to working with nonactors and people who aren't often in front of the camera. Yet it was important to me to have someone like that also, because I didn't want it to be too glossy." She began thinking of a couple, a man and a woman, as the characters in the film, and Karen Black and Raymond Pettibon immediately came to mind.
Black, whom Sonia Campagnola describes as "the quintessential experimental actress wavering between Hollywood classics and B movies," appealed to Ruilova not only because of her status as a gay icon but also because of the unusual combination of strength and lightness in her personality. For the male character, Ruilova wanted someone who was not used to being in front of a camera: "The first person I thought of was the artist Raymond Pettibon. I've always loved his work. He's such a great artist, and he's also really very much the L.A. part of this; he's from here. And I didn't know if he would be good in front of the camera or not, but I had seen stills of him, and I just hadn't forgotten them. They stuck in my head."
Ruilova describes the process of working with these Los Angeles icons as highly collaborative, with the script molding itself to the dynamism of these two personalities and their interactions. The script, with multiple rewrites and markups from both actors, can be seen in the above slideshow. She says, "I really had no idea what to expect, and I think that was good for me." Ruilova also worked with a professional film crew for the first time, and that challenging experience of collaborating on a much larger scale pushed the work to grow in new ways.
The Hammer Museum's Artist Residency Program was initiated with funding from the Nimoy Foundation and is supported through a generous grant from the James Irvine Foundation.