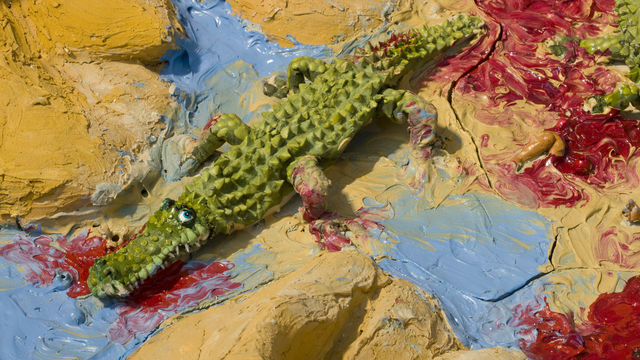 Hammer Projects: Nathalie Djurberg
–

This is a past exhibition
For her first solo museum exhibition in an American museum, Swedish-born, Berlin-based artist Nathalie Djurberg presents two new videos and an installation with related sculptures created during her Hammer residency. Her clay animation videos (with wildly inventive soundtracks composed by her collaborator Hans Berg) appear sweet and idyllic at first glance, but the action generally takes dark, twisted and disturbing turns as her characters act out wild revenge fantasies and other violent scenarios. Djurberg was included in a 2006 Hammer Project, Animations. She has had solo exhibitions at the Moderna Museet, Stockholm and the Prada Foundation, Milan and was included in the 4th Berlin Biennale.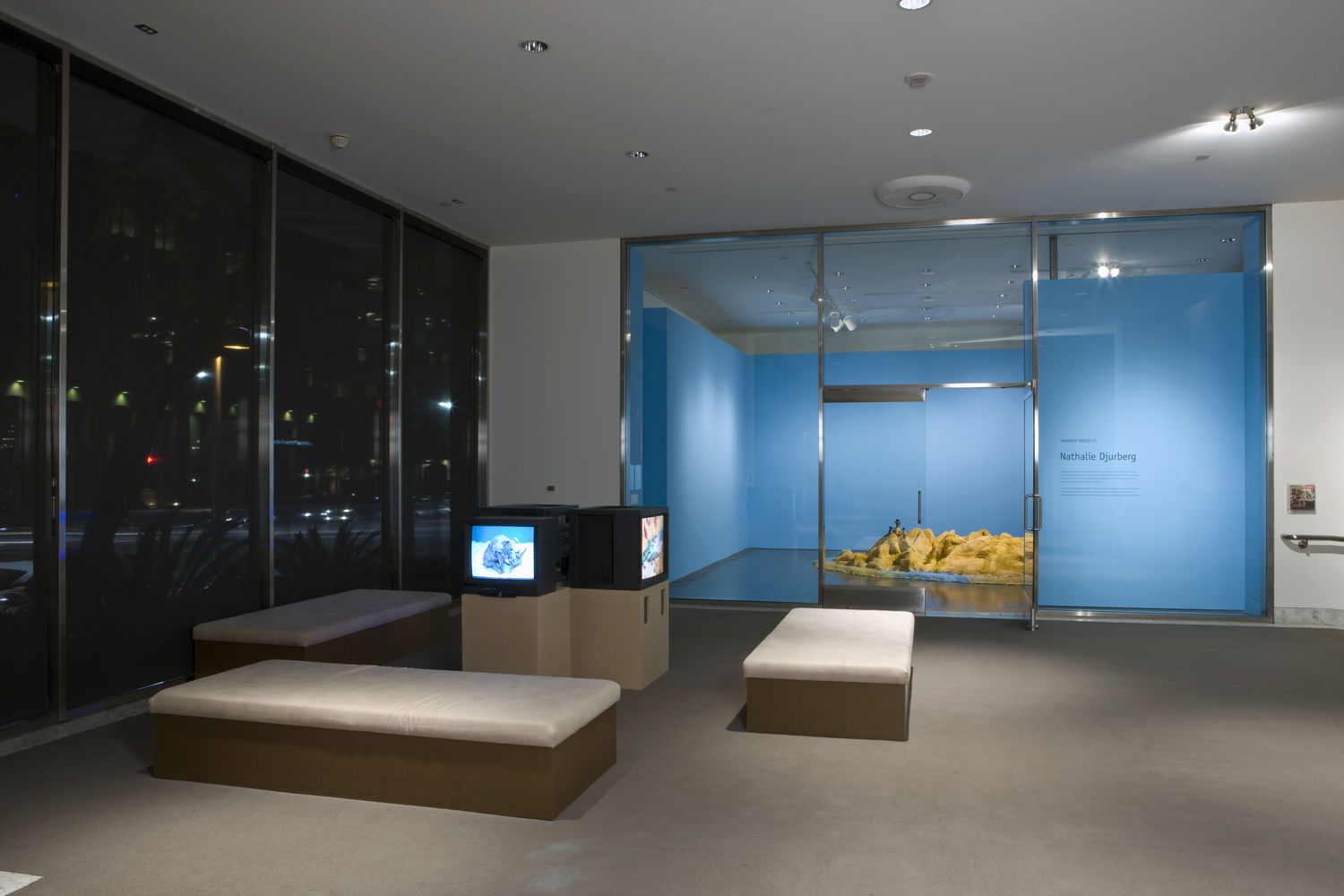 Biographies
Nathalie Djurberg was born in 1978 in Lysekil, Sweden, and lives and works in Berlin. She studied at the Hovedskous Art School in Göteborg, Sweden, and received her master's from Malmö Art Academy. She has had solo exhibitions at the Prada Foundation, Milan (2008); Kunsthalle Vienna; Kunsthalle Winterthur, Winterthur, Switzerland; and Färgfabriken, Stockholm. Her work has been included in major international group exhibitions, including: Art in a Dark Age (Moderna Museet, Stockholm, 2008); After Nature (New Museum, New York, 2008); Performa 07, New York (2007); Fractured Figure (Deste Foundation, Athens, 2007); and Of Mice and Men, the 4th berlin biennial (2006). In 2008 she received the Carnegie Art Award, Scholarship for a Young Artist. This is her first solo exhibition in an American institution.
Hans Berg is a Swedish and Berlin-based techno/electronica producer. His music career began when he played drums in a handful of punk-rock bands at the age of 14. He bought his first synthesizer and sampler at 15 and started producing electronic music, which he has been doing ever since. Hans produces music under the name of Protekk. He met Nathalie in Berlin and started to collaborate with her. They have been working together since 2004.
Essay
By Ali Subotnick 
A candy-colored picture of darling little girls prancing around a black-and-white-checkered floor with a dapper daddy figure, who playfully throws them up in the air. He lifts one girl onto his shoulders, and she pulls her dress up over his face, causing him to stumble around blinded until they fall to the floor. He then turns to the other girl, who in the meantime has picked up a baseball bat, and he hoists her over his knees and begins to spank her on the behind and she yelps in pain. Then while the other girl gets a round of spankings, the one with the bat starts to swing at his knees. The two girls begin to jump up and down on top of him, using him as a trampoline and attacking with more and more intensity, bringing him to tears. All the while a sweet carousel-type melody provides a misleadingly joyful sound track (Florentin, 2004). 
A young girl towels off after a bath, shaking her behind in the cloth, unaware of the tiger lurking behind her. He looks and watches hungrily, and unable to restrain his urges, he slurps and licks her butt. The slurp is loud and slobbering, like a Saint Bernard lapping up water after a long run up a mountain. She gives him a look of disapproval and then relents. She lets him lick her butt. She lets him do it again. He slurps, she "ooohs." A flash of text declares, "Why do I have this urge to do these things over and over again?" The tiger wags his tail confidently. She finally gives in to her desires and lets the tiger climb into bed with her (Tiger licking girl's butt, 2004).
A mother sprawls on a bed, unclothed, with her young children hanging all over her. Her eyes tell us that she is tired and overworked. The kids are energetic and can't sit still. One adventurously climbs over her and spreads her vaginal lips wide and crawls back from whence it came. The mother looks pained, but as all mothers do, she sucks it up and sacrifices her own well-being for that of her children. One by one, each of the kids squirrels around and dives back into the womb. Protrusions begin to emerge from the mother's belly, and the remaining kids help her squash them back in. When they've all gone back to the womb and the mother is left alone, she is unable to control the limbs and eyes that sprout from her back, belly, hips, and thighs. She has turned into a many-legged monster, unable to balance or maintain a normal gait. What a tough allegory of the martyrdom of motherhood (It's the Mother, 2008). 
Nathalie Djurberg's stop-motion animations composed with handmade sets of clay and fabric start out sweet and innocent—aided by the candy colors, frilly costumes, fairy-tale tropes, and carefully composed musical arrangements and sound effects (by longtime collaborator Hans Berg)—and yet they take a sharp turn around a sinister corner, enacting fantasies of revenge, aggression, sex, lust, debauchery, and transcendence. Her fairy tales rarely end happily ever after; instead they turn sordid, twisted, and often darkly humorous. Each meticulously crafted little girl in her little dress in her sweetly decorated room or castle is sent on a raucous adventure that brings a blush and an awkward giggle to anyone who has the stomach to watch them all the way through. Djurberg unabashedly tells these tales without holding back or censoring the grotesque and vulgar incidents and behavior, using the familiar language of animation to disarm viewers and lead them to a place they've seen in dreams or nightmares but were too scared to confront on a conscious level. 
Hans Berg's masterful musical compositions can be misleadingly jubilant at times and appropriately foreboding at others. For Untitled (Kids & Dogs) (2007), a performance piece commissioned by Performa 07, Djurberg, Berg, and Djurberg's brother Pascal Strauss illustrated the importance of the sound-track compositions by producing the sounds live on stage, as the videos were projected behind them. Djurberg pinched the air out of a balloon to make the squeal of the rats running in the trash heap, as her brother squeezed an accordion lightly to ape the wheezing of dogs rummaging through the trash, while Berg played drums with kitchen utensils. Djurberg supplemented the on-screen action (dogs waging war against starving children) with her own thespian gestures: she applied bandages to Berg and Strauss and force-fed them cake (to get the sound of the wounded being fed in their hospital beds). It's not always good to see what happens behind the scenes with videos, but in this case the live action heightened the drama and intensity. 
For a recent exhibition at the Prada Foundation in Milan, Djurberg pushed her work beyond the confines of the video screen and turned the tales inside out, forcing viewers to enter into her madness on a physical level. The entrance to the space was masked with duct tape and stretched fabric, echoing the tight striations of an asshole. The video Johnny (2008) was projected on the floor, but to view it you had to peek through a circle of trees, mimicking the actions of the Peeping Tom in the video, who gets burned at the stake for his misdeeds. Beyond the trees loomed an enormous potato sprouting several eyes. Three rooms were carved out of the potato, each one displaying a new direction in her videos: a theme of transformation and self awareness. One sad story follows a young girl as she cares for an elderly, ailing relative who disgustingly farts and pisses all over herself as the girl attempts to bathe and care for her. It's quite painful to watch, as your mind inevitably turns to your own relatives and the inevitable fate of aging, sickness, and death (Once removed on my mother's side, 2008). Another room features a heartbreaking pair—a wolf and boy attached at the hip. Siamese twins straight out of a Grimm's fairy tale, the character(s) move about the kitchen attempting to make a meal, but the wolf's efforts continually thwart the young boy. Tears begin to flow, and we're left aching for the boy's helpless state (We are not two, we are one, 2008). The third room displays It's the Mother, the traumatic allegory of motherhood described above. Also in this installation, Djurberg crafted a sculpture of a woman diving head-first into the earth, with only her torso, back, and rear end protruding at one end, and her calves and feet at the other. A video played inside her asshole, and in order to view it, you had to stick your head in, up close (The Prostitute, 2008). Djurberg continues to stretch her imagination with inventive storytelling and pushes her brutally honest portrayals of raw, real emotion further and further. For her Hammer Projects exhibition, she and Berg take advantage of the unfamiliar territory of Los Angeles and conjure up new adventures and suffering, drawing on the misleadingly bright and sunny atmosphere. In Moving on to greener pastures (2008) children try to get from one mountain ridge to another, but crocodiles in the swamp below intervene and make a meal out of them. Such is life in the Djurberg universe. 
Ali Subotnick is curator at the Hammer Museum.
Hammer Projects is made possible with major gifts from Susan Bay-Nimoy and Leonard Nimoy and The Horace W. Goldsmith Foundation.
Additional generous support is provided by the Los Angeles County Arts Commission, Good Works Foundation and Laura Donnelley, the David Teiger Curatorial Travel Fund, and Fox Entertainment Group's Arts Development Fee. Gallery brochures are underwritten in part by the Pasadena Art Alliance.
Hammer Projects: Nathalie Djurberg is presented through a residency at the Hammer Museum. The Hammer Museum's Artist Residency Program was initiated with funding from the Nimoy Foundation and is supported through a significant grant from the James Irvine Foundation.