Correspondence
Uncovering correspondence between Fred Grunwald and his friends and associates was essential to reconstructing Grunwald's story. For example, the names of a number of European galleries where he bought artworks were revealed in correspondence. The letters below speak to some of the relationships and conversations that helped shape Grunwald's collection. 
The National Archives at College Park, Maryland
This index card from 1948 shows Grunwald's early efforts to seek redress from the German government.
Image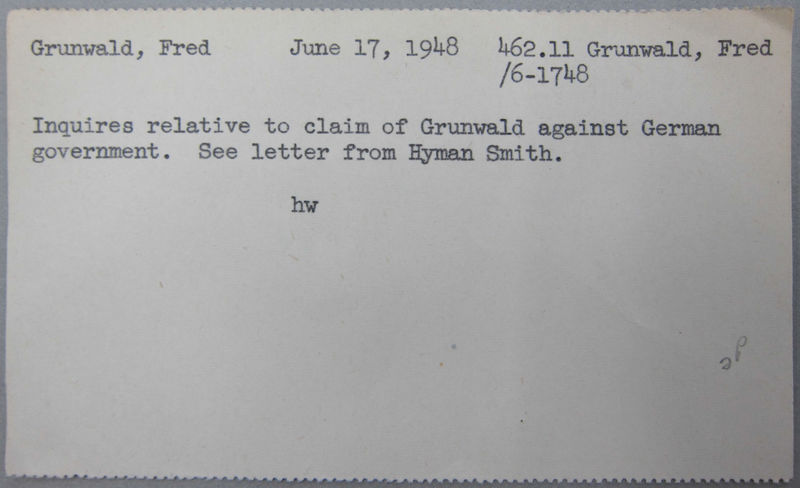 Los Angeles County Museum of Art
Correspondence between Fred Grunwald and Ebria Feinblatt, former curator of prints and drawings at LACMA.
Getty Research Institute Special Collections, Karl With Papers
Letter from UCLA art history professor Karl With to art dealer Alex Vömel, dated July 25, 1960, imploring him to submit testimony regarding the existence of Fred Grunwald's art collection in Germany for the restitution claim discussed in the German Archives section of this digital archive. Translation by Kirk Nickel.
UCLA Special Collections, Jake Zeitlin Papers
Letter from Fred Grunwald to rare book dealer Jake Zeitlin, dated February 10, 1964, regarding the founding of a local print discussion group.
Image