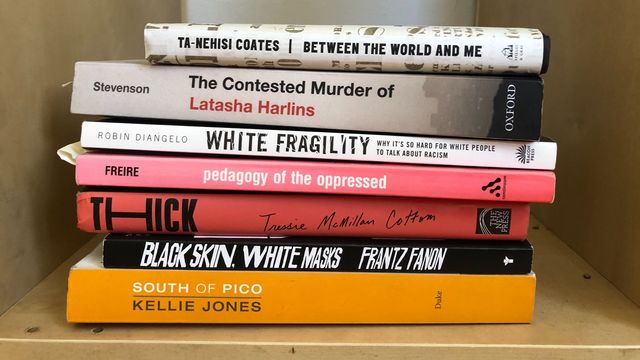 An Anti-Racism Reading List from Hammer Staff
Members of the Hammer staff have compiled an initial list of readings on Black history and anti-racism to share with our community. These texts have served us in our understanding of systemic racism and Black history, and have informed how we approach our lives and work. We see these foundational texts as a network, a living resource that will grow in the coming weeks and months, and a direct line of communication between the individuals that comprise our institutions and the many communities we serve.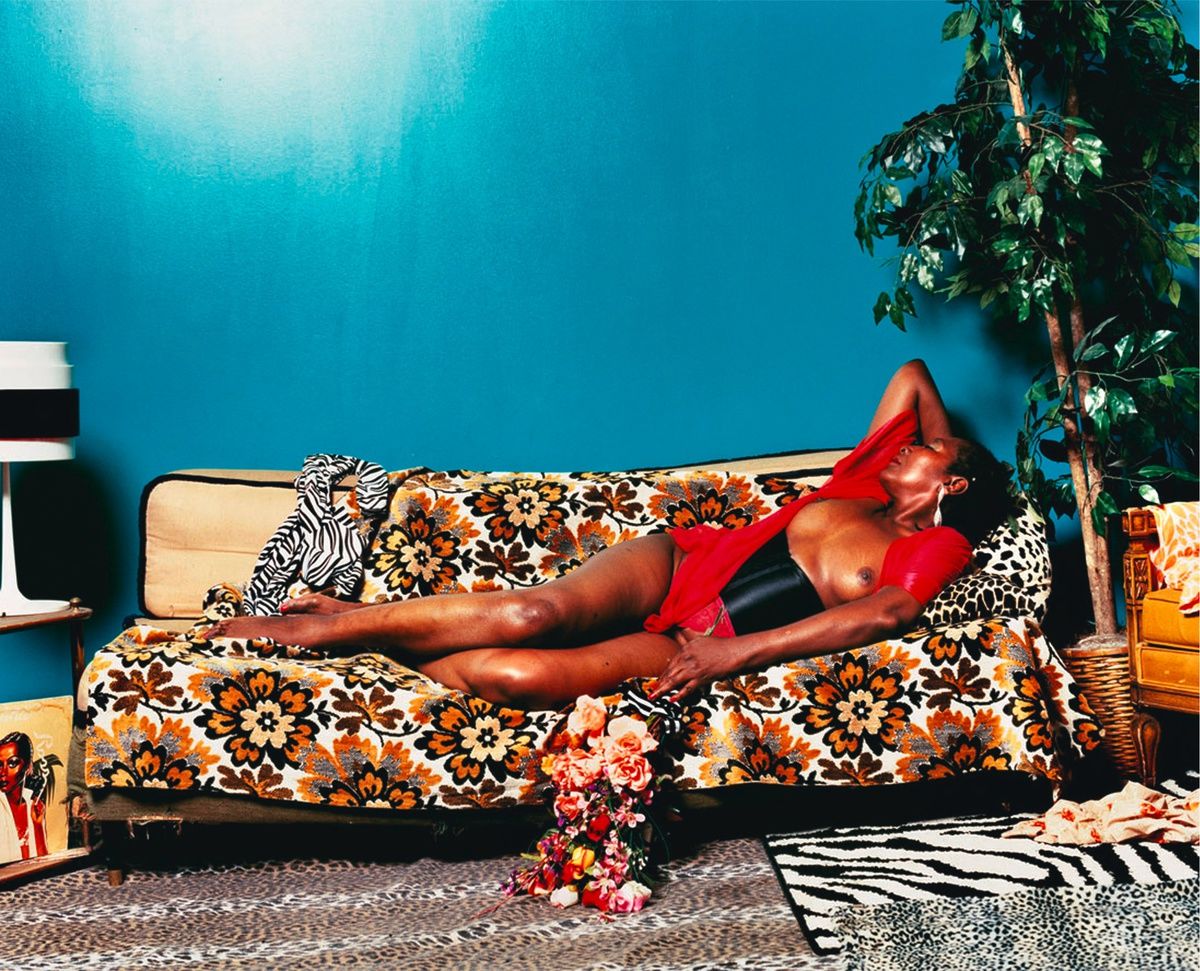 Mickalene Thomas, 'Madame Mama Bush,' 2006
Art and Art History
Flash of the Spirit: African & Afro-American Art & Philosophy—Robert F. Thompson
Vanessa Arizmendi, Curatorial Assistant
Beloved by artists and art historians alike, this landmark text changed the study and understanding of African and Black art history. I especially recommend this to anyone with an interest in Latin American and Caribbean art—a crucial reminder of how we cannot talk about these cultures without talking about African lineage.
South of Pico: African American Artists in Los Angeles in the 1960s and 1970s—Kellie Jones
Vanessa Arizmendi, Curatorial Assistant
This is an essential text I return to whenever I'm thinking or writing about a Los Angeles artist community today. Context, history, and an acknowledgement of those pioneers who came before us are crucial to every curator's practice.
Black Arts West: Culture and Struggle in Postwar Los Angeles—Daniel Widener
Claudia Bestor, Director, Public Programs
This book documents the social and political significance of Black arts activity in Los Angeles between the WWII and the uprising of 1992.
The coloniality of Seeing: Towards a new inter-epistemic visual dialogue—Joaquín Barriendos
Nika Chilewich, Curatorial Assistant
This article is a central piece of writing that looks at the colonial structures of sight. It comes from the group of scholars who worked through colonial power structures and bringing these ideas to the realm of aesthetics and representation.
Brokering Identities: Art Curators and the politics of cultural representation—Mari Carmen Ramírez
Nika Chilewich, Curatorial Assistant
This essay by Latin American art curator Mari Carmen Ramírez is a seminal piece of curatorial theory that interrogates the way that Latin American art and identity is represented in the United States. The essay was published as part of the book Thinking about Exhibitions.
Vampire in the Text: Narratives of Contemporary Art—Jean Fisher
Nika Chilewich, Curatorial Assistant
This collection of essays by art historian and cultural theorist Jean Fisher, who founded the journal Third Text, looks at colonial structures within the international art world, specifically in terms of the representation of non-western cosmologies and indigenous identities.
Queloides: Race and Racism in Cuban Contemporary Art—Alejandro de la Fuente, ed.
Vanessa Arizmendi, Curatorial Assistant
This groundbreaking exhibition was one of the first major projects to speak to the reality of racism in contemporary Cuba. It features several Afro-Cuban artists who had been otherwise marginalized by Cuban and international art worlds.
EyeMinded: Living and Writing Contemporary Art—Kellie Jones
Andrea Iaroc, Manager, Gallery Operations
I believe intersectionality is of utmost importance to help create a new and sustainable art history. This book is a guide to achieve that.
Black Imagination: Black Voices on Black Futures—Natasha Marin
Andrea Iaroc, Manager, Gallery Operations
This book is as magical as Tashi's capacity to build up BIPOC communities in the midst of the white liberal bastion that is Seattle (the freeze is real folks)—read it!
Now Dig This!: Art and Black Los Angeles 1960-1980—Kellie Jones
Ann Philbin, Director
I highly recommend this excellent catalogue which accompanied the Hammer's groundbreaking 2011 exhibition, curated by Kellie Jones. Fully illustrated and including essays by Jones and seven other scholars, the book has long been out of print but can be accessed through the extensive digital exhibition archive on the Hammer's website.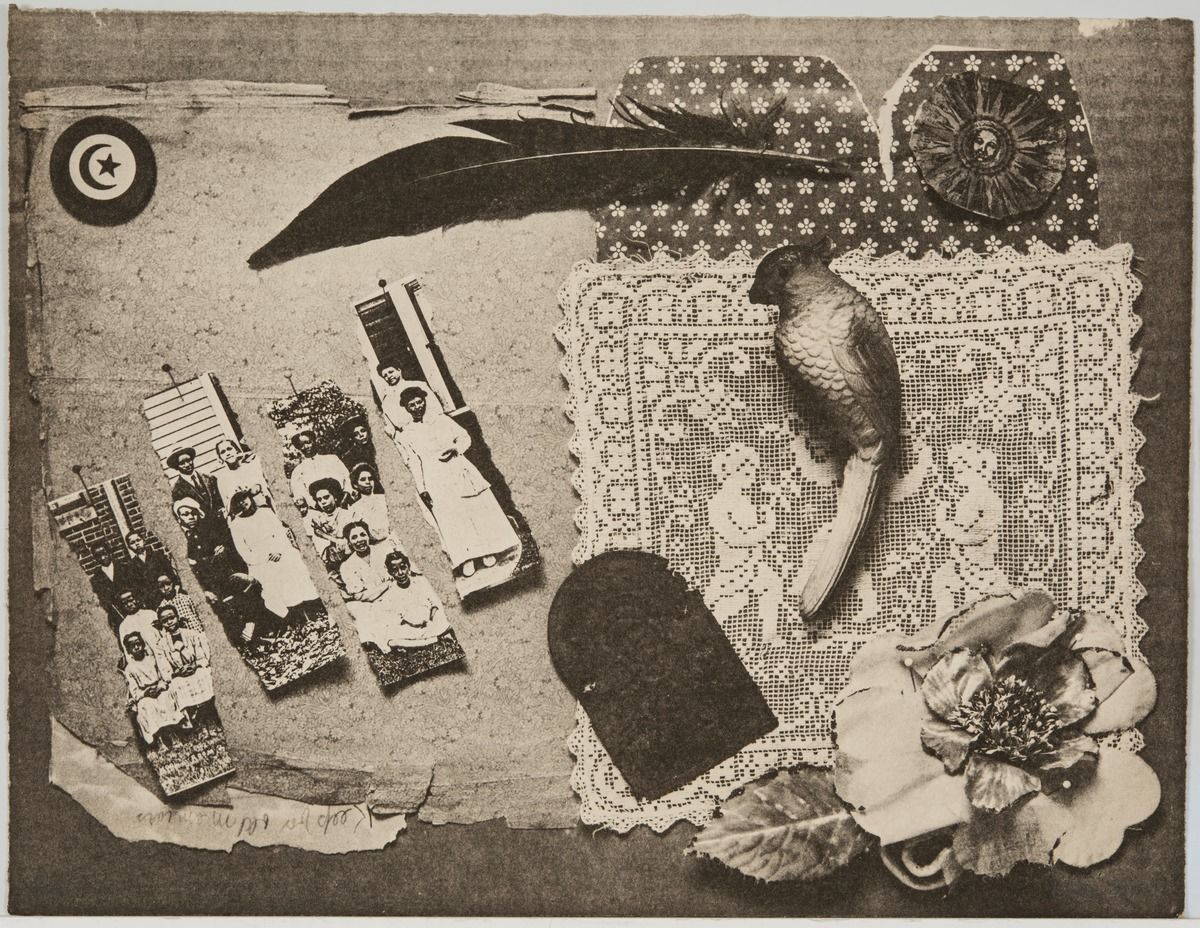 Betye Saar, 'Fragments,' 1976
Biographies
The Autobiography of Malcolm X—Malcolm X & Alex Haley
Malcolm X: A Life of Reinvention—Manning Marable
Tara Burns, Specialist, Family & K-12 Audiences
If you've never read Manning Marable's biography of Malcolm X you are missing out on key insights into the life and legacy of one of the foremost thinkers and revolutionaries of the 20th century. I'd recommend reading both texts together, starting with The Autobiography of Malcolm X.
Future. Il domani narrato dalle voci di oggi—Igiaba Scego
Andrea Iaroc, Manager, Gallery Operations
Sebbene visto da una prospettiva afroitaliana, ancora ha ampliato la mia comprensione dell'esperienza della diaspora africana nel mondo. Tanto dolore e bellezza rimangono gli stessi. Although seen from an Afroitalian perspective, it has opened my understanding of the African diaspora experience in the world. So much pain and beauty remain the same.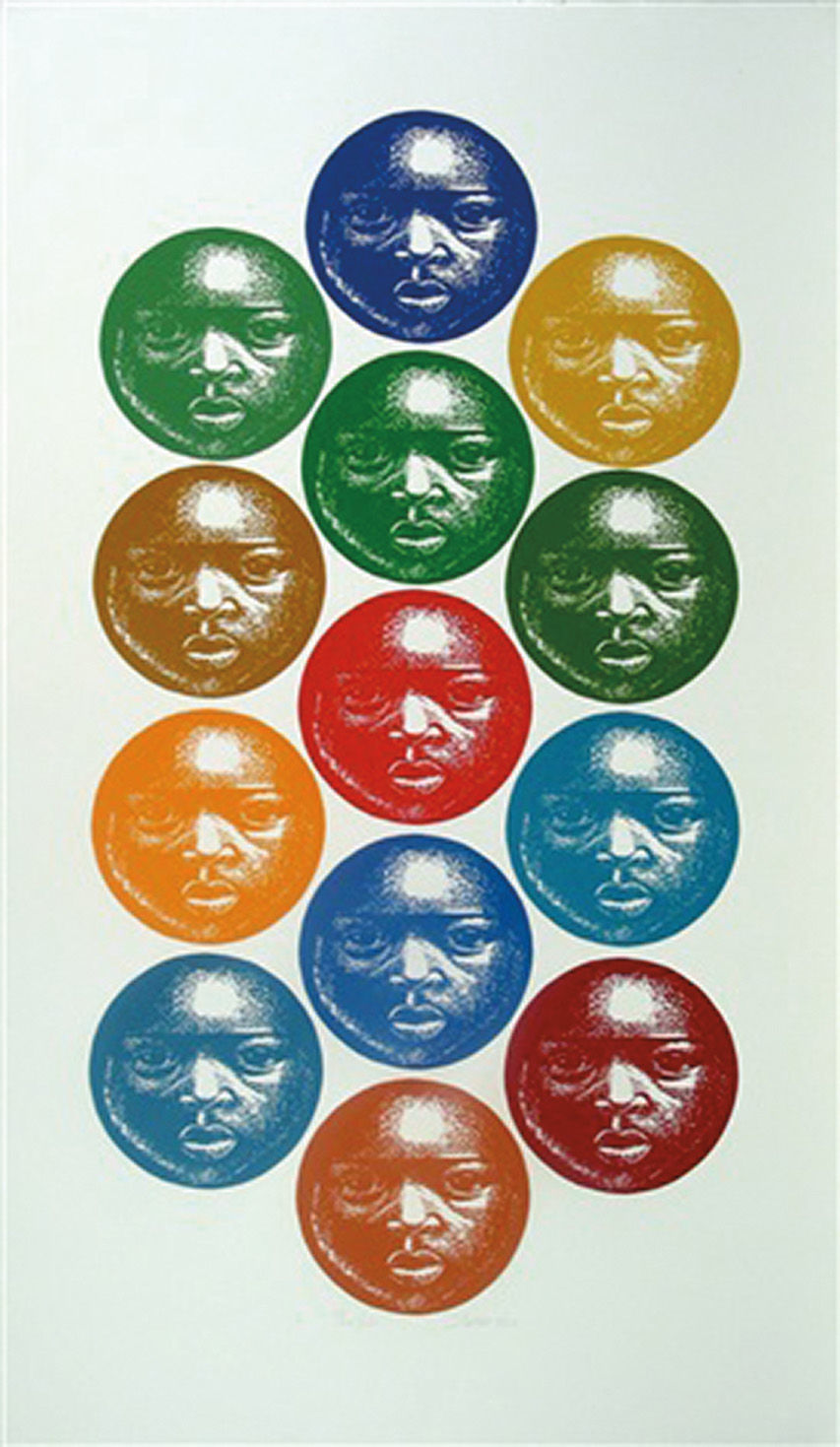 Elizabeth Catlett, 'Girls,' 1982
Black Feminism
Wayward Lives, Beautiful Experiments: Intimate Histories of Riotous Black Girls, Troublesome Women, and Queer Radicals—Saidiya Hartman
Avianna Wooten, DAMS & Imaging Assistant
Wayward Lives, Beautiful Experiments delves into intimate histories of Black women living in New York and Philadelphia at the turn of the 20th century. At the heart of this book is a disturbing, beautiful, and often unseen exploration of Black women searching for freedom in the social experiment that becomes known as the Black ghettos.
Ain't I a Woman?: Black Women and Feminism—bell hooks
Susan Edwards, Associate Director, Digital Content
I read this book when I was a young college student (many years ago) and it deeply influenced my understanding of feminism and all of its complications, as well as the ways that stereotypes about race and gender are formed and work in society.
This Bridge Called My Back: Writings by Radical Women of Color—Cherríe Moraga and Gloria E. Anzaldúa, eds.
Janani Subramanian, Manager, Public Programs
I count this book as one that shifted the paradigms I use to think about identity, writing, and politics. The collection features groundbreaking essays by women of color—authors, activists, and poets such as Audre Lorde, Naomi Littlebear, and hattie gossett—that provide a vital intervention in the history of intersectional feminism.
We Wanted a Revolution: Black Radical Women, 1965–1985: A Sourcebook—Catherine Morris and Rujeko Hockley, eds.
Hallie Scott, Specialist, University Audiences
A collection of essays and archival materials that accompanies the exhibition of the same name, We Wanted a Revolution: Black Radical Women, 1965–1985: A Sourcebook is a lovely introductory resource for learning about the artworks, voices, and contexts of Black women artists in the second half of the 20th century.
Women, Race, and Class—Angela Davis
Vanessa Arizmendi, Curatorial Assistant
It's on every BLM list you will find because it's simply essential.
Black Feminist Thought: Knowledge, Consciousness, and the Politics of Empowerment—Patricia Hill Collins
Vanessa Arizmendi, Curatorial Assistant
The first major, comprehensive overview of Black feminist thought and its canon.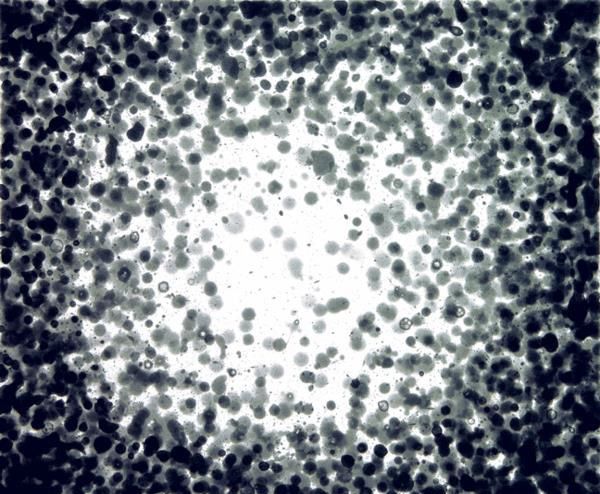 Fred Wilson, 'We Are All in the Gutter, But Some of Us Are Looking at the Stars,' 2004
Black Radical Organizing
Mounting Frustration: The Art Museum in the Age of Black Power—Susan E. Cahan
Vanessa Arizmendi, Curatorial Assistant
Susan E. Cahan investigates the early history of Black artists' radical organizing inside and against New York City's most elite cultural institutions. Recommended for any aspiring museum professional. I read this while in undergrad and interning at the Hammer. This text has come to inspire and inform the work I now do as a full-time staff member.
Are Prisons Obsolete?—Angela Davis
Chisa Hughes, Media Producer, Communications
"The prison has become a black hole into which the detritus of contemporary capitalism is deposited." —Angela Davis
Anything—Mariame Kaba
Chisa Hughes, Media Producer, Communications
I read and learn from everything Mariame Kaba—a prolific abolitionist organizer, writer, and educator—has to say. I recommend that you do too!
Whitewalling: Art, Race & Protests in 3 Acts—Aruna d'Souza
Theresa Sotto, Associate Director, Academic Programs
Museums have a long way to go in examining and transforming structural racism in our institutions. D'Souza unpacks three significant examples of racism in the art world in postwar America and the powerful public protest that ensued.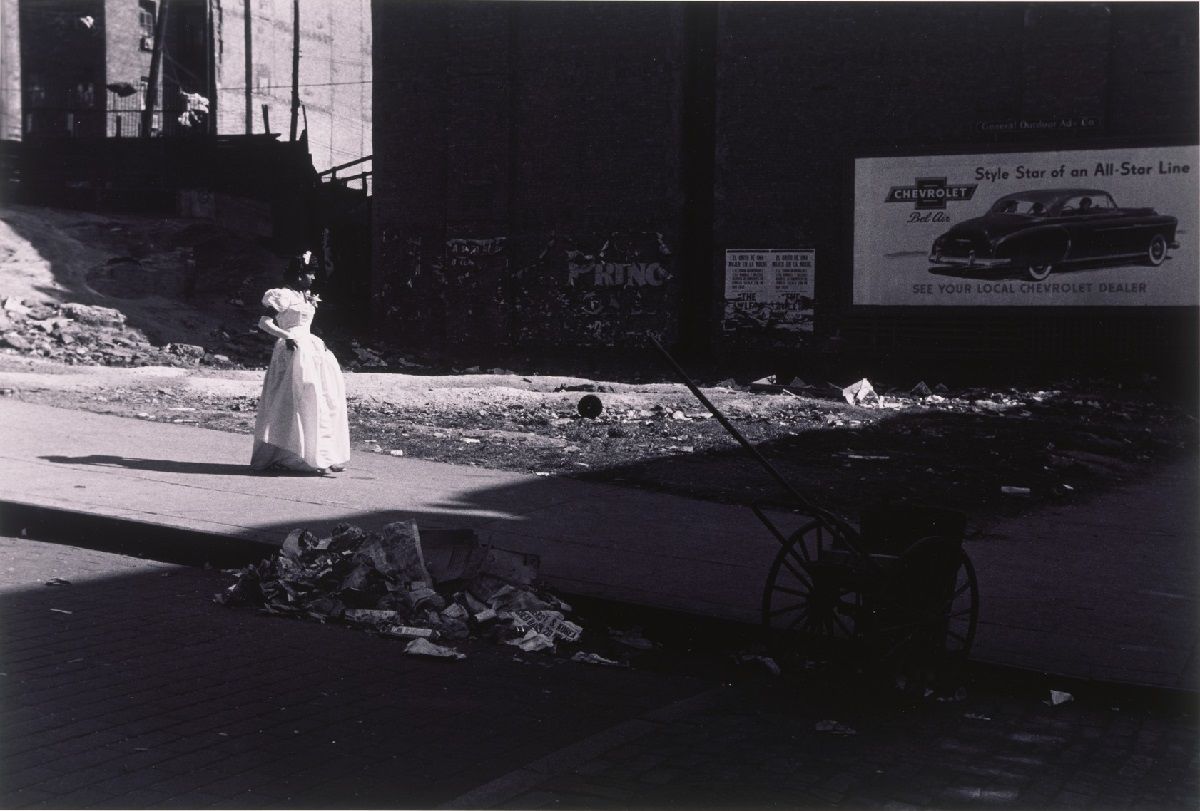 Roy DeCarava, 'Graduation,' 1949
Essays and Poetry
all about love—bell hooks
Tara Burns, Specialist, Family & K-12 Audiences
Justice is honesty.
belonging: a culture of place—bell hooks
Vanessa Arizmendi, Curatorial Assistant
What does it mean to belong? bell hooks reflects on her childhood home, the environment, aesthetics, migration, and Black Appalachia. As a curator whose practice emphasizes ideas of place-making and community, this text has grounded me whenever I feel like I've lost sight of my direction.
Blessing the Boats—lucille clifton
Theresa Sotto, Associate Director, Academic Programs
I didn't have a model for a strong woman of color in formal education until I went to college. I'm honored that I had a chance to study with poet lucille clifton, who demonstrated how to show up fully yourself as a WOC in a predominantly white world, taught me body positivity before it was a mainstream term, and showed me alternatives to the dominant narratives I grew up with. Her voice was powerful in the classroom and remains powerful in my memories and on the page.
Pleasure Activism: The Politics of Feeling Good—adrienne marie brown
Chisa Hughes, Media Producer, Communications
Sustenance for the long game organizing against oppression.
Black Skin, White Masks—Frantz Fanon
Susan Edwards, Associate Director, Digital Content
Fanon was a psychiatrist and political philosopher from the West Indies. Written in 1952, this book is a treatise on what it's like to be a Black person living in a white world. This book helped me to see how the political really is personal, and start to understand that my experience of the world as a white person is not the same as that experienced by Black people. Fanon's work influenced many civil rights leaders and scholars of colonialism and racism.
The Fire This Time: A New Generation Speaks about Race—Jesmyn Ward, ed.
Mitch Marr, Associate Director, Communications & Marketing
Returning to James Baldwin's "The Fire Next Time" in the wake of Trayvon Martin's death, writer and anthology editor Jesmyn Ward collected essays, memoirs, and poems from an incredible range of writers. It turned me on to a lot of new perspectives when I really needed them.
The Fluency of Light—Aisha Sabatini Sloan
Theresa Sotto, Associate Director, Academic Programs
Sloan reflects on race, class, and the power of art in a series of beautifully written essays grounded in insightful reflections on her mixed-race identity.
Don't Let Me Be Lonely: An American Lyric—Claudia Rankine
Mitch Marr, Associate Director, Communications & Marketing
An emotionally and intellectually generous work. Rakine's follow-up, Citizen, is more directly connected to the current moment and also belongs on this list, but Don't Let Me Be Lonely broke me open in a different way. I'm eagerly awaiting her new book, Just Us: An American Conversation, which comes out this fall.
Meaty—Samantha Irby
Ali Lambert, Logistics Specialist, Public Programs
Meaty, a collection of essays by the brilliant Samantha Irby, is a wonderful read that will make you both cackle and cry. Irby is a Black writer and blogger who weaves race into her sometimes hilarious, sometimes heartbreaking stories of navigating the world. She is a must-follow on social media.
Thick: And Other Essays—Tressie McMillan Cottom
Hallie Scott, Specialist, University Audiences
In Tressie McMillan Cottom's words, her essays "tell powerful stories that are a problem for power." This brilliant collection weaves personal experience and sociological analysis into a "thick description" (signaling both the ethnographic process and the term for Black women's bodies) that addresses topics ranging from structural racism in academia to Miley Cyrus.
Magical Negro—Morgan Parker
Theresa Sotto, Associate Director, Academic Programs
Parker's poem titles are indications of the power and beauty of this book. Here are a few of my faves: "If you are over staying woke," "Everything Will Be Taken Away (after Adrian Piper)," and "I Feel the Most Colored When I Am Thrown Against a Sharp White Background (after Glenn Ligon after Zora Neale Hurston)"
Hallie Scott, Specialist, University Audiences
A beautiful book of short essays written daily over the course of a year, all focused on the topic of delight from the perspective of a Black man.
No Humans Involved—Sylvia Wynter
Vanessa Arizmendi, Curatorial Assistant
Wynter has been critical reading during quarantine and especially now in the context of these recent uprisings. In this open letter, addressed to her colleagues and published after the 1992 L.A. Uprisings, Wynter implicates academia's conception of "the human" as one that is inherently anti-Black and anti-poor. Eerily applicable to this very day.
In Search of a Majority—James Baldwin
Ikechúkwú Onyewuenyi, Curatorial Assistant
When the folks were agitating to open up America again to get haircuts, I returned to this speech as a reminder that the majority is never a numbers game, but one of influence. The truth is even in metropolitan cities in the South where black and brown populations outnumber whites those states are reopening, which speaks to not just racialized death, but also a shift from necropolitics (the state deciding who lives or dies) to necroeconomics (the state reviving dead economic principles that never stand the test of times, i.e., 2008 crash, 2020 crash).
Citizen—Claudia Rankine
Theresa Sotto, Associate Director, Academic Programs
Rankine hits you with an intense blend of prose, poetry, and image, as well as the sometimes jarring negative space between. The text is both multi-layered and painfully direct--a fitting format for an exploration of the pervasiveness, pain, and complexity of everyday racism and systems of oppression in America.
Sleeping With the Dictionary—Haryette Mullen
Theresa Sotto, Associate Director, Academic Programs
This book opened my mind to the possibilities of language on the poetry page. I admire the way Mullen can layer social critique with such inventiveness and wordplay, all the while keenly attuned to nuances of the English language.
The Black Unicorn—Audre Lorde
Weiwen Balter, Emerging Museum Education Fellow
I can point to this book of poems as the first step in my politicization as a young person. Black Queer people have had a profound impact on the development of racial and queer justice movements and Audre Lorde's poems are a reminder of this fact as well as a call to action.
The Black Automaton—Douglas Kearney
Theresa Sotto, Associate Director, Academic Programs
Kearney brilliantly engages with language on every level—connotation and denotation, references and their impacts, the sounds and shapes of words and spaces between. In his writing, he re-mixes Parliament and the Roots, as well as T.S. Eliot and The Little Mermaid; the result is sometimes dizzying, sometimes tender, and always thought-provoking.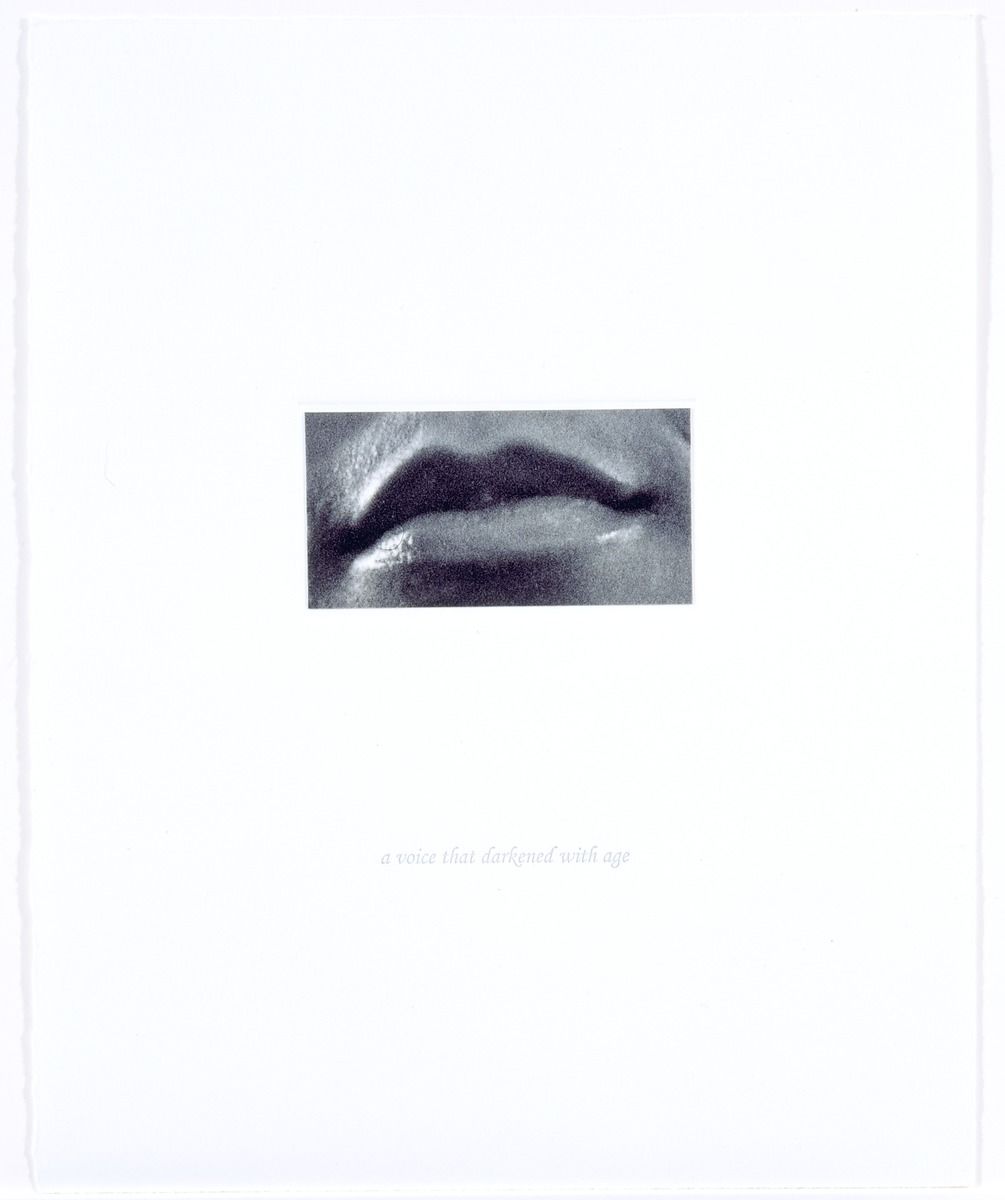 Lorna Simpson, 'a voice that darkened with age (from 15 Mouths),' 2002
Fiction
Native Son—Richard Wright
Katie Antonsson, Digital Communications Manager
Native Son is a really remarkable work of fiction that bores into the societal injustice that dominates Bigger Thomas's world, and more largely the world of Chicago's South Side in the 1930s. It was published in 1940, but its enduring relevance is chilling. The prose is claustrophobic, which accounts for both its power and its drawbacks, and often inhabits a sort of nightmare realism (as opposed to magic realism) that only adds to the disorientation.
Roots—Alex Haley
Katie Antonsson, Digital Communications Manager
Roots is not above criticism. There are enduring questions about its authenticity as it falls somewhere between historical fiction and the non-fiction product of research, but every American should read this book, yet I personally know so few who have. Alex Haley presents the narrative of eight generations—cited as his own family—from the Gambia, through American slavery, through emancipation, and through the Civil Rights Movement until we reach Haley himself in the 1970s.
Kindred—Octavia Butler
Connie Butler, Chief Curator
Jim Fetterley, Museum and Theater Technical Director
This grim fantasy classic is about a young Black writer and her bouts with non-consensual time travel and the disorienting ancestral heritage it brings to her as a 23-year-old from California who keeps getting thrown back to the future of a pre–Civil War, antebellum South. This book was my gateway to the literature of Octavia Butler, and my mind keeps expanding with each reading, especially in 2020.
Kindred: A Graphic Novel Adaptation—Octavia E. Butler, John Jennings (Illustrator), Damian Duffy (Adapted by)
Jim Fetterley, Museum and Theater Technical Director
The graphic novel of Octavia Butler's Kindred comes with an expansive education guide for teachers and parents at the end of the book. I was so impressed with this adaptation and its beautiful illustrations that before I finished reading it I knew I had to gift it to friends of mine with children.
Such a Fun Age—Kiley Reid
Janani Subramanian, Manager, Public Programs
Don't let this book's breezy, page-turning façade fool you—Reidl's debut novel is an acerbic study of race, class, and gender in our contemporary moment. When Black nanny Emira Tucker is racially profiled at a posh grocery store, the ensuing video and its reception turn her life and that of her white employer's upside down.
Things Fall Apart—Chinua Achebe
Jessica Vrazilek, Manager, Individual Giving
This book personalizes the existential threat to identity and culture that colonized peoples all over the world experience. I first read it in high school and then again after college. After more than a decade, I still think about it all the time.
Americanah—Chimamanda Ngozi Adichie
Nick Stephens, Manager, Director's Office
One of my all time favorite novels—a sweeping inter-generational love story that is as brilliant as it is elegant. Never has an analysis of race and class in America been so gorgeous to read.
The Sellout—Paul Beatty
Hallie Scott, Specialist, University Audiences
This novel bitingly satirizes the notion of a post-racial society through the story of a man who tries to reinstate slavery in a fictional Los Angeles neighborhood called Dickens. In prose that is simultaneously devastating, absurdist, and viciously witty, Beatty exposes raw truths about race and identity in our country.
Caucasia—Danzy Senna
Claudia Bestor, Director, Public Programs
Funny, sad, and relatable tale of a mixed-race teenager who grows up with her white mother, while her sister grows up with their Black father in 1970s Massachusetts.
The Intuitionist—Colson Whitehead
Toni France, Student Educator, Academic Programs
In a world much like our own, Whitehead explores the cutthroat business of elevator inspectors. A probing commentary on racial and gender identity, this novel examines the differing levels of safety felt by individuals as they move throughout the world. As we scrutinize the problems ingrained in our own systems, the mechanical allegory feels particularly apt.
Food and Food Justice
Afro-Vegan: Farm-Fresh African, Carribean, and Southern Flavors Remixed—Bryant Terry
Vanessa Arizmendi, Curatorial Assistant
Chef Bryant Terry's work was my first real introduction to the idea of healing through ancestral foods. This James Beard Award–winning cookbook is one of my go-tos, connecting Terry's personal memories with the larger histories behind certain ingredients and recipes. The spiced persimmon bundt cake is a must-try.
Vegan Soul Kitchen—Bryant Terry
Vanessa Arizmendi, Curatorial Assistant
Includes a soundtrack for each dish!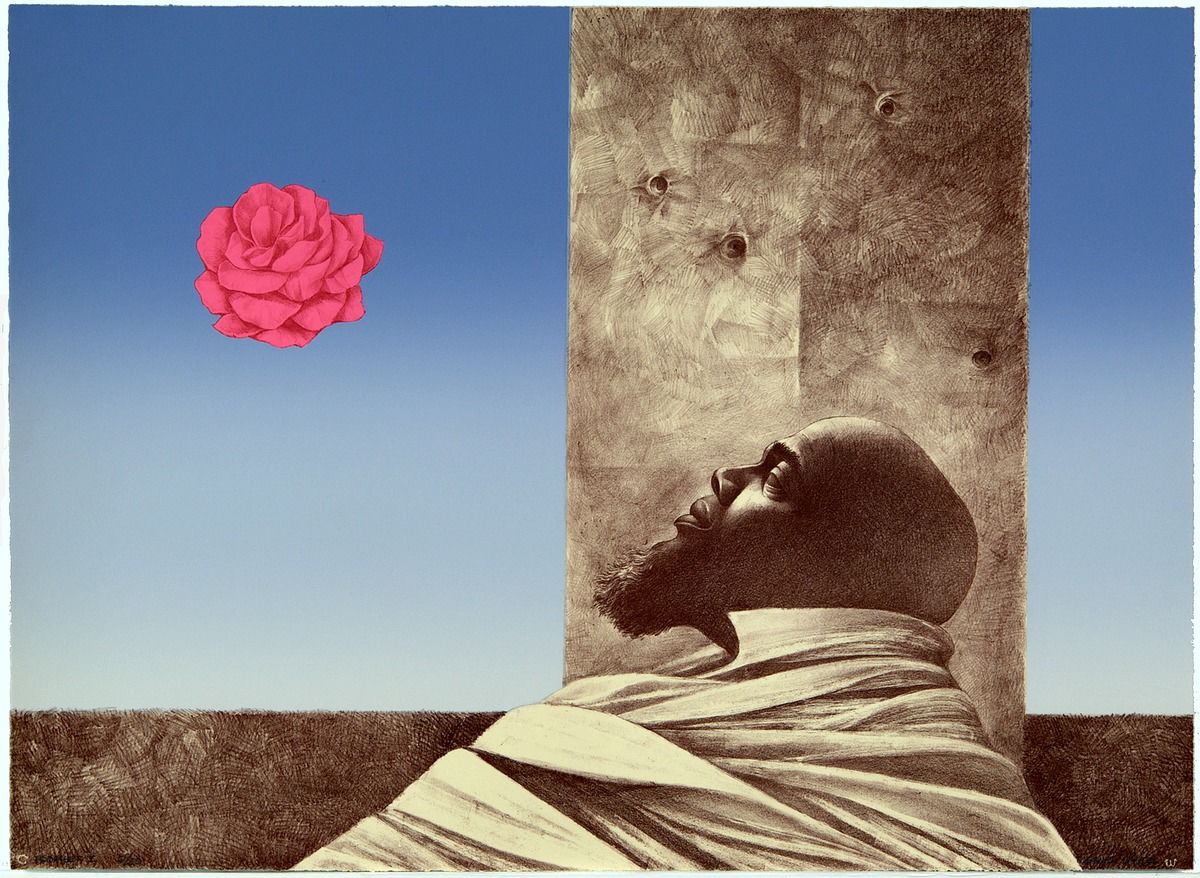 Charles White, 'Prophet I,' 1975
Kids
Brown Girl Dreaming—Jaqueline Woodson
Vanessa Arizmendi, Curatorial Assistant
A young girl finds her voice growing up in a post–Jim Crow South. The story of Woodson's childhood, in poems.
No Mirrors in My Nana's House—Ysaye Maria Barnwell, Synthia Saint James (Illustrator)
Tara Burns, Specialist, Family & K-12 Audiences
Seeing yourself through someone else's eyes can be a terrifying, vulnerable experience. When you borrow that gaze and see how much someone loves every piece of you, particularly the things that others have told you to hate, you begin to understand how to love yourself.
Thirteen Ways of Looking at a Black Boy—Tony Medina, Illustrated by 13 Artists
Tara Burns, Specialist, Family & K-12 Audiences
A poetry book that beautifully shows just 13 of the millions of ways Black boys show up with love, energy, and #blackboyjoy in our lives.
Black All Around!—Patricia Hubbell, Don Tate (Illustrator)
Tara Burns, Specialist, Family & K-12 Audiences
Think for a moment of all the ways the words "dark" and "black" are used not to describe shades or colors, but things that are evil, hateful, or dangerous. If you haven't yet had the experience, imagine hearing people you don't know use those same words to describe you. Black people, and Black children especially, deserve better. If you need to practice using language that associates blackness with beauty, start with this book.
Little Leaders: Bold Women in Black History—Vashti Harrsion
Little Legends: Exceptional Men in Black History—Vashti Harrison with Kwesi Johnson
Tara Burns, Specialist, Family & K-12 Audiences
I was given Little Legends as a gift after completing my graduate degree, and despite being outside of the intended age range for this book I was still inspired to think about my own future contributions to Black history. This book is for folks of any age who want to remember what has been done for and by us. If you want to start thinking about what you can do to help those who will be coming behind you, let the words and artwork of Vashti Harrsion be your guide.
A Is for Activist—Innosanto Nagara
Tara Burns, Specialist, Family & K-12 Audiences
This book was at the heart of one of our earliest iterations of the Hammer's Art Without Walls program, entitled How Would You Defeat Racism? Innosanto Nagara's text and imagery helped families learn the names of the leaders and movements whose work have given us so many of the freedoms we enjoy today. See their answers to that question.
Anti-Racist Baby—Ibram X. Kendi
Vanessa Arizmendi, Curatorial Assistant
Coming soon!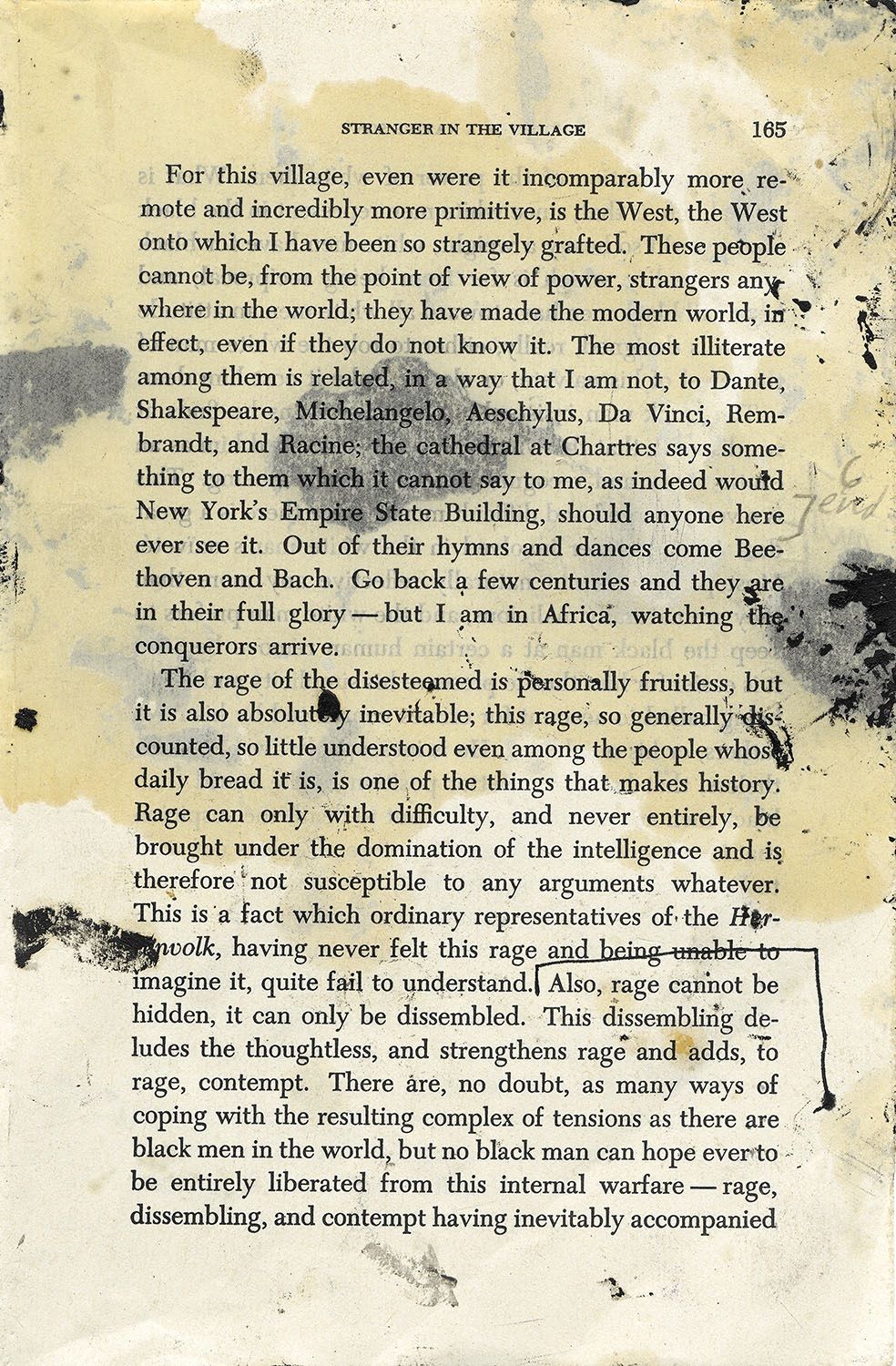 Glenn Ligon, 'Untitled,' 2016
Memoir
Between the World and Me—Ta-Nehisi Coates
Jenn Stewart, Assistant, Director's Office
In an open letter to his son, Coates reflects on the experience of being Black in America through anecdotes from history and his own life.
Tara Burns, Specialist, Family & K-12 Audiences
This book knocked me down. The Black male body is vulnerable to so many uniquely American perils—Kiese Laymon generously and heartbreakingly offers a view into each of them. If you don't understand the movement now, you will when you finish.
Men We Reaped—Jesmyn Ward
Phil Leers, Project Manager, Digital Initiatives
In this memoir, the author tells the story of her upbringing in rural Mississippi through the lives of five young men who died before their times. It is a book of heartbreaking accounts, buoyed by the author's knack for conveying a complex tangle of emotions through small details and moments. Ward writes with clarity and precision and empathy, using her personal recollections to form a perception of Black masculinity in the South, under the inescapable shadow of racism and poverty.
When They Call You a Terrorist: A Black Lives Matter Memoir—Patrisse Khan-Cullors, asha bandele
Nancy Lee, Senior Manager, Public Relations
Patrisse Cullors' life has not been easy but it has been full of love. Her indefatigable spirit shines brightly in her past experiences and is clearly part of the magic growing the Black Lives Matter movement.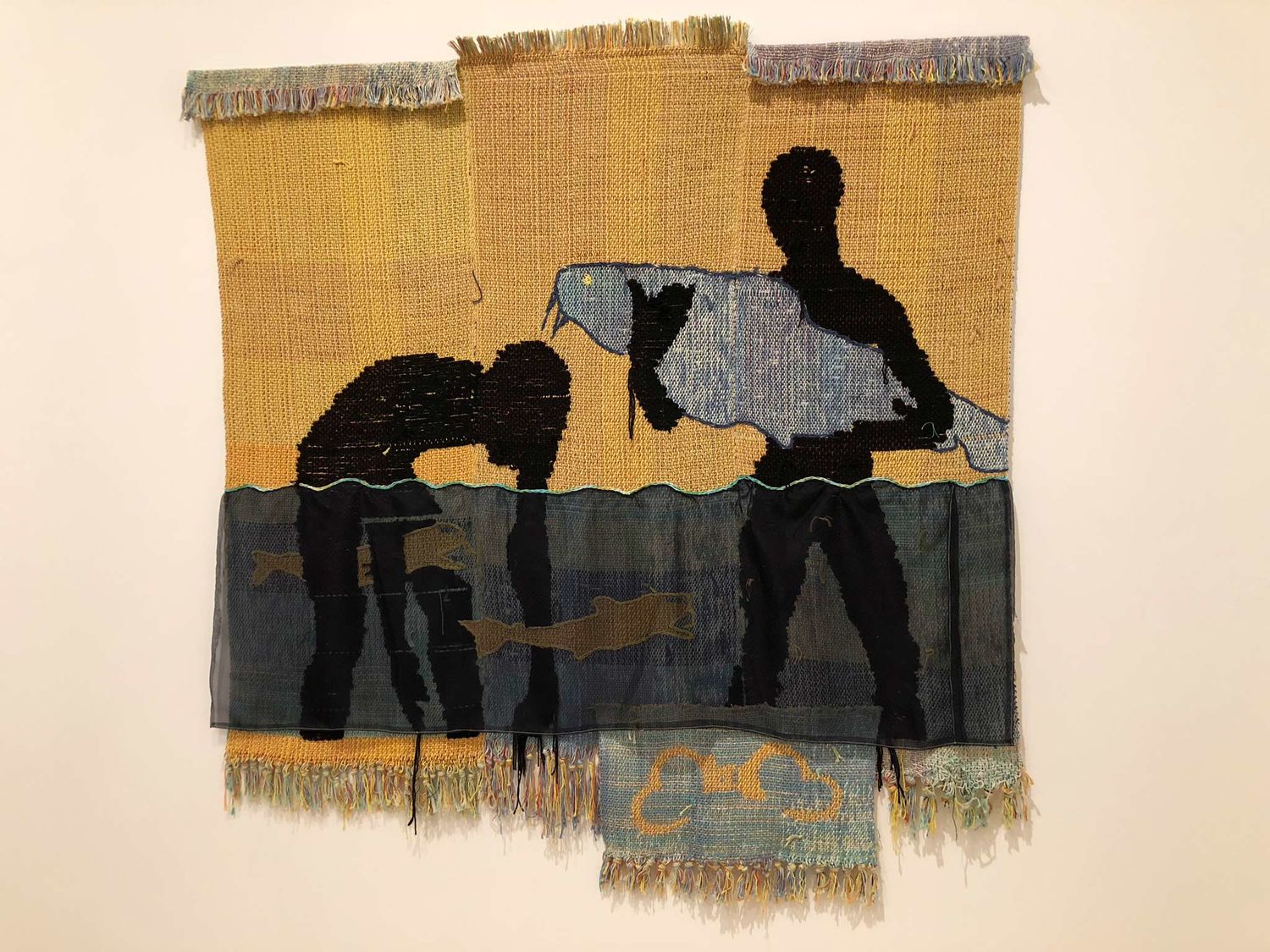 Diedrick Brackens, 'bitter attendance, drown jubilee,' 2018
Nonfiction
How to Be an Antiracist—Ibram X Kendi
Nancy Lee, Senior Manager, Public Relations
"Racist" is descriptive, not pejorative. Confront your own racism and continue the lifelong work of antiracism.
Melanie Crader, Director, Exhibitions & Publication Management
Recently published in 2019, Kendi's How to Be an Antiracist has quickly become an essential text for antiracist work. Each chapter begins with definitions of key terms providing the tools needed to unpack the complexity of what you will read in the chapter.
Killing the Black Body: Race, Reproduction, and the Meaning of Liberty—Dorothy Roberts
Tara Burns, Specialist, Family & K-12 Audiences
Dorothy Roberts lays out centuries of assault against black women's bodies in a book that, quite frankly, made me re-think what a miracle my existence is. I read this book in college, and I've found myself returning to it during every debate about reproductive rights since.
At the Dark End of the Street: Black Women, Rape, and Resistance—A New History of the Civil Rights Movement from Rosa Parks to the Rise of Black Power—Danielle L. McGuire
Tara Burns, Specialist, Family & K-12 Audiences
This book puts a spotlight on the black women whose names and stories should be as widely taught in this country as those of the men they were marching and organizing with.
No Mercy Here—Sarah Haley
Chisa Hughes, Media Producer, Communications
This gorgeously written book by Sarah Haley connects the histories of imprisoned black women in the South in the 19th and 20th centuries to the racialized/gendered logic of carcerality today.
The Contested Murder of Latasha Harlins: Justice, Gender, and the Origins of the LA Riots—Brenda Stevenson
Nancy Lee, Senior Manager, Public Relations
Analyzing the murder of 15-year-old Latasha Harlins by Korean shopkeeper Soon Ja Du and the miscarriage of justice by Judge Karlin through the lens of race, class, and gender presented in the personal stories of these Black, Korean, Jewish women.
Algorithims of Oppression: How Search Engines Reinforce Racism—Safiya Umoja Noble
Susan Edwards, Associate Director, Digital Content
Data discrimination is a real problem. In a world where information is currency, and computer programs dictate what we see online, it's important to understand how online platforms (including the internet, social media, online marketing, etc.) reinforce racist systems while hiding behind the idea of "objective" mathematical processes. As someone who works in the digital space and uses these data, I feel a responsibility to understand how I might be reinforcing racism with these systems. Noble's research how reveals the bias behind the algorithms, most of which are created by white men working in just a few private companies with near monopolies on our data.
The Immortal Life of Henrietta Lacks—Rebecca Skloot
Susan Edwards, Associate Director, Digital Content
I love reading about medical history. There is, sadly, a long history in this country of medical racism and violence against Black bodies perpetrated in the name of science. This book brings one of the hidden stories of this racist past to light. It's a story of how Black Americans were used by scientists for experimentation, and how they still do not benefit from the medical advances that came from their own bodies.
Faces at the Bottom of the Well: The Permanence of Racism—Derrick Bell
Janani Subramanian, Manager, Public Programs
A foundational text in my graduate education, this is a sobering book that uses Bell's own experiences as a civil rights leader and law professor to highlight the seeming permanence of racism in American society. Make sure you check out the sci-fi short story at the end of the book, "The Space Traders."
Essential Essays, Volumes 1 & 2—Stuart Hall, David Morley ed.
Janani Subramanian, Manager, Public Programs
Hall is vital reading for a broad, Marxist understanding of the ways race, power, and culture intersect in myriad ways. The Jamaica-born Hall was one of the founding figures of British Cultural Studies, which revolutionized the way mass culture was studied and received. He was a brilliant writer and thinker, and is a joy to read.
Just Mercy—Bryan Stevenson
Jessica Vrazilek, Manager, Individual Giving
I suggest watching this BookTube episode.
Are You At Risk for "Empathy Myopia"?—Ezra Claytan Daniels
Nick Stephens, Manager, Director's Office
This book always reminded me of Adrian Piper's calling cards—incisive but pocket-sized, you can carry a couple of these around in your bag and pull it out next time someone in your life is trying to make the "everything happens for a reason" argument. Perfect for addressing the blind spots of self-righteous liberals. Don't go to Thanksgiving dinner without it.
L.A. City Limits: African American Los Angeles from the Great Depression to the Present—Josh Sides
Claudia Bestor, Director, Public Programs
A brilliant history of how L.A.'s Black neighborhoods formed.
Why I'm No Longer Talking to White People About Race—Reni Eddo-Lodge
Alexander Barrera, Manager, Museum Events
This book validated all of my feelings about the difficulty of having conversations about race with white people. It provides significant historical context about why this is.
Pedagogy of the Opressed—Paolo Freire
Connie Butler, Chief Curator
Freire's radical pedagogical teachings about liberation through literacy were imagined during dictatorship in Brazil and apply today.
White Fragility: Why It's So Hard for White People to Talk About Racism—Robin D'Angelo
Hallie Scott, Specialist, University Audiences
A firm and important guide for white people to not only understand and name racism and white supremacy, but also to examine and shift the ways in which we tend to undermine conversations about racism by centering ourselves.
The New Jim Crow: Mass Incarceration in the Age of Colorblindedness—Michelle Alexander
Vanessa Arizmendi, Curatorial Assistant
Why we can't talk about #BlackLivesMatter without talking about prison abolition.
Identidad afro: procesos de construcción en las comunidades negras de la Cuenca Chota-Mira—Iván Pabón Chalá
Andrea Iaroc, Manager, Gallery Operations
Aunque este libro se enfoca en la comunidad Cuenca Chota-Mira, nos dá una mirada a la identidad Afro en Latinoamérica en forma de microcosmo—me enseñó a mirarme de forma diferente. Even though this book focuses on the Cuenca Chota-Mira community, it gives us a look into the Afrolatino identity in Latinamerica through a microcosm—it taught me to look at myself differently.
So You Want to Talk About Race?—Ijeoma Oluo
Andrea Iaroc, Manager, Gallery Operations
Ijeoma never sugar coated her truth as a black woman to any of us colleagues, acquaintances, or friends in Seattle. Her rise in the national and international conversation about the politics of race speaks to the depth of her thought process and inclusiveness of all for all—the solution is beneficial to all.
The Everyday Language of White Racism—Jane Hill
Anais Gascon, Academic Programs/Communication MUI
This book criticizes racist language that is usually dismissed or accepted in American culture.  Hill provides a linguistic anthropology lens that allows readers to understand how they may unknowingly be perpetuating racist rhetoric.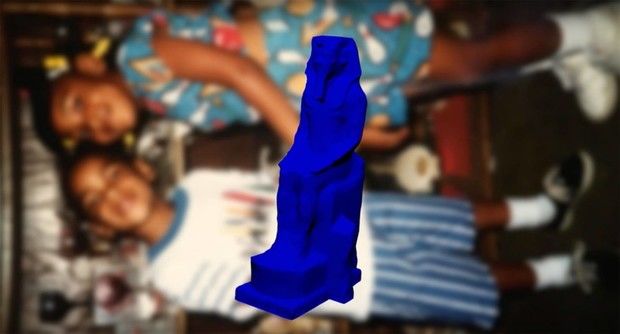 Sondra Perry, 'IT'S IN THE GAME '17 or Mirror Gag for Vitrine and Projection,' 2017
Visual Media
Watching Race: Television and the Struggle for Blackness—Herman Gray
Janani Subramanian, Manager, Public Programs
Herman Gray's book is about the history of Blackness on American television, including coverage of the Anita Hill hearings, Rodney King, the 1992 L.A Uprising, and the OJ Simpson trial, providing important context to the images currently flooding our many screens.
Horror Noire: Blacks in American Horror Films from the 1890s to Present—Robin R. Means Coleman
Janani Subramanian, Manager, Public Programs
Did you love Get Out and Us? Can't wait for the Candyman remake? Robin R. Means Coleman's book—now also a feature documentary—not only highlights many more horror films featuring Black characters and filmmakers, but also provides important cultural and historical contexts for how horror as a genre has expanded Black representation.
L.A. Rebellion: Creating a New Black Cinema—Allyson Field, Jan-Christopher Horak, and Jacqueline Najuma Stewart, eds.
Phil Leers, Project Manager, Digital Initiatives
This books is the authoritative resource on the L.A. Rebellion, a group of Black filmmakers—among them Charles Burnett, Julie Dash, Haile Gerima—who came out of UCLA in the 1970s and developed new approaches to film language and production in opposition to the mainstream American cinema.
Media and the Global South—Mehita Iqani and Fernando Resende, eds.
Nika Chilewich, Curatorial Assistant
A collection of essays from throughout Latin America of Feminist, Queer/cuir, and decolonial scholars who are thinking through questions of coloniality within our international cultural currents.