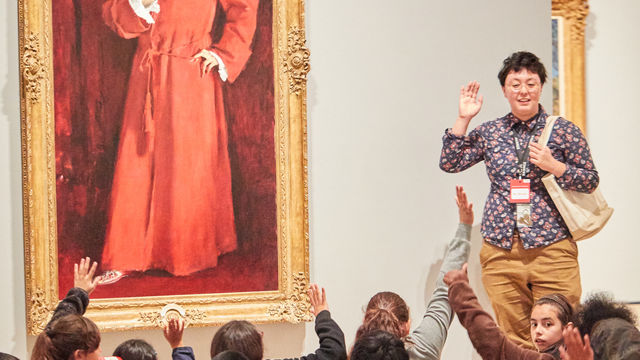 Reflections on the Emerging Museum Education Fellowship
I had the privilege of being the Emerging Museum Education Fellow at the Hammer Museum for the 2019–2020 academic year. My work at the Hammer, however, started 5 years ago when I was hired as a student educator. I was hired at a time when I did not know what I wanted to do academically or professionally, other than a vague notion that I wanted to positively impact people's lives and that I cared about working with children. I was delighted to discover the power of arts education in an informal learning environment and took great pleasure in facilitating tours and programs for audiences of all ages.
Five years later, my entire career trajectory has been altered by working at the Hammer. Pursuing a career in museum education is not easy. Museums have historically excluded people of color, and museum education is a competitive field. In this way, the Emerging Museum Education Fellowship is a crucial pipeline for folks like myself to enter the museum field. I've learned so much in the last year, and as a final project for the fellowship, I wrote, illustrated, and hand-bound a book about my experience at the Hammer Museum. Thank you to the Hammily for everything.
The Hammer Museum is now accepting applications for the Emerging Museum Education Fellowship for the 2020–2021 academic year. Learn more and apply today!