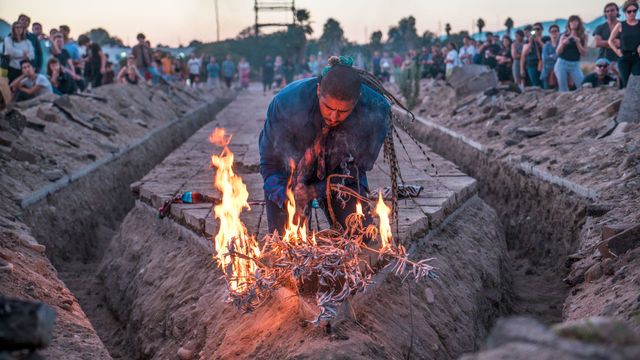 Conversations in Quarantine: rafa esparza
Hammer associate curator Erin Christovale interviews Los Angeles–based artist rafa esparza about new strategies for collaboration in isolation, his newest project that aims to abolish migrant detention, and artwork by Latinx artists that are inspiring him in the midst of a pandemic.
EC: Community inclusion and creating works with other artists is such a foundational aspect of your practice. I'm thinking specifically about your process of adobe brickmaking and the various collaborations you've embarked upon with other, specifically Latinx, artists over the years. How does the new normal of isolation affect this collaborative process, and what are new strategies of engagement?
re: That's a great question. Yes, I definitely feel indebted to the ways in which I've worked with adobe as a vehicle to drive the collaborative projects collectively materialized with various groups of people I now call family and friends. However, about a year and a half ago I started to reconsider my relationship to adobe and collaboration, realizing that collaboration is important to me beyond making objects and building spaces. More importantly, it's about building relationships. That's really what's at the core of how I practice collaboration, and I think that work can still happen, especially in the midst of the pandemic. While I am actively making art right now, I know that COVID-19 has impacted people in different ways. Not everyone is concerned with making art. I'm sensitive to that. So for me, the work right now is intimate and asks me to consider and practice care to build something beyond the artifact of a physical artwork. It can also be a literal support network for making in the future, when people from our creative communities are ready and willing to make again. It's like weaving a tight basket that can hold whatever the unit needs to be well, whether it be a place to talk, a place to dance, a place to cry, or yeah, a place to make art.
Can you tell me a bit more about your project with Cassils, In Plain Sight? What was the impetus for the project and has its intention shifted due to the pandemic?
In Plain Sight is an upcoming collaboration between 80 artists, activists, and organizers from around the country creating an artwork to help abolish migrant detention. It's an artist-initiated project by my friend, performance artist Cassils, and me that is building up to a nationwide intervention (we can't say what). But we're collaborating with a diverse group of folks whose committed practices address a vast array of issues that can speak to the current migrant detention crisis, intersecting it from various related vantage points and events such as mass incarceration through the prison-industrial complex and the cyclical violence of incarceration experienced in the US by communities such as Japanese Americans incarcerated in camps during World War II.
Although we're living in uncertain times, there is one thing that is certain: we need to work towards ending migrant detention now. While many of us are safe in our homes, migrant communities in detention do not have protection from this deadly virus and lack basic supplies including soap, disinfectants, and face masks. We can't distance ourselves from the fact that they will fare the worst in this crisis. We want to amplify the voices organizing on the inside and on the ground, using art to support the work of people and organizations that have been fighting for migrant justice for decades and that are urgently working to mitigate this humanitarian crisis.
We've fast-tracked an aspect of our project by beginning to build a social media presence and website (forthcoming) to amplify the calls to action initiated by our organizational partners and introduce our artists: one artist per day for the 80 days prior to the Fourth of July.
Love in the time of corona has been a new catchphrase, in reference to Gabriel García Márquez's novel Love in the Time of Cholera. What's your take on the ability to love in this moment, and do you feel like we're existing in a state of magical realism, a genre that Márquez was best known for?
You know what they say: distance makes the heart grow fonder. LOL. I feel fully capable of loving right now. But also, in spite of my Libra disposition to being in love with the thought of being in love, I am so deeply wound up in sci-fi right now (I just binge-watched all of Westworld) that it feels more akin to this moment than magical realism. We're so wrapped up in technology to feel connected. If I were to overlay Marquez's love plot over a cyborgian survival epic, my question would pivot from our capacity to love across time, like the character in Love in the Time of Cholera, towards loving through technology in our present state of isolation. How is distance measured given our capacity to be connected, to be in love? And what is foreclosed in our pursuit of this kind of cyborgian love? Will we be unchanged when we can finally touch, hug, kiss, and share with less than six feet of space between us again? I hope not. I hope we come out of this different, evolved, with an even greater capacity to be human. I don't care to return to the normal we knew, but would rather see a world we can dream up and build out of our collective, global experience. It would be a tragedy if, on top of all the illness and death, we came out of this unable to reflect on the state of our humanity and uninspired to be better humans.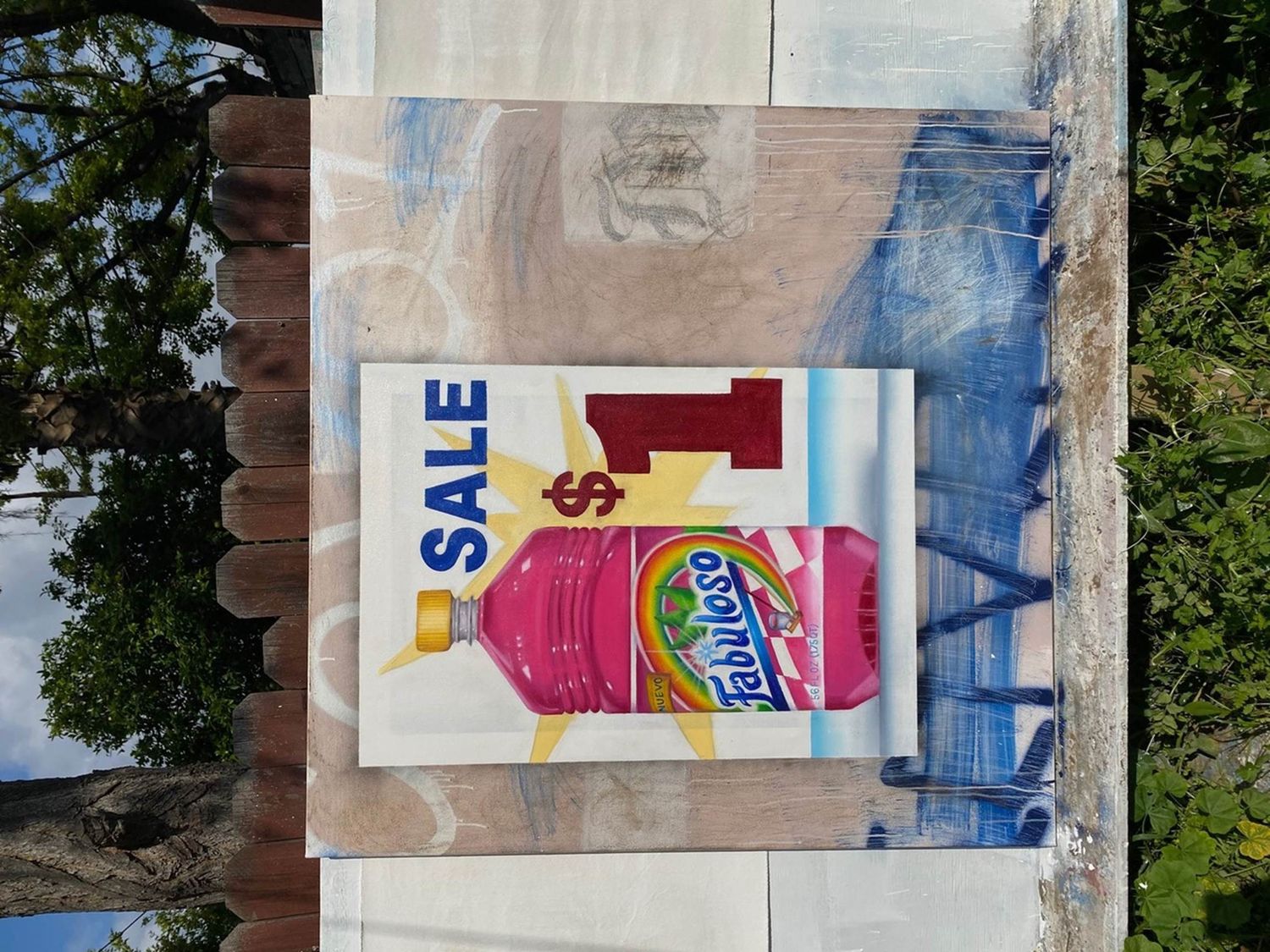 Alfonso Gonzalez Jr, 'Fabuloso,' 2020. 48" x 48", enamel, oil, latex on canvas. Photo courtesy of the artist
What's been especially heartening to me during this time is seeing how many Black and Brown folks have been tapping into culturally specific ways of healing, either through relationships with certain herbs and plants or more spiritual forms of ceremony and ritual. Are you tapping into this? And how might we think of these actions as a reclaiming of our ancestral healing?
Thank you!!! OK?! YES. I actually posted a number of photos of artworks on my Instagram 'cause I was thinking of how, as a son of Mexican immigrant parents, and like many other Brown folks, my relationship to dirty, or dirt, or hygiene has always created a level of insecurity, shame, and self-consciousness because of the xenophobic rhetoric that's projected onto our bodies. It has really impacted what our relationship to our skin color is and looks like, despite how hygiene and bathing rituals are so well documented historically, like in so many other cultures, in places like Aztec codices. I shared a photo of an artwork by Afonso Gonzales Jr, who painted a hot pink bottle of Fabuloso, and a picture of Gabriela Ruiz's Besote installation made up of dozens of pink Zote bars of soap—used to hand wash clothes and bodies—both common brown household cleaning items. But the works that I was most gravitating towards were of Carmen Lomas Garza's limpia scenes. In one, a woman is laying on the ground while a curandera is sweeping across her body with a broom in a cleansing ritual. It's called Barriendo el Susto (sweeping the fear). Which says so much about right now! The way it speaks to hygiene through the act of sweeping and using a cleaning tool but also through the performed ritual of a spirit-cleanse of the body from fear, which is more about mental health. And it feels activated alongside the physical symptoms brought upon by COVID-19, and other stressors amplified by people's anxieties and worries about how to survive our current situation. I'm taking all of the advised precautions while definitely burning my sage and sanitizing every surface with our homemade covid sauce, but also taking care of my mental health has been a top priority. A schedule helps TREMENDOUSLY.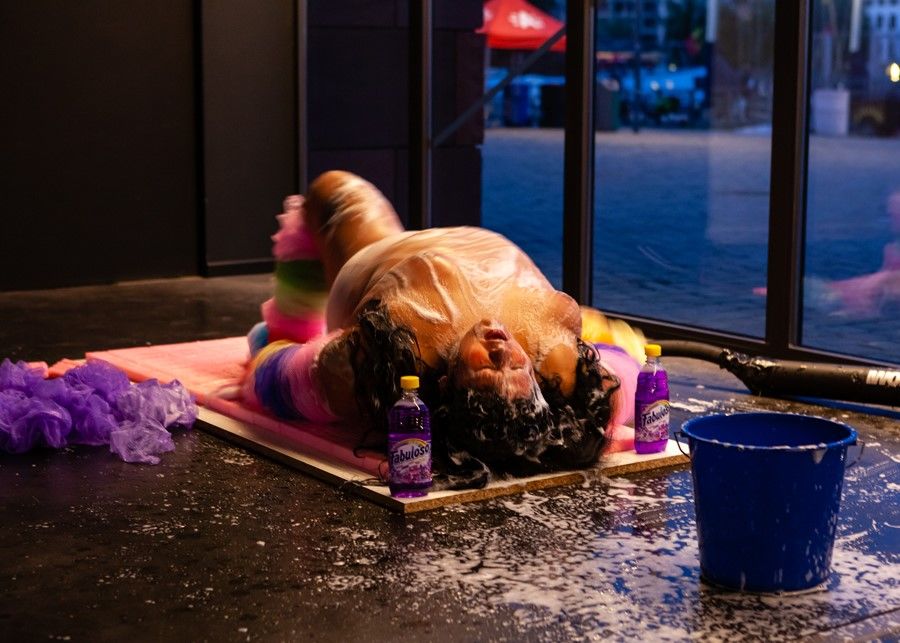 Gabriela Ruiz, 'Empapada,' 2019. Performance. Photo courtesy the artist.
What's a favorite snack you've been making during quarantine and can you drop the recipe?
I miss seeing our neighborhood fruterxs vending under their rainbow umbrellas, but I'm definitely snacking on fruit salads with sliced cucumber, mango, pineapple, jicama, coco, watermelon, melon, oranges dripping with lime or lemon juice, and heavy on Tajin chili powder :)