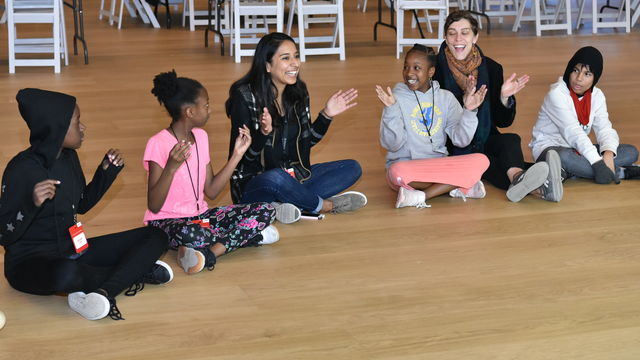 During my Emerging Museum Education Fellowship at the Hammer Museum I was fortunate to have the opportunity to develop and pilot a new program for families. I wanted to explore how museums can use mindfulness strategies to support family audiences and to empower them beyond their visit. With the goal of deepening collaboration and compassion among our multigenerational visitors, I proposed and implemented Art + Mindfulness, the Hammer Museum's first mindfulness program designed specifically for family audiences, and co-presented with the UCLA Mindful Awareness Research Center.
Mindfulness is the practice of focusing on the present moment fully and without judgement. Programs centered on mindfulness have been increasing in museums, schools, and community centers across the country in recent years. Practitioners use the tenets of mindful living to reduce stress and anxiety, foster empathy, and positively impact people's general state of mind. Programs are typically designed for youth or geared towards adults, such as the Mindful Awareness Meditation program that occurs at the Hammer every Thursday. For my pilot program, I wanted visitors of all ages to participate in mindfulness activities together.
Art + Mindfulness took place on two Sundays in April. Families learned strategies for cultivating self-love and letting go of their inner critic through artmaking activities, and through mindfulness sessions in the galleries, which were led by mindfulness practitioners Tina Doley Carlson and Zoe Silverman. Families also experienced a work called Singing Posters by artist Allen Ruppersberg in a new way: not reading the words, but seeing them (what do you notice about the shapes of the letters? how do the words feel?). One parent told us that her 8-year-old daughter has reading challenges, and she said the exercise gave her a new perspective on her daughter's reading abilities.
Let's face it, it's difficult not to be overwhelmed by the everyday strains and stresses that we experience in the sprawling city of Los Angeles, no matter your age. Making space for mindfulness on a family trip to a museum, however, can go a long way.