"Love Poems to Los Angeles": Linking Art and Poetry
Jessica Cook is an English Ph.D. student at UCLA, and has been a student educator at the Hammer Museum since 2012. As someone with both an English literature and physiology background, she believes strongly in interdisciplinarity as a means to better understand the world. Because a number of the contemporary artworks in Hammer exhibitions are conceptual, Jessica wanted to find a way to make the work more easily accessible to younger students.
I interviewed Jessica about her use of poetry in school tours of Made in L.A. 2018.
Have you used poetry in your tours of exhibitions before Made in L.A. 2018?
Yes, I actually first introduced poetry into a tour of the Stories of Almost Everyone exhibition. Because the works in that show were so heavily conceptual, I wanted to find a way to make the work accessible to younger audiences. I wanted students to not only grasp the concepts behind the works, but also create something to make the exhibition personal.
I think poetry works well with Made in L.A. 2018 because of how central performance and diverse voices are to the exhibition; in particular I found that a lot of works in this exhibition encouraged performing and investigated that idea of dwelling in a space.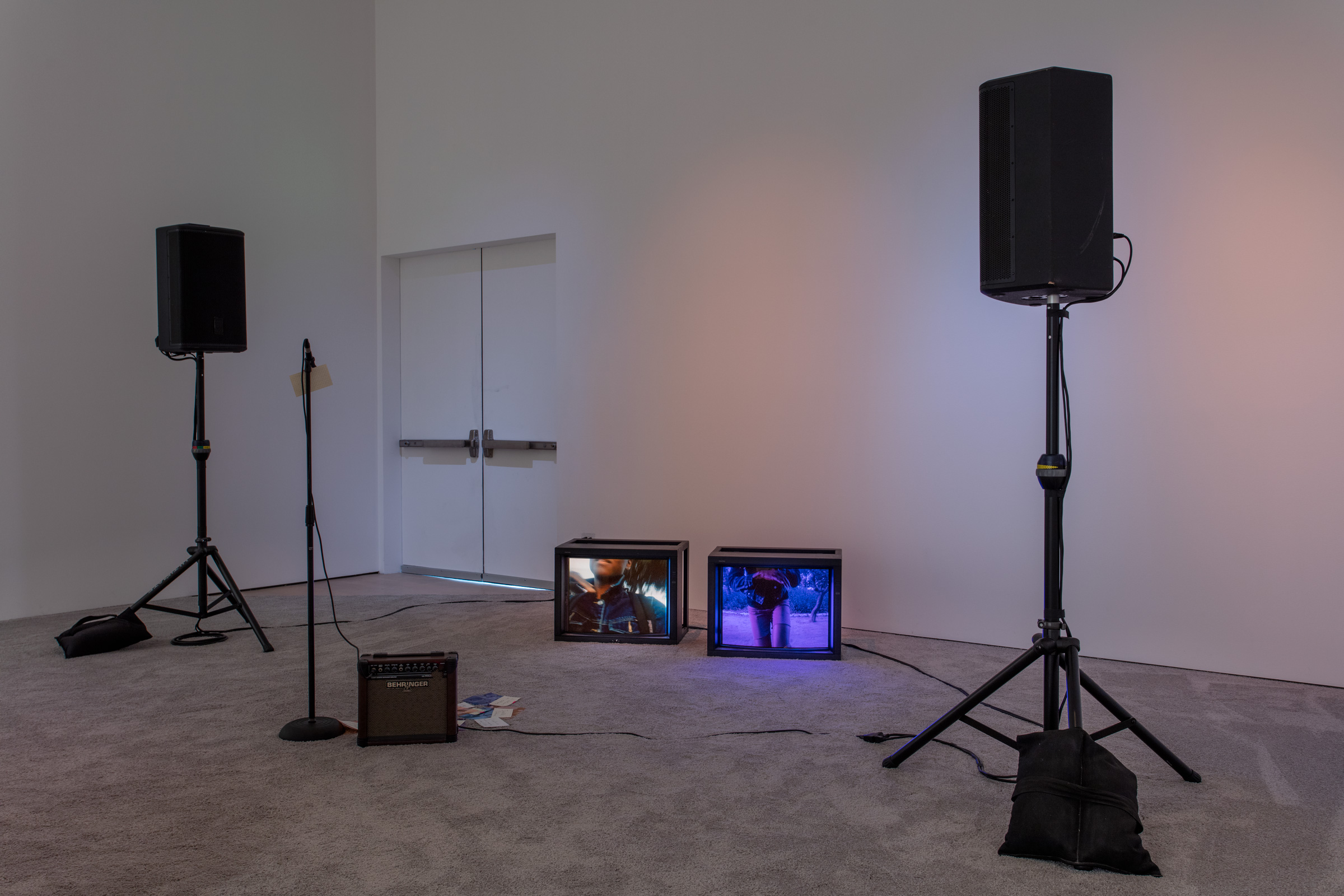 counts orchestrate, a meadow (or weekly practice with breath)
During my observation of your tour, I noticed that you introduced the poetry activity in taisha pagget's installation. Was it this work that inspired you to include poetry in your tour?
It was a little bit of a mix. That work was interesting to me in that it was set up to invite and encourage performance. There is a microphone in the middle of the installation and a soft rug for people to sit. I was drawn to the idea that people can get up in a staged environment with a working microphone, and project their voices to claim their position in that space.
I have all the students sit in the space and read aloud some poems about L.A. that I selected. Then I encourage them to write and present their own poem about their experience of L.A.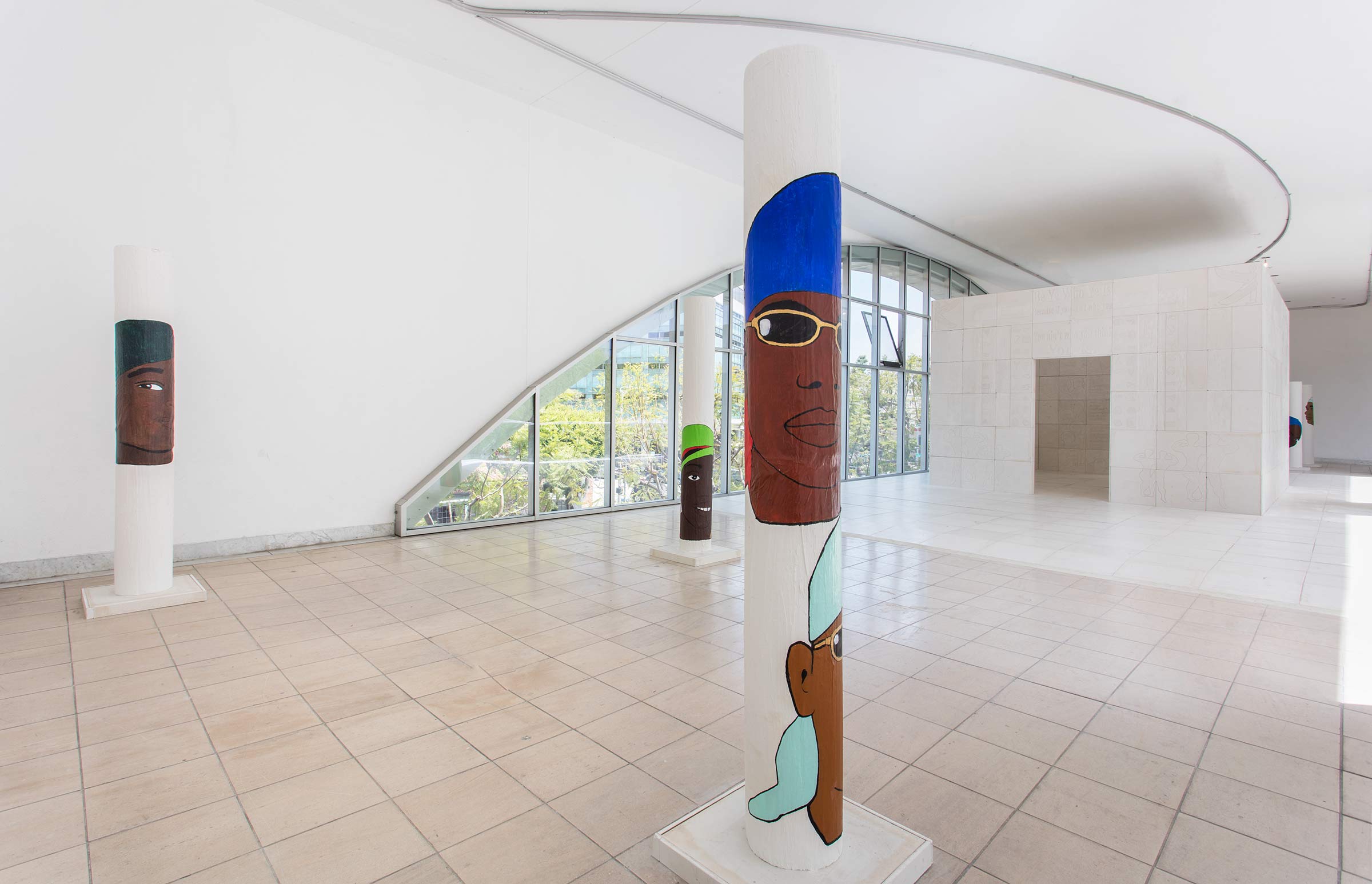 The Crenshaw District Hieroglyph Project (Prototype Architecture), (detail)
Have you introduced this poetry activity in other parts of the exhibition?
I did this activity in Lauren Halsey's space with a poem by Douglas Kearney that mentions Halsey. There is a sound and visual component to the poem, which helps students think about spoken word and expands their ideas about what poetry can be. Writing and performing poems in that space was just so poignant, in terms of the issues that Halsey's piece raises about community, race, and claiming one's space.
I wanted to focus on poems about L.A., not only because it was the focus of the exhibition, but also because L.A. is this nexus for thinking about issues of race, gender, culture, and socio-economics. It is nice to be able to give students free reign and use L.A. to talk about many different topics.
Was there any specific moment during your tours that stood out to you?
When kids speak, they often speak too softly and stumble over their words. I love that moment where you can say "you can speak louder, it's okay" and they gain the confidence to really speak loud. Having them access their agency to speak aloud and use their voices in the gallery space is really powerful. That in of itself exemplifies what art can do. 
Visuals from a version of Douglas Kearny's "Afrofuturism." Listen to the audio in the link below.
Which of the poems you selected resonated with you the most?
I really like Douglas Kearny's "Afrofuturism," because the sound and visual component is really interesting. Seeing the poem on the page was such a different experience than listening to the audio recording of it.
I also like "A Love Poem to Los Angeles" by Luis Rodriguez, which is a poem that certainly gets dark, explicit, and critical of Los Angeles. Being able to say that we have a Poet Laureate of Los Angeles who is of Latin American descent and who grew up in L.A., and seeing these students, many of whom are from similar backgrounds, brighten up when I tell them that, is really inspiring.
How do you think poetry complements visual art education?
On a literal level, there are so many contemporary artists like Jenny Holzer and Barbara Kruger who use text heavily as a medium.
More broadly, I think poetry can provide a narrative medium for students to express themselves, one that they are more familiar with because of how our educational system is structured, in that it focuses on writing and literacy. It's a good way to augment aspects of conceptual art and formal qualities that are more difficult for audiences without art backgrounds to grasp. Because the Hammer puts on so many exhibitions that are transhistorical and thematic, it is easy to make connections between the art and the narrative aspects of poetry.
My goal in using poetry in tours is for students to come away thinking, "This art is relevant and it speaks to me. I can make something creative; it doesn't have to be a huge production. It can be as little as putting pen to paper and writing a line or two."
What prompted you to become involved at the Hammer?
The Hammer was always a place that felt calming and contemplative for me; it was a place where I could be exposed to different ideas in a comfortable way. I fell in love with contemporary art because it helps me to think through other aspects of my research, which focuses on 18th and 19th-century literature.
For example, Michael Queenland's work, which is about the standardization of food in the 60s and how it relates to extra-world colonization, has relevance for thinking about, for example, the standardization of bodies during the French Revolution as a result of the guillotine. His focus on form and commodities in his work help me to see other aspects of my own research in the 19th century.
The Hammer student educator program is quite interdisciplinary in some ways. They do a good job of recruiting educators from a variety of subject majors. I studied physiological science as an undergraduate, and I'm really grateful that the Hammer gave me a means to do something different than what I was "slated" to do, because I think that welcoming diverse audiences—not only gender and racial diversity, but educational diversity—is important.
Additional Poems about L.A. that Inspired Jessica
All poems reproduced by permission of the authors
Excerpt from "I Am Alive in Los Angeles!" by Mike Sonksen
          I am alive in Los Angeles!
          I am alive in Los Angeles!
Here in the wild, wild west.
The warm wind hits my face,
I walk across stained concrete,
I cry tears of joy on Flower Street.
I watch families dancing
on their porches on Christmas Eve.
I smile widely.
I move thru the city,
my heart beating swiftly
as sirens speed by me.
I revel in the sadness—my soul is deep
I take full responsibility.
Give me everything!
It hurts—it's so beautiful!
The universal
Soulful multicultural
Emerging worldwide
tribe people
          I am alive in Los Angeles!
"Love Poem for Los Angeles" by Sandra Beasley
Two hundred years ago, we set out west one
oath at a time, a long game of Telephone: You
are our strangest echo, the promise of Great American
Self-Storage. Los Angeles, I love your red-and-white
strip joints, your car dealerships, your Bob Hope Hall
of Patriotism. I love the graze of your fingernails,
your slow sparklers of palm trees, your buildings silver
and inscrutable, this constant haze as if a battle just
ended and your bloodied asking Did we win? Did we win?
Los Angeles, take off your sunglasses, roll your window
down; I like it when you let your hair whip into knots.
Los Angeles, even your salads glisten with fish and
though I know you dream of living forever, cancer
looks good on you. Los Angeles, I love the ways
you misunderstand me: Jew for blue, erosion for ocean.
I am rushing your Russians, I am cold for your gold.
When I tell you I'm married, all you say is I do.
When I say Don't get hurt you hear Flirt harder.
"The Beach at Sunset" by Eloise Klein Healy
The cliff above where we stand is crumbling
and up on the Palisades
the sidewalks buckle like a broken conveyor belt.
Art Deco palm trees sway their hula skirts
in perfect unison
against a backdrop of gorgeous blue,
and for you I would try it,
though I have always forbidden myself to write
poems about the beach at sunset.
All the clichés for it sputter
like the first generation of neon,
and what attracts me anyway
are these four species of gulls we've identified,
their bodies turned into the wind,
and not one of them aware of their silly beauty.
I'm the one awash in pastels
and hoping to salvage the day, finally turning away
from the last light on the western shore
and the steady whoosh of waves driving in,
drumming insistently like the undeniable data
of the cancer in your breast.
We walk back to the car
and take the top down for the ride home
through the early mist.
No matter what else is happening,
this is California. You'll have your cancer
at freeway speeds. I'll drive and park
and drive at park. The hospital
when I arrive to visit will be catching
the last rays of the sun, glinting
like an architectural miracle realized.
I realize a miracle is what you need—
a grain of sand, a perfect world
where you live beyond the facts
of what your body has given you
as the first taste of death.