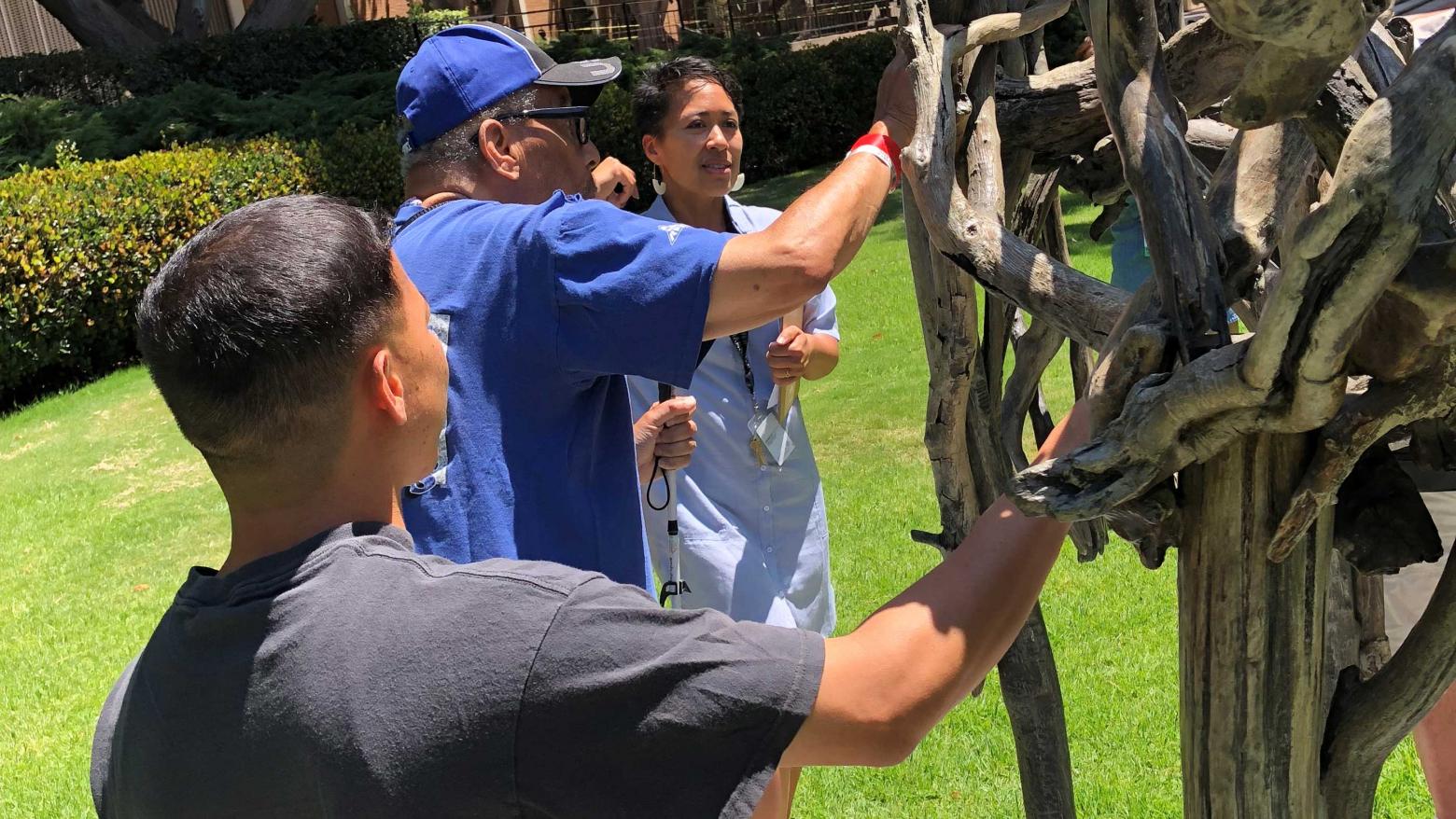 Reaching for the Statues: A Tour for Blind and Low Vision Veterans
When we experience art, it is often at a distance of 3 feet, with hands and bag pressed closely to the body, looking. But what happens when our experience of art is completely decentered from sight?
We were recently honored with the opportunity to lead a group of blind and low-vision veterans through a tour of the Franklin D. Murphy Sculpture Garden. This was our first tour for blind and low-vision guests. Preparing a tour for those whose primary means of accessing art are haptic and senses other than sight required us to reconsider assumptions about how we perceive art.
Our research began with a range of practical and theoretical questions: What strategies have other institutions used to help blind and low-vision guests access art? How do touch, sound, imagination, and memory inform how we perceive an artwork? And how can we as a museum work to dismantle art history's privileging of sight as the primary means of connecting with art?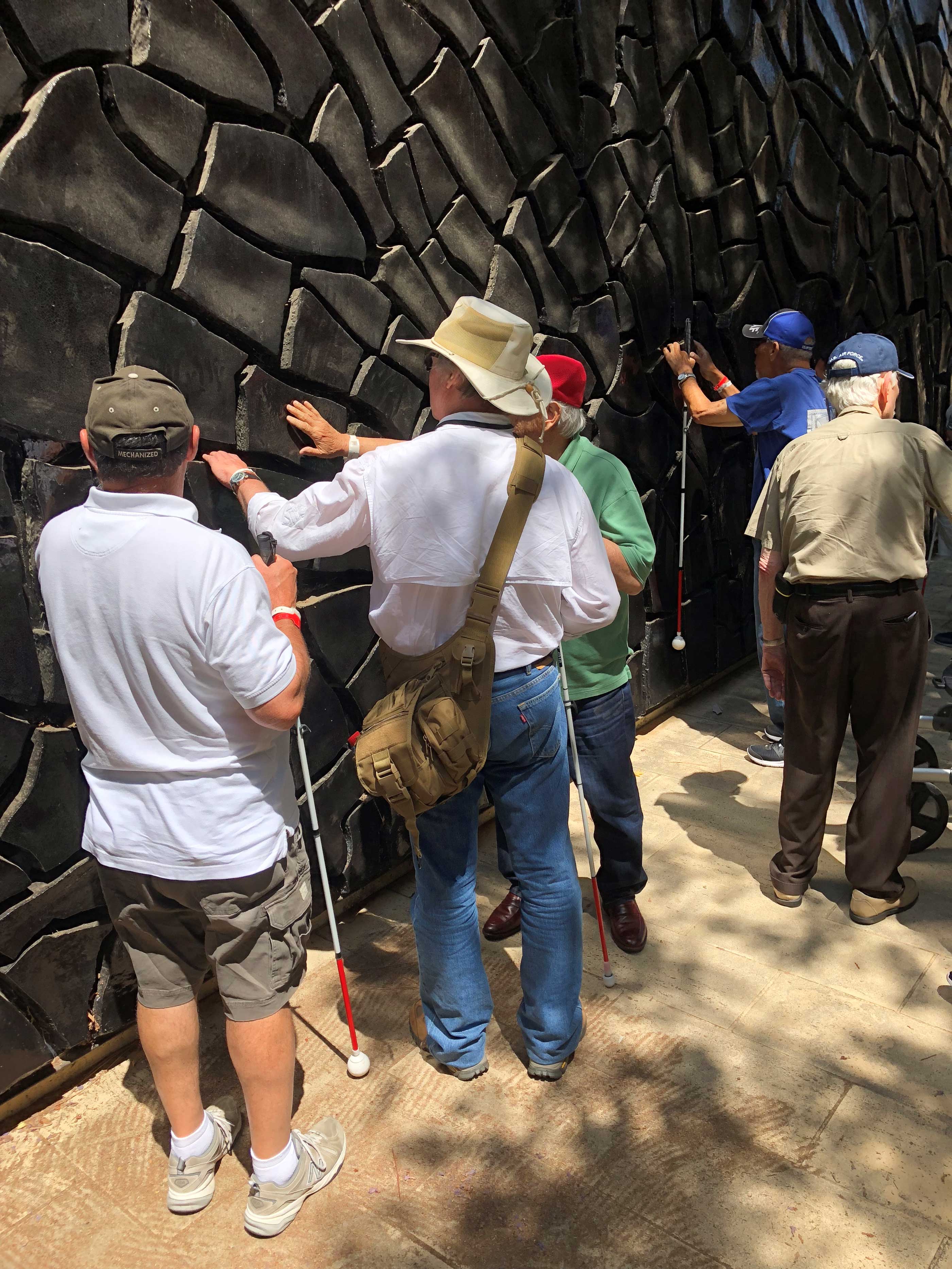 Veterans exploring Alberto Burri's Large Black Cretto
We examined how our colleagues at museums like MOMA, the Getty Villa, and The Met connect visitors to two dimensional works of art through three dimensional recreation, sensory descriptions, and even music. We also looked at other peer-reviewed research focused on interviews of blind and low-vision museum guests. Several researchers advocated for museum educators to consider touch as a source of not only information, but also aesthetic pleasure. Touch, like sight, is heavily nuanced; the positioning of one's palm, fingers, and body—as well as the weight, temperature, scale, and texture of an object—result in various feelings and levels of enjoyment.
Keeping all of these strategies and concepts in mind, we invited our visitors to explore sculpture physically—through touch and movement. Our guests noted the various temperatures, textures, forms and even sounds produced from and within each sculpture.  Theresa Sotto, associate director of academic programs, supplemented these experiences with explanations of the material, process, and context of each work.
In addition to detailed description of the sculptures, Theresa provided verbal descriptions of the architectural, botanical, and landscape parts of the garden we walked through. She helped us grow more aware of the diverse species of plants and trees, the texture of the various types of ground we walked on, and the locations of walls and buildings that directed the wind. These nuanced descriptions painted a map of the expansive, diverse garden.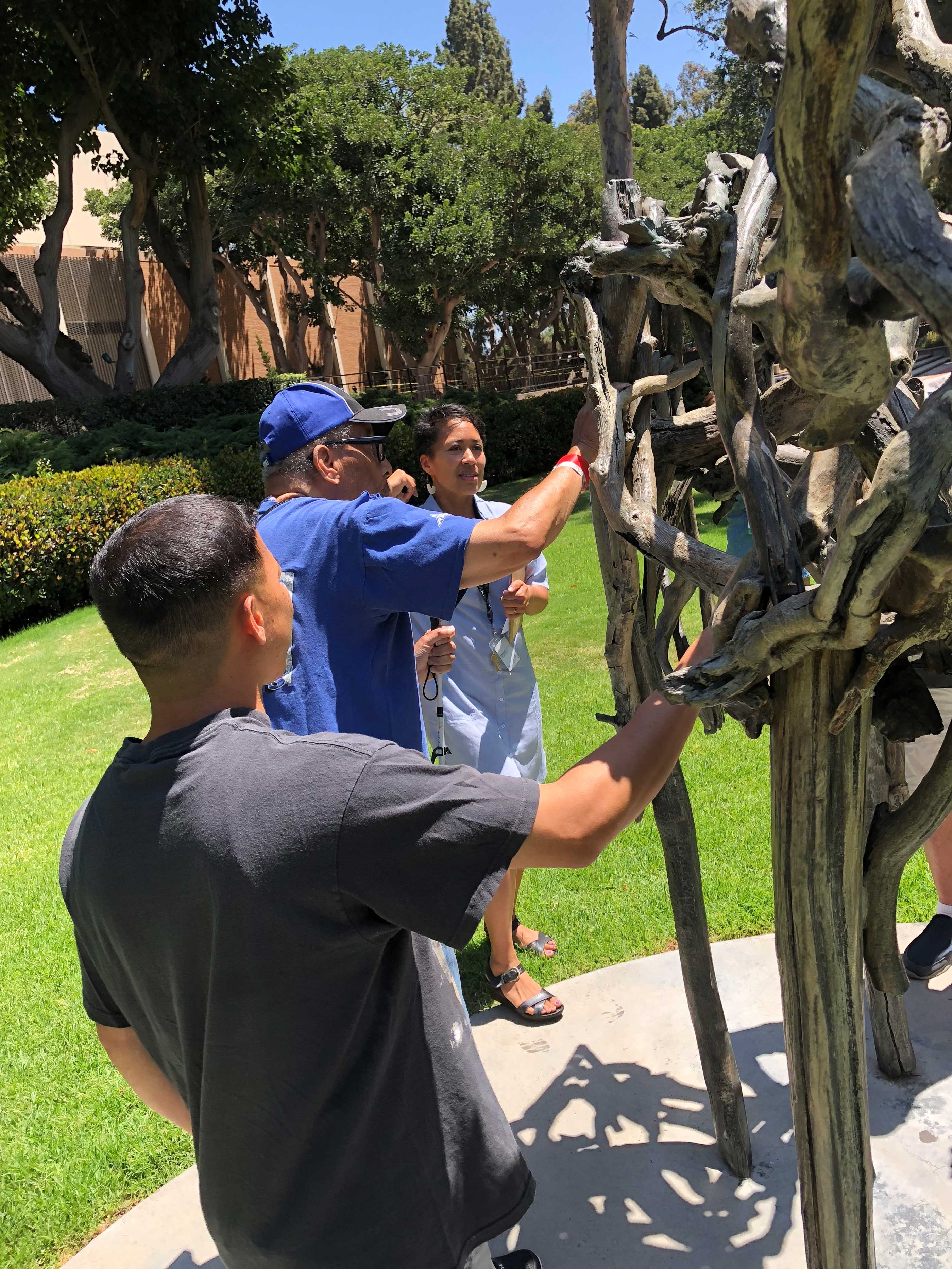 Veterans exploring Deborah Butterfield's Pensive
After crossing a square field of crushed gravel, our guests walked around the entire perimeter of Richard Serra's Torqued Ellipse, tracing the surface with their palms. Many noted the changing subtle slants of the bent steel sheet. We then entered the enfolded region of the sculpture and were immersed in the temperature and sonic shifts of an environment enveloped by tall, thick steel; the air was thicker with heat and directed sunlight, and our voices echoed as they bounced off the walls of the structure.
Several of our visitors (including one who calls himself the "Blind Stallion") were intrigued by Deborah Butterfield's Pensive, a skeletal, quiet representation of a bowing horse made from bronze casts of driftwood. We passed around driftwood along with their molds to demonstrate the nascent stages of the work's journey from driftwood to bronze. One guest spent extra time with the mold, tracing repeatedly the driftwood and its imprint and molding the plaster, as if he were imitating the artist as she created the piece.
The academic programs department at the Hammer emphasizes tours centered on dialogue; although this tour required more description than usual on Theresa's part, it was not lacking in insight from our guests. While we were discussing the strength and independence of the Lachaise's Standing Woman, one guest wondered if this could be due to the influx of women workers in between the World Wars. Another noted the sculptural elements of an especially gnarled tree trunk, sharing the garden's landscape architect Ralph Cornell's conception of nature's creativity as closely linked to man's.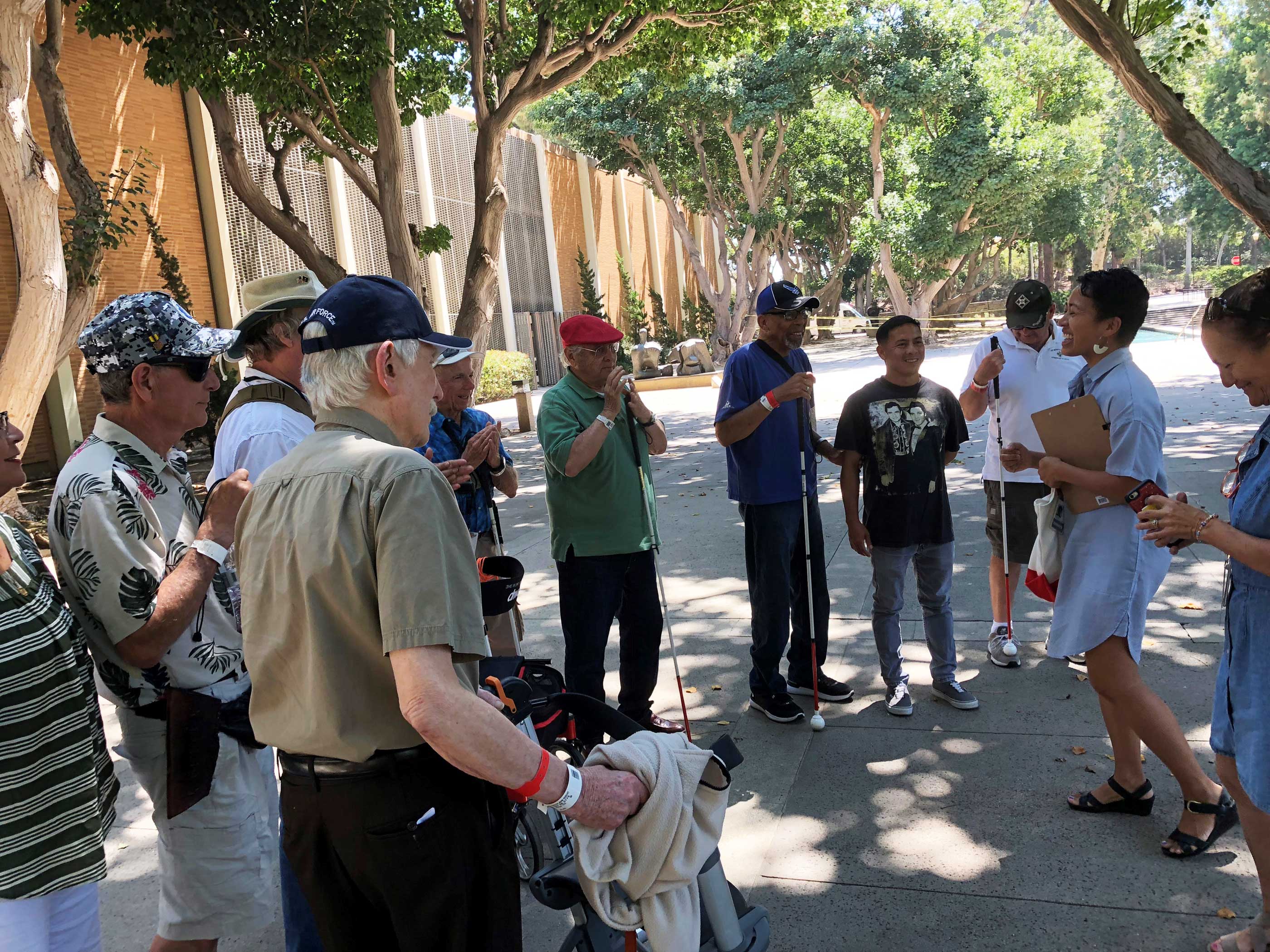 Theresa Sotto talking to the veterans
At the end of the tour, as we enjoyed lunch under the shade of some large oaks, Theresa led a brief discussion on things we could do better for future blind and low-vision guests; it was important to us to learn from our guests. Georgina Kleege, an english and disabilities professor at UC Berkeley notes, "There needs to be an expectation that the blind people on the tour have something to contribute to cultural knowledge beyond gratitude for this gift of inclusion." I personally am grateful for how the veterans on this tour helped me to gain a more acute appreciation for how our bodies relate to space and sculpture.  
In many ways, this tour embodied the values of Franklin D. Murphy, who, envisioning the garden as an open and public place where art could be an integral part of daily life, refused to have the sculpture garden fenced off. By working vigorously to engage visitors of varying abilities and backgrounds with art in meaningful ways, we hope to honor the ideals of public art and chip away at social divisions.