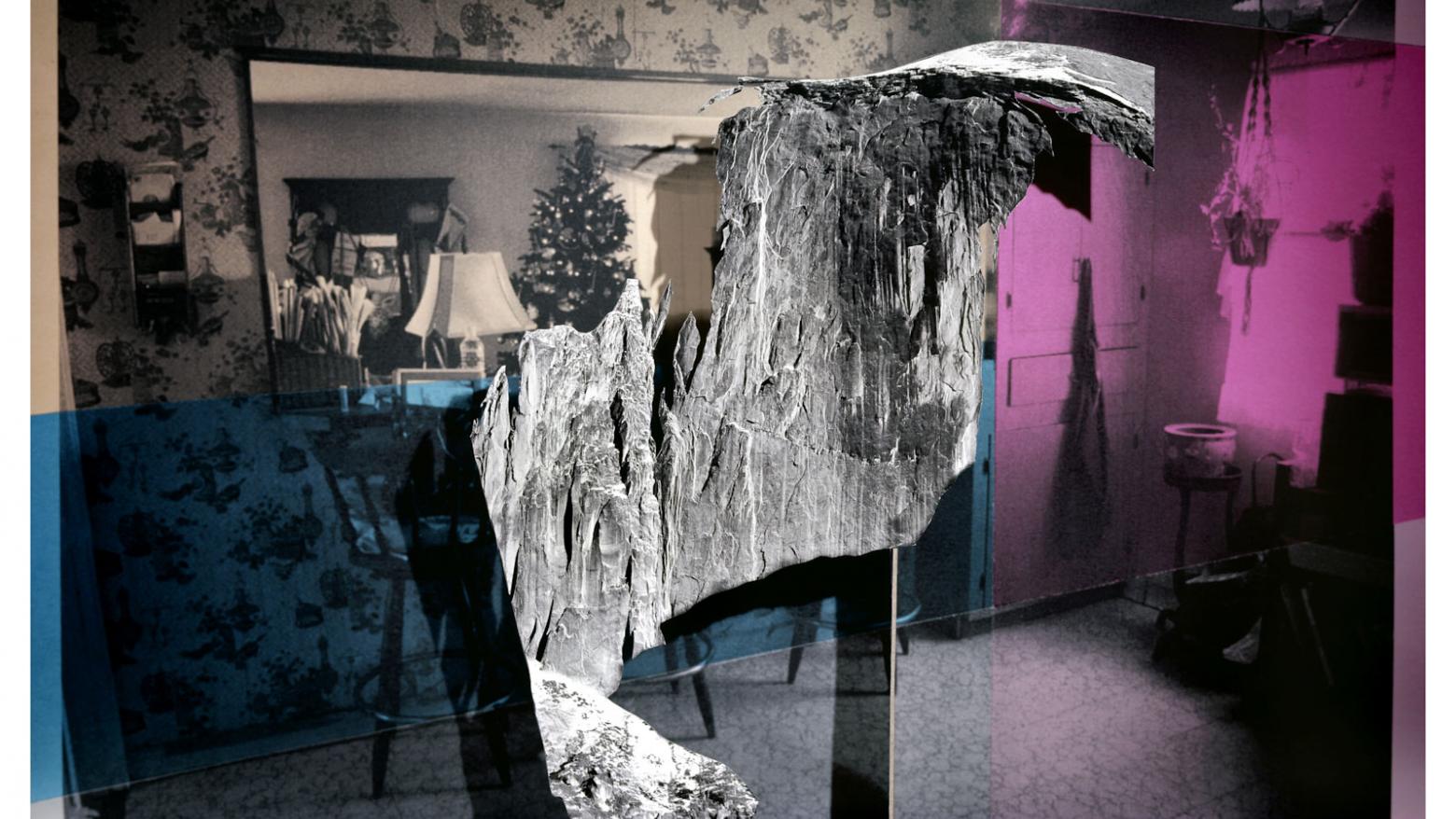 Where Are They Now? Matt Lipps and Christopher Russell at the Getty
Two works from the Hammer Contemporary Collection are currently at the Getty Museum. Matt Lipps's Untitled (bar) (2008) and Christopher Russell's Untitled (2008) are on display through May 27 in the exhibition Cut! Paper Play in Contemporary Photography. The exhibition features six contemporary photographers who investigate the malleable qualities of paper. Across the works on view we find paper cut and torn, sometimes folded and layered, and at other times propped and arranged. Through a combination of these methods, both Lipps and Russell unlock the transformational aspect of the material to elicit sensations of nostalgia and abandonment, invasion and desertion, illusion and desolation.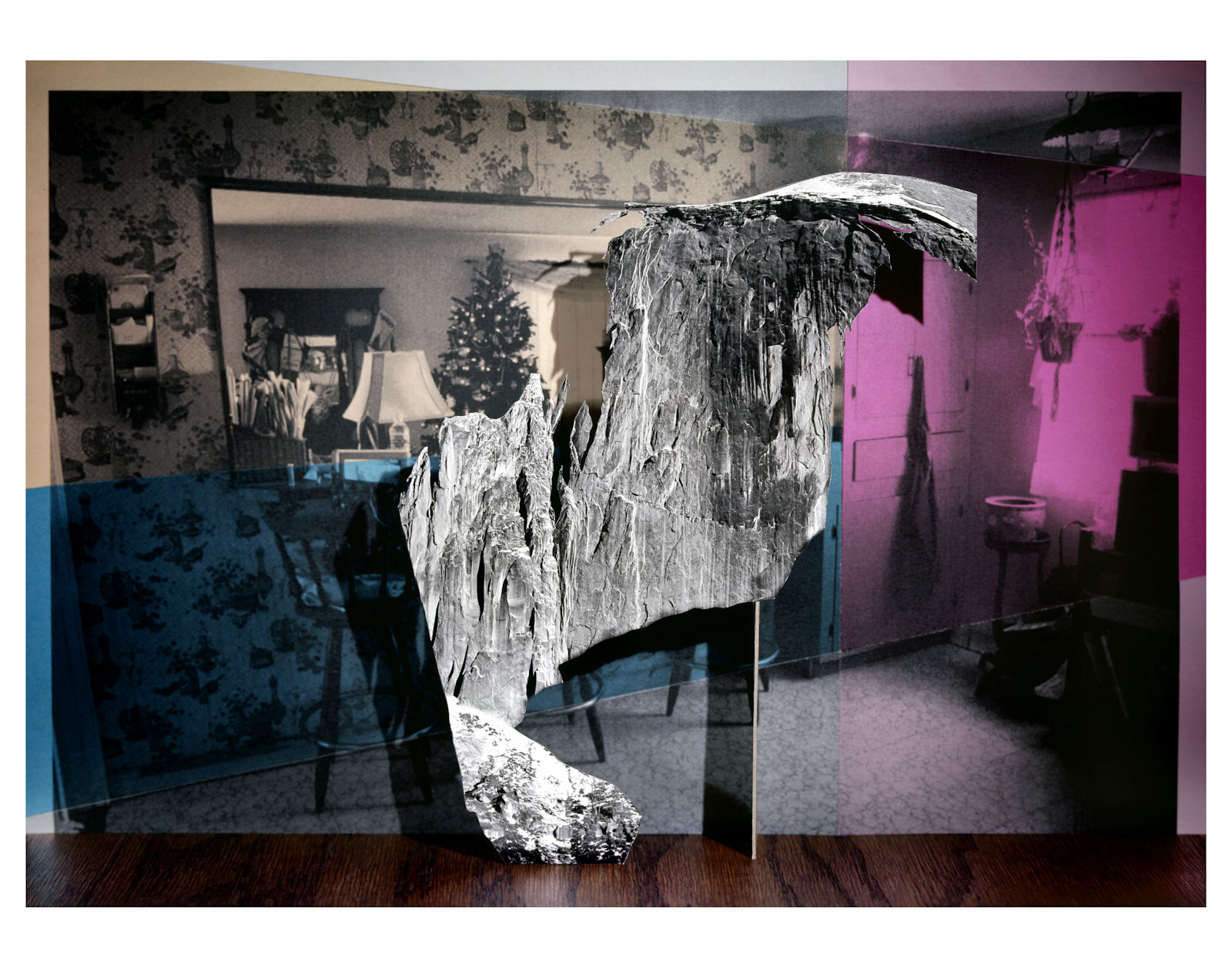 Untitled (bar)
In Untitled (bar), a jagged rock formation with transparent monochromatic shades of blue, pink, eggshell, and gray bisect a suburban home's bar area. The bar opens a view into the living room, identifiable by the familiar presence of a bookshelf, a lampshade, a scintillating Christmas tree. The festive icon imbues the image with a touch of temporality, inviting melancholic and nostalgic awareness of times past, moments lived. Despite the sense of lingering familiarity, a surrealistic quality pervades the work via its fusion of the majestic, open outdoors with a contained interior alcove. "For Lipps, the great unknown would seem to begin at home." This surmise from writer Joseph Akel expresses how the unusual pairing in Untitled (bar) leaves onlookers, likely unsuspecting of the eerie potential for everyday scenes to appear so estranged.
To achieve these nuanced meanings and layered material effect, Matt Lipps (b. 1975) transplants existing images into unrelated photo-assemblages. Untitled (bar) derives from his 2008 photographic series, Home, which features multicolor domestic interiors invaded by black and white cutouts of Ansel Adams's photos of rugged landscapes. Lipps snapped pictures of the interior of his childhood home in northern California, printed the photographs on colored paper, cut the prints into geometrically shaped shards, and taped the shards back together to create an 8 x 11 inch collage. Next, Lipps inserts Adams's images of crystalline lakes and soaring mountainous peaks as abstract cutouts of nature mounted on wooden stilts like props on a stage. They are fully assimilated into the visa when Lipps photographs the entire composition and locks the differing images into the same picture plane. The natural sceneries are now actually present in the domestic interior, encroaching on the ceiling fixtures, flooding the kitchen, lurking in the basement, or lingering at the bar—as is the case in Untitled (bar).
By referencing childhood, familiar yet uncanny space, and fleeting time, Lipps's work strikes an emotive chord that attends to the evolving legacy of photography, from its formal aesthetic to its experiments with other media. Lipps celebrates sculptural form in his artwork through his expertise in theater staging techniques, collage strategy, and paper treatment. He assembles layers of paper elements that cast light and shadow across nearby surfaces and thus create three-dimensionality within the confines of the two-dimensional medium. The conversation between sculptural dimensionality and photographic flatness parallels Lipps's juxtaposition between spaces of private domesticity and monumental naturalism.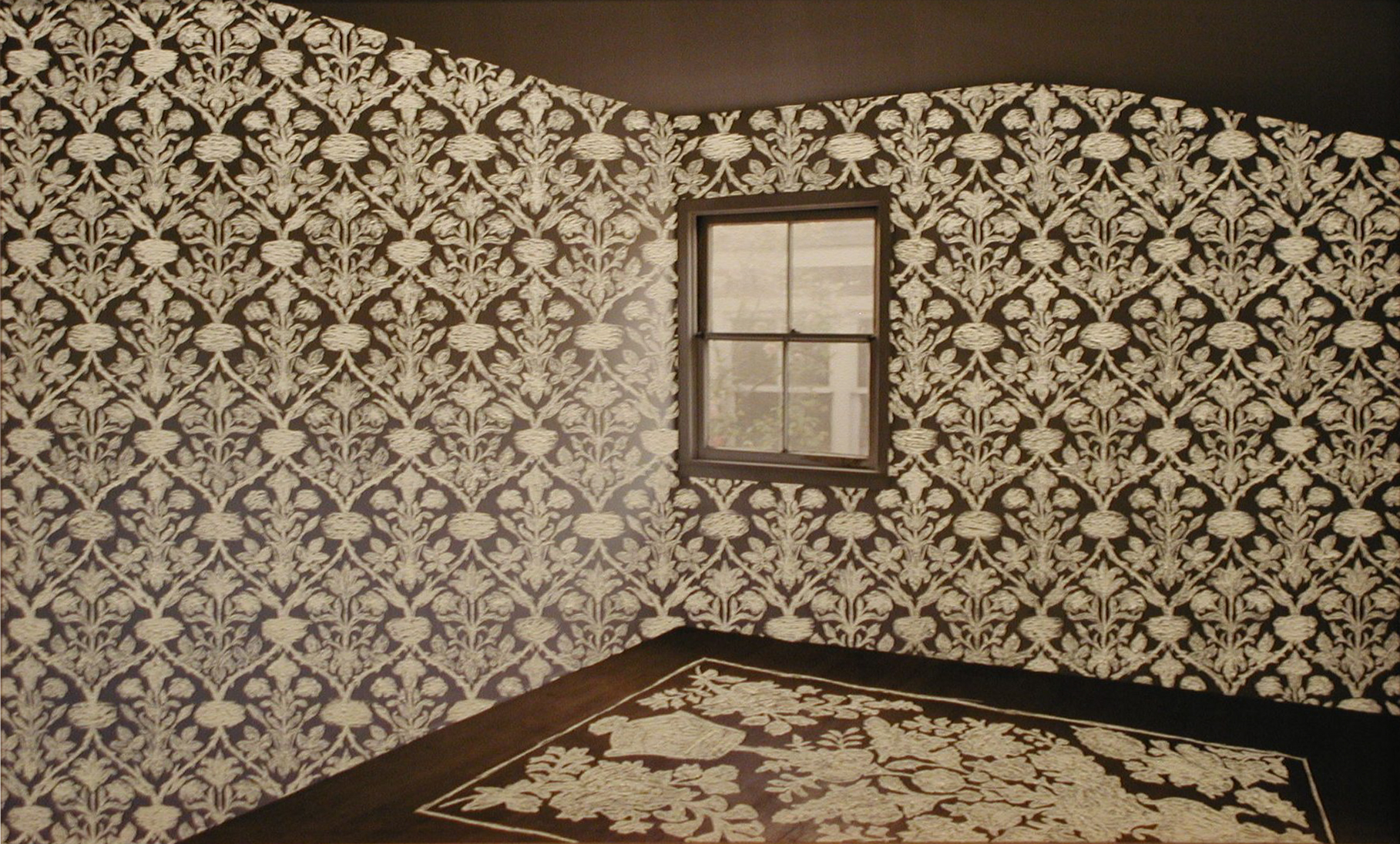 Untitled
Unlike the invasion of domestic space in Lipps's Home series, Untitled by Christopher Russell (b. 1974) portrays its foil: an empty, abandoned interior. Untitled stems from a series Russell dedicated to producing visual iterations of his narrative fiction novella Budget Decadence (2009). The story traces the inner ruminations of four characters and the collective malaise of the nuclear family enduring adverse circumstances that threaten their neighborhood. Like the book, the image is suggestive of eerily apocalyptic tones. It is devoid of people or furniture, save a floral rug that matches the expanse of wallpaper punctured by a single window--the only suggestion of an outside world or life. The muted color tonality of the wall design translates lively florals into patterns of monotonous symbols.
The blurring of décor with desolation in this work embodies the artist's tendency to gravitate towards the psychologically dark or disturbing, the gritty, moribund, and useless. In a disconcerting mélange of futuristic projection and apocalyptic aftermath, Russell's work generates suppressed or dejected narratives, which he brings to life by way of acute observation and imaginative fictionalizing. Poet Amy Gerstler encapsulates these effects of his work: "In the case of Russell's constructed, realistic/fanciful ruins, they put this viewer in a mind of both what has been and what may be to come."
Untitled forms part of a grouping of five photographs involving the same interior, which Russell has etched, ripped, and scratched in order to venture towards the unsavory side of humanity. In one image of the same (but wallpaper-less) interior, a digitally manipulated tree invades the room. Another image has been hacked and left in its marred state. "The technique is quietly effective," art critic Christopher Knight notes in a review, "at its best exuding a feral quality of clawing for release from domestic confinement." Russell's mutilations of the images framing dejected storylines further draw out their narrative possibilities while pushing paper potentiality for new form.
Paper is more than the finished result of a print. This is all the more apparent since the two works on view at the Getty come out of a serial meditation on paper and its possibilities. For Lipps and Russell, paper ultimately becomes a pivotal part of the process pervading their work. While the Getty exhibition presents just a sample of photography's contemporary uses, Lipps's and Russell's manipulation of paper broadens the medium's reach, propelling it forth in an endless refraction of photographic iteration.