Trisha Brown passed away on Saturday, March 18 at the age of 80 in San Antonio, Texas. Brown's choreography, described as a combination of "the cerebral and sensuous sides of dance," incorporated quotidian activities such as walking, jumping, and running with more complicated movements, resulting in pieces that felt both casual and spontaneous but also highly composed. Her early performances often took place in unexpected and unconventional spaces such as the street, loft apartments, abandoned buildings, and other sites in and around New York City. Brown was a foundational part of New York's downtown art scene in the 1960s—she, along with Yvonne Rainer, Steve Paxton, Meredith Monk, Carolee Schneemann, and a host of other dancers, musicians, and composers—formed the Judson Dance Theater at the Judson Memorial Church in New York's Greenwich Village in 1962. Brown would later start her own dance company in 1970.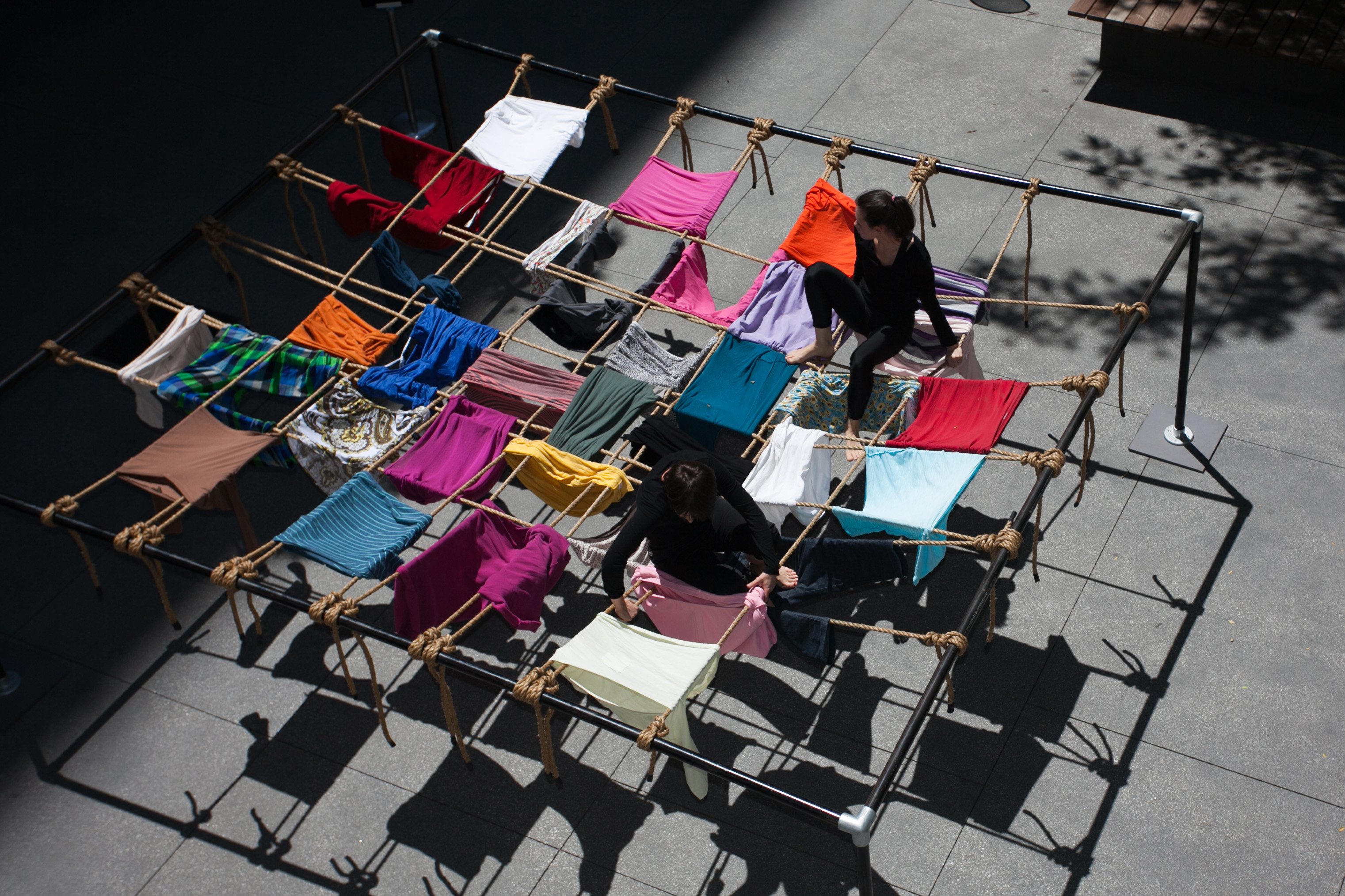 Floor of the Forest—restaged at the Hammer in 2013—was first performed the very year of her company's founding. At the Hammer, it was staged on a large metal platform installed in the museum's courtyard. Dancers climbed and crawled across a grid work of ropes, using pieces of clothing to suspend their bodies in mid-air. For this piece, and several others choreographed by Brown during her long-career, the forest was a source of inspiration. Her time spent outdoors in rural Washington, where she grew up, informed her thinking throughout her career. As Terry Winters recently put it: "She [Trisha] tells this wonderful story of growing up in the woods. As a kid she used to love to run through the forest…which meant she had to avoid all the fallen trees and stones and broken branches…all of that really forced her to take unpredictable routes and develop asymmetrical patterns, and I think that really is the basis of her work."
Trisha Brown: Floor of the Forest
3/30-4/21/2013---First performed in 1970 in New York City's downtown Soho neighborhood by Trisha Brown and Carmen Beuchat, 'Floor of the Forest' consists of a sculptural steel frame holding up a web of ropes that have been threaded with colorful used clothing. Placed at eye-level, this horizontal plane becomes a soft platform for two dancers to negotiate. Climbing onto the apparatus, the dancers weave their way across the structure by putting on and then taking off the clothing, occasionally pausing to allow gravity to pull their bodies toward the floor while the clothing acts as a cocoon or hammock. Dancers from the UCLA World Arts and Cultures (WAC) program performed the piece during a Hammer installation that took place March 30-April 21, 2013 (Run Time: 3 mins).