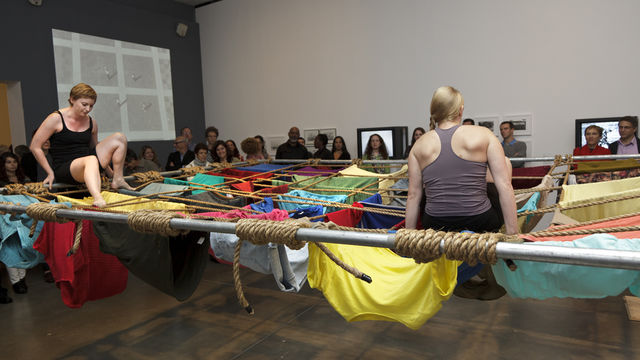 Trisha Brown: Floor of the Forest
Mar 30–Apr 21, 2013
This is a past exhibition
First performed in 1970 in New York City's downtown Soho neighborhood by Trisha Brown and Carmen Beuchat, "Floor of the Forest" consists of a sculptural steel frame holding up a web of ropes that have been threaded with colorful used clothing. Placed at eye-level, this horizontal plane becomes a soft platform for two dancers to negotiate. Climbing onto the apparatus, the dancers weave their way across the structure by putting on and then taking off the clothing, occasionally pausing to allow gravity to pull their bodies toward the floor while the clothing acts as a cocoon or hammock. For the three-week presentation of the work, the sculpture will be installed in the Hammer Courtyard. Dancers from the UCLA World Arts and Cultures (WAC) program will perform the piece during the installation.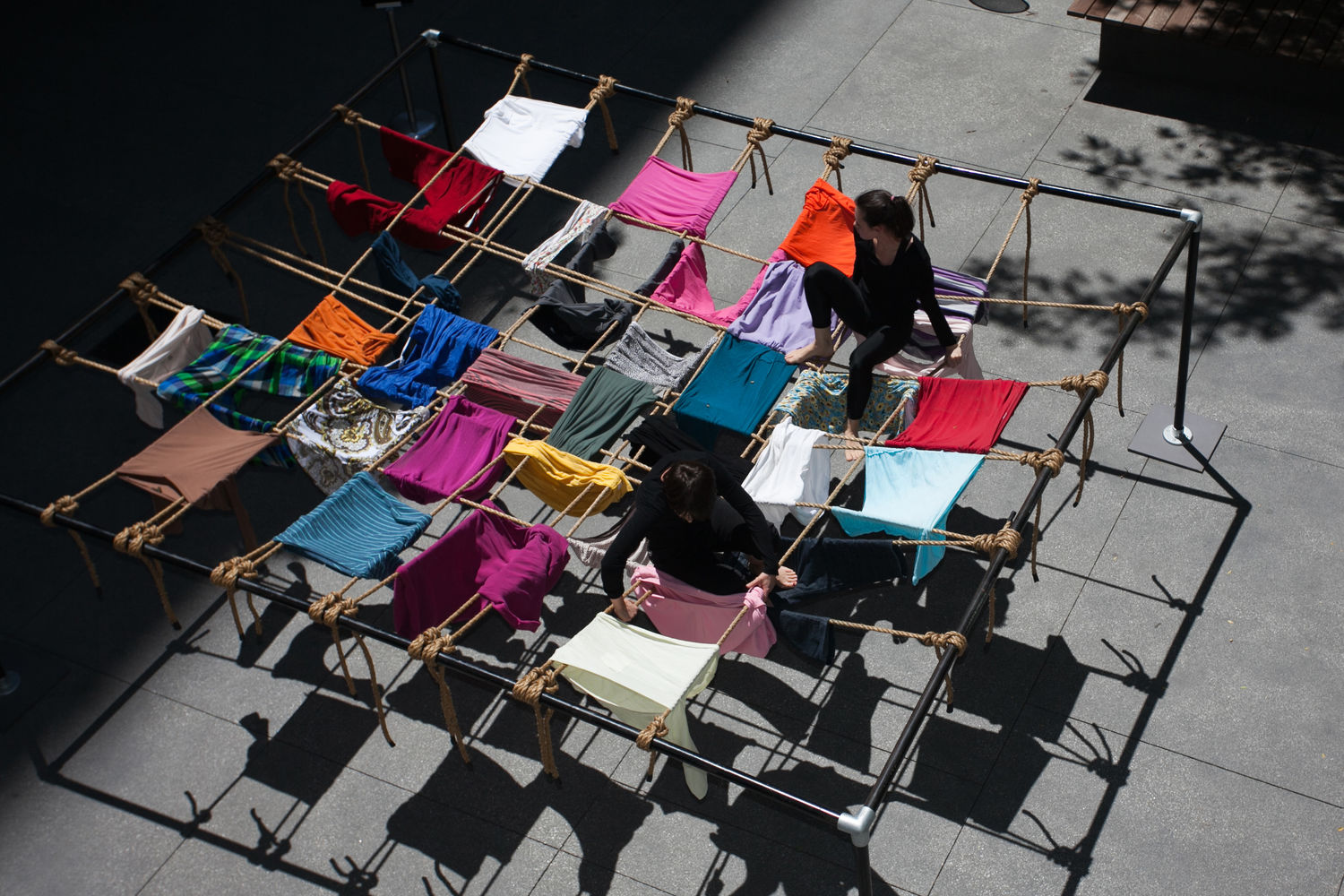 Performance schedule:
Thursdays and Fridays: 1pm, 3pm, 5pm, 7pm
Saturdays and Sundays: 12pm, 2pm, 4pm
Each performance runs for 20 minutes.
Performers:
Ahilya Kaul, Alexis Wilkinson, Anna Pastor, Brynn Shiovitz, Courtney Ryan, Cyndi Huang, Elena Yu, Emily Nelson, Eydie McConnell Gywneth Shanks, Hana Cohn, Katie Kaemmerling, Myrrhia Rodriguez, Rachel Getman, Samantha Goodman, Sarah Jacobs
The Hammer Museum will further explore Trisha Brown's early work through a variety of free screenings on April 10, including archival performance and documentary footage that highlight the artist's prestigious career. 
"Floor of the Forest" is presented as part of Trisha Brown Dance Company: The Retrospective Project, a weeklong celebration of Trisha Brown, the most widely acclaimed choreographer to emerge from the postmodern era. Presented by the Center for the Art of Performance at UCLA, "The Retrospective Project" explores Brown's exceptional body of work from ensemble and opera choreography to eclectic installation and site-specific works that highlight Brown's unique and influential approach to modern dance. In a career that has spanned five decades, Brown has received countless accolades for her choreography including the National Medal of Arts, the Dorothy and Lillian Gish Prize, and the title of Commandeur dans L'Ordre des Arts et Lettres by the French government. She was also the first woman choreographer to receive the MacArthur Foundation Fellowship.
Trisha Brown Dance Company announced in December that while Brown will remain artistic director, she will cease choreographing new work for her world-renowned company. CAP UCLA's Retrospective Project includes her final piece, "I am going to toss my arms, if you catch them they are yours." 
Visit CAP UCLA's website for more information on the Retrospective Project, including a complete schedule of performances and related programming at Royce Hall, the J. Paul Getty Museum, Getty Center, and UCLA's Sunset Canyon Amphitheatre.