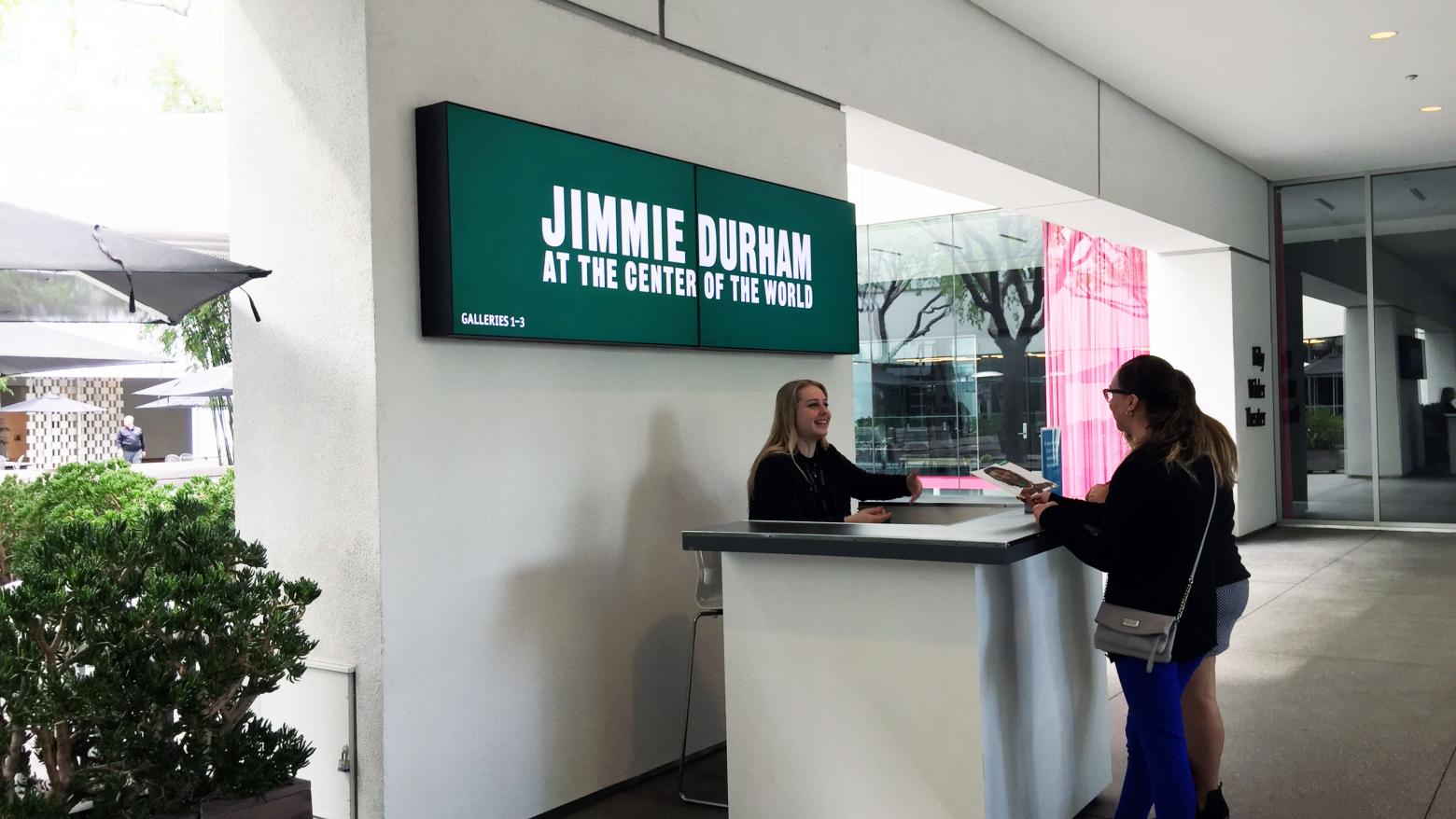 A Day in the Life of a VER: Elizabeth Zamets
With the opening of two new exhibitions and an entire floor of renovated galleries this winter, the Hammer has seen a wave of visitors excited to engage and connect with the artworks on display throughout operating hours. Enthusiastic museum-goers, including myself, can recognize the cautioning stance of a museum guard asking visitors to keep an "arm's length" distance from the walls or to turn off the flash of their cameras in the galleries. Whether closely inspecting the brushwork of a Van Gogh painting in the Armand Hammer Collection or navigating between the towering sculptures of Jimmie Durham, visitors at the Hammer might notice something a little different about the employees protecting the art.
Our team of 100 Visitor Experience Representatives come from local colleges and universities, encompassing a diverse range of backgrounds and fields of study. VERs, as we call them, are students at UCLA, UCLA Extension, and Santa Monica College. They make up the largest portion of the Hammer's part-time employment, and the Hammer is the only institution at UCLA that hires international students. We employ students from as far away as Turkey, China, and Kazakhstan. VERs can be found greeting visitors at the Welcome Desk, protecting artworks in the galleries, or guiding guests in to the Billy Wilder Theater for free public programs—always working to ensure a friendly museum environment is accessible to all. Over the coming months, we'll continue highlighting members of the VER team to share what makes our "Hammily" so special.
Name: Elizabeth Zamets
Joined the Hammer in: 2015
School: Santa Monica College
Major: Art/Illustration
Fun Fact: Liz was initially a Biology major but decided to study art because she was inspired by her work at the Hammer.
11 a.m.: I met with Elizabeth just after the daily check-in, where all VERs are briefed with information on current exhibitions, daily programs, tours, and important security points. Each VER is equipped with their own microphone and headset to communicate efficiently throughout the shift using codes. I learned that a "Code 10," otherwise known as an "art incident," is called in if any visitor touches or damages an artwork. Luckily today there were no "Code 10s"!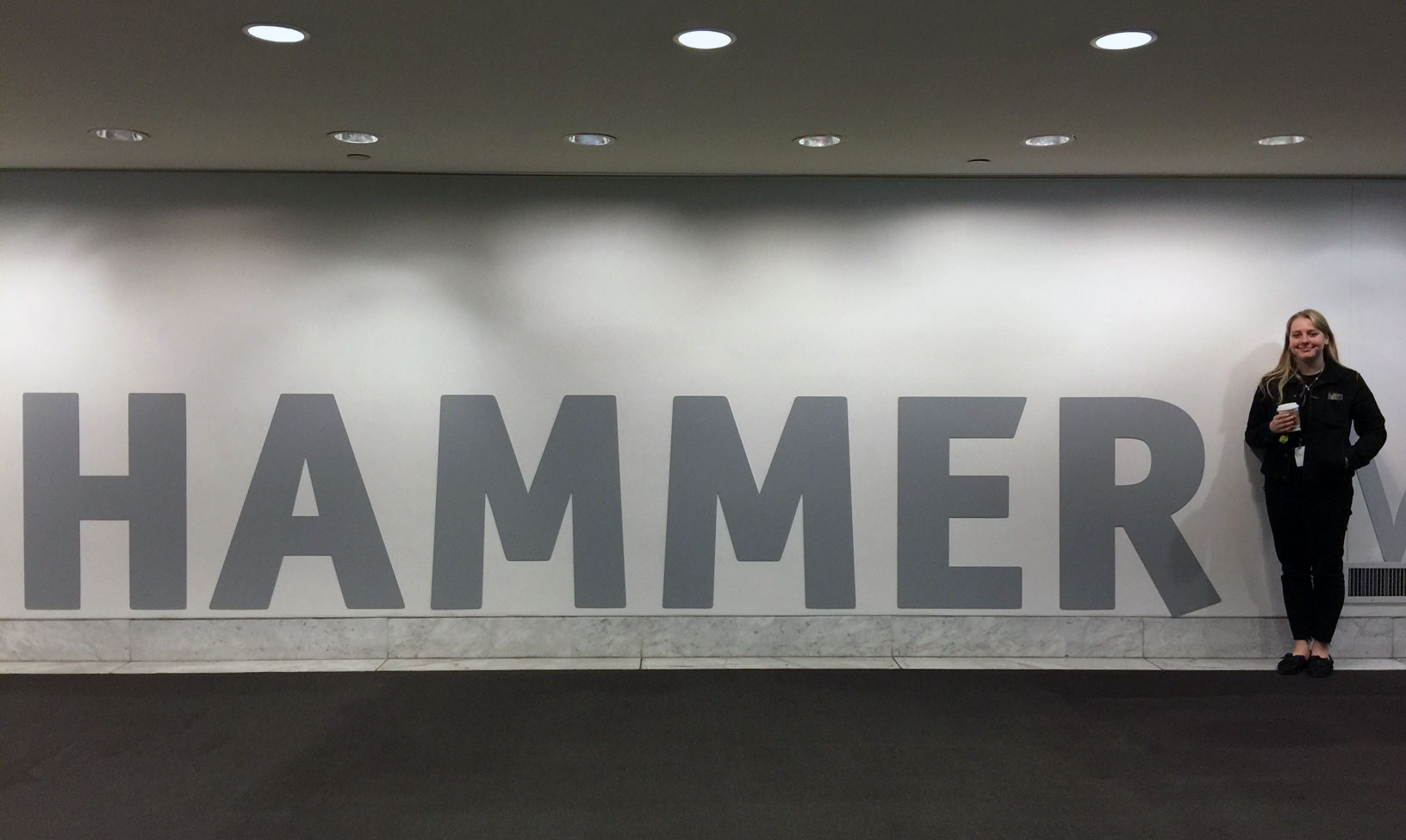 Today, Elizabeth is assigned the role of "relief officer," meaning she'll spend the day covering breaks, rotating positions throughout the galleries, and providing backup for any particularly busy and crowded areas. We spend some time walking around, checking in with other VERs, and watching as the first few groups of visitors begin to trickle in.  
Noon: I'm curious to hear what the "craziest" moment Elizabeth has encountered in her two years working at the Hammer. She tells me about a man who entered the galleries with an empty pizza box and would not comply with leaving it outside until security came to assess the situation. Lesson to be learned: any objects containing food, drinks, or other natural materials (including flowers) are not allowed in the galleries! This is to ensure the protection of the art on display, a point all VERs are well familiar with.
I ask Elizabeth what her favorite work on view at the museum is, and she guides me upstairs from the courtyard and to the exhibition Jimmie Durham: At the Center of the World. The gallery comes to life with Durham's sculptures, assemblages, collages, drawings, photographs, found objects, and videos.  Elizabeth gestures to Head, a life-sized sculpture of a head on its side, resting atop a silver platter.  "It kind of looks like oatmeal mixed with hair," Elizabeth laughs, "but I love his use of different materials."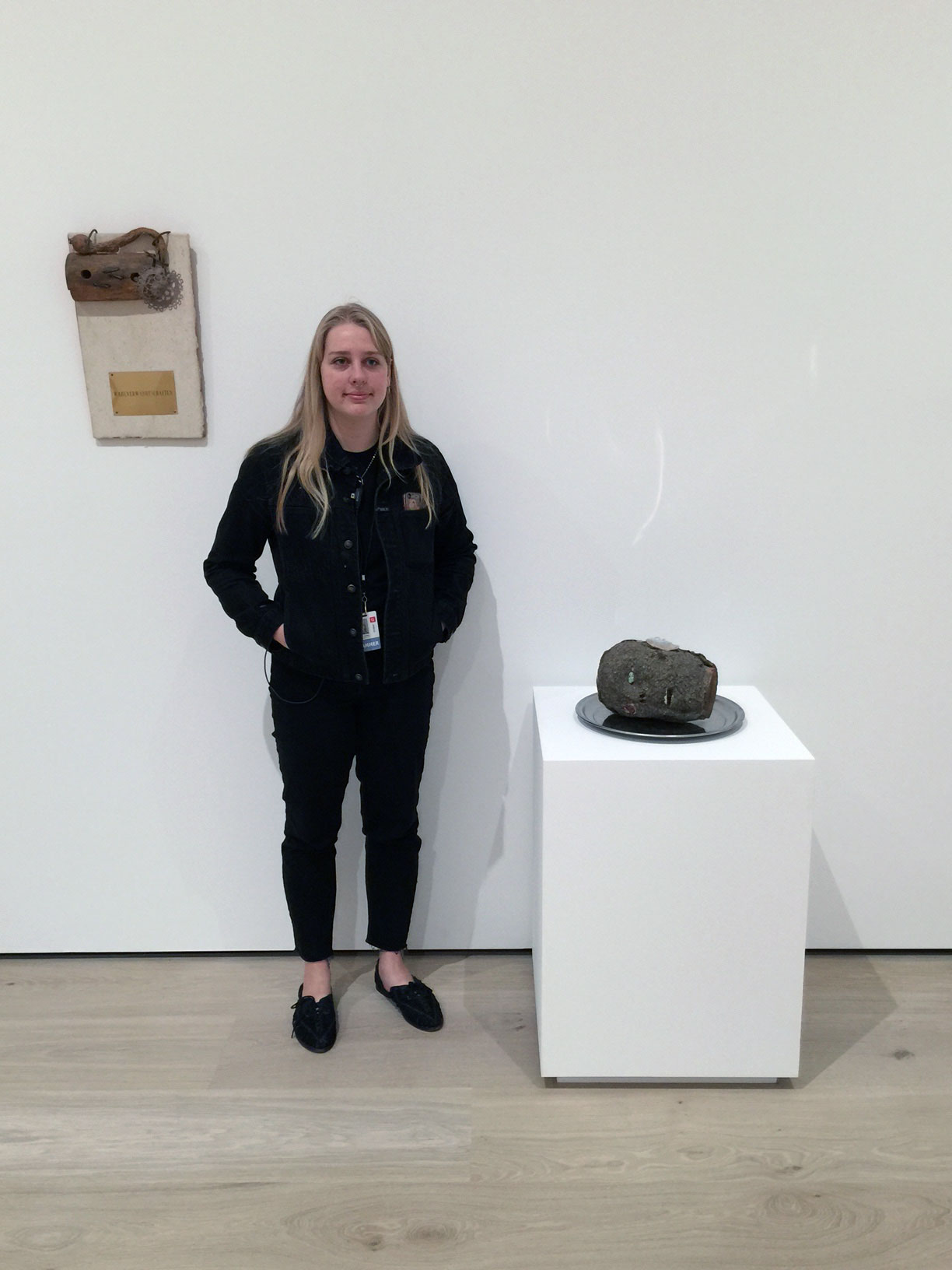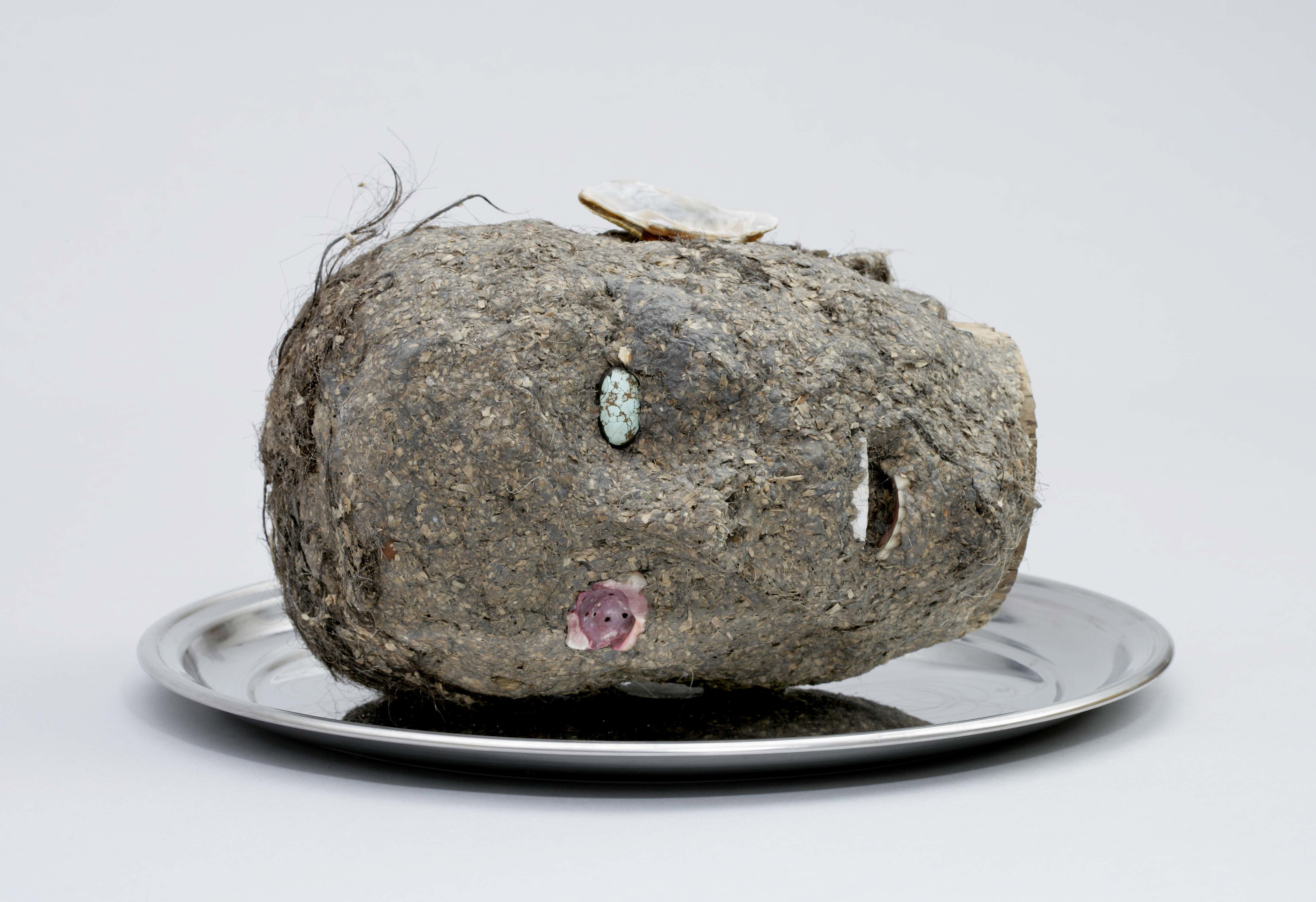 Head
1:30 p.m.: During Elizabeth's 15 minute break, we take the elevator up to the Hammer Store, which she says is her favorite place in the museum.  She walks back to the display shelves and pulls out a large book on the artist Raymond Pettibon, most known for his involvement in the California punk scene. "His work is super influential to me," she muses, flipping through the pages.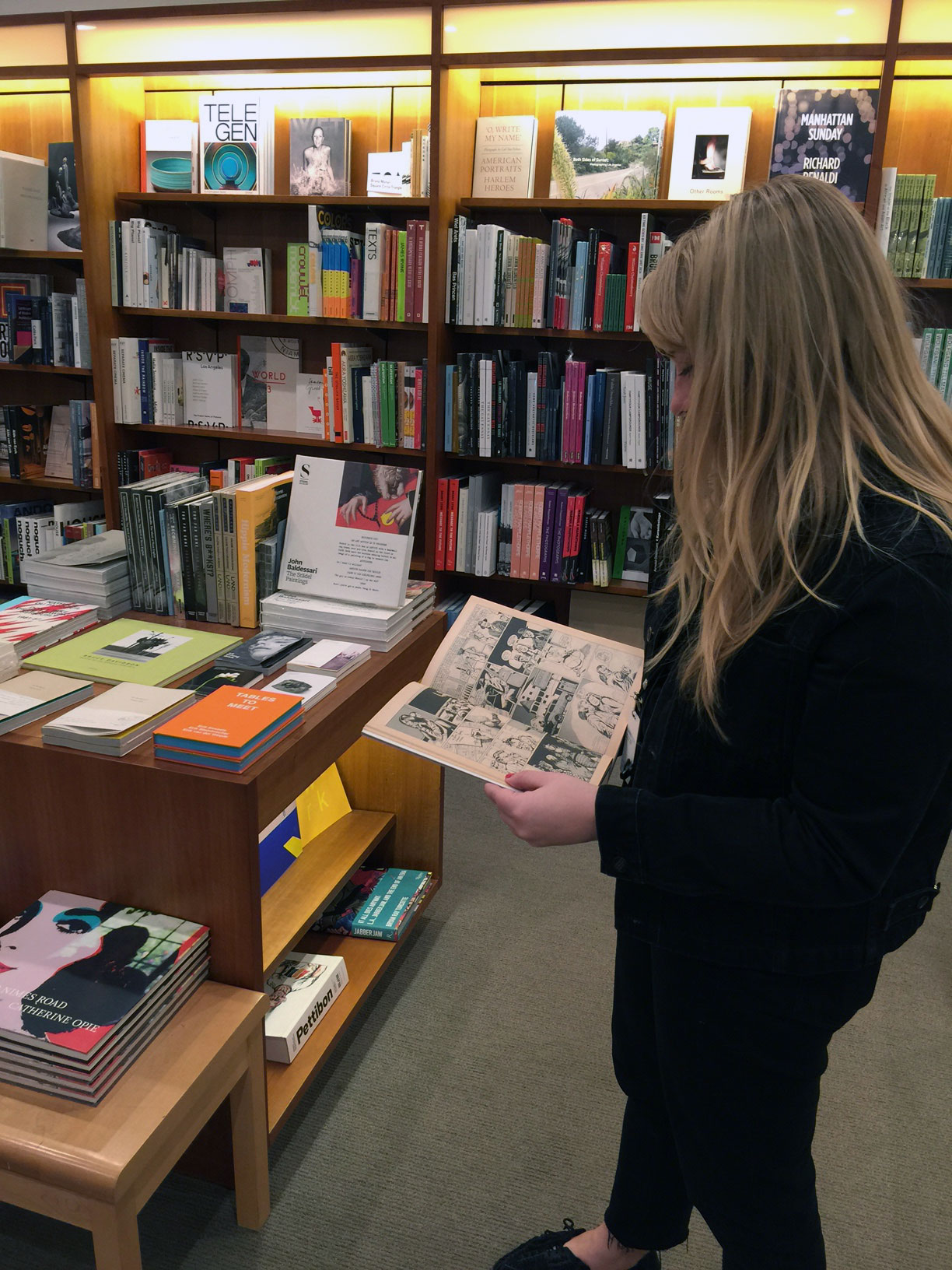 2 p.m.: Throughout the day, Elizabeth "roves" the galleries, keeping an eye out for backpacks, food, drinks, pens, unaccompanied children, flash photography, and gesturing hands that might hover too closely around paintings, sculptures, and installation. 
3:30 p.m.: Finally, I ask Elizabeth to talk about why she enjoys working at the Hammer. "As an artist myself, I find it really great to have the opportunity to talk to other visitors about the works on display here.  Whether they're asking about an artist's use of materials or underlying themes, it helps to leverage that knowledge with my own artistic practice."