Revivals and Modernity: The Printed Image in Nineteenth-Century France, Part 1
Since the advent of the printed image in Europe in the fifteenth century, the history of its artistic development has been intertwined with that of technical innovation. At no other time were these forces so dynamically linked as in the nineteenth century, in France, when the technological advances that facilitated the reproduction of images in the commercial sphere intersected with the revival of traditional print media. The first quarter of the century witnessed the rise of the reproductive print—an exacting, detailed illustration of a work of art, executed primarily through the laborious process of engraving.(1)  A wide variety of these reproductions flooded the market, popularizing paintings by well-known artists and targeting eager middle-class buyers. Soon lithography and photography also became contenders in the quest to achieve a faithful reproduction. At the other end of the spectrum, the latter half of the century saw the ascendance of the artist's print, an original work of art that was both an extension of the painter's art and a vehicle for artistic experimentation.
The path from the reproductive print to the artist's print was neither linear nor clearly defined, however. Throughout this period there were numerous debates surrounding the merits of the print—its originality, reproducibility, and audience. The critics, publishers, collectors, and artists involved in the discourse about the relative virtues of various approaches were often polarized in their arguments. At midcentury both publishers and the public remained receptive to a wide variety of reproductive and original prints in different media as well as to photographs. Reproductive prints after paintings existed alongside original etchings by the same artists and photographs of their works, often in the same portfolio. While photography itself was seen primarily as a means of reproduction, hybrid processes that evolved from photography, such as cliché verre, were a source of creative experimentation for artists engaged with printmaking.
The relatively new medium of lithography, invented in 1798, and the centuries-old technique of etching—both essentially techniques of drawing—were the most significant for artistic innovations because they were accessible to artists who were not professional printmakers trained in the arduous craft of engraving. In the 1820s and 1830s lithography became the preferred print medium for Romantic painters, lured by the ease of drawing on limestone blocks with waxy lithographic crayons and by the fine  textural and tonal qualities of the resulting impressions. Eugène Delacroix (1798–1863) and Théodore Géricault (1791–1824) created numerous drawings on stone, though with little financial success. Lithography was also the primary medium for countless popular series of topographical landscape prints depicting scenic cities and villages in France, such as Voyages pittoresques et romantiques dans l'ancienne France (Picturesque and romantic journeys in old France), published from 1820 to 1878 (fig. 1). As improved production methods allowed for larger print runs, lithography soon replaced engraving in popular illustrated books and journals, making possible the weekly or even daily publication of satirical illustrations in newspapers such as La caricature (1830–35, 1838–43) and Le charivari (1832–1937). The topicality of these journals, however, along with the sometimes lackluster quality of their illustrations, contributed to critical rejection of the printed images as works of art. Indeed, lithography was considered primarily a commercial medium from the 1830s until its artistic revival in the 1870s.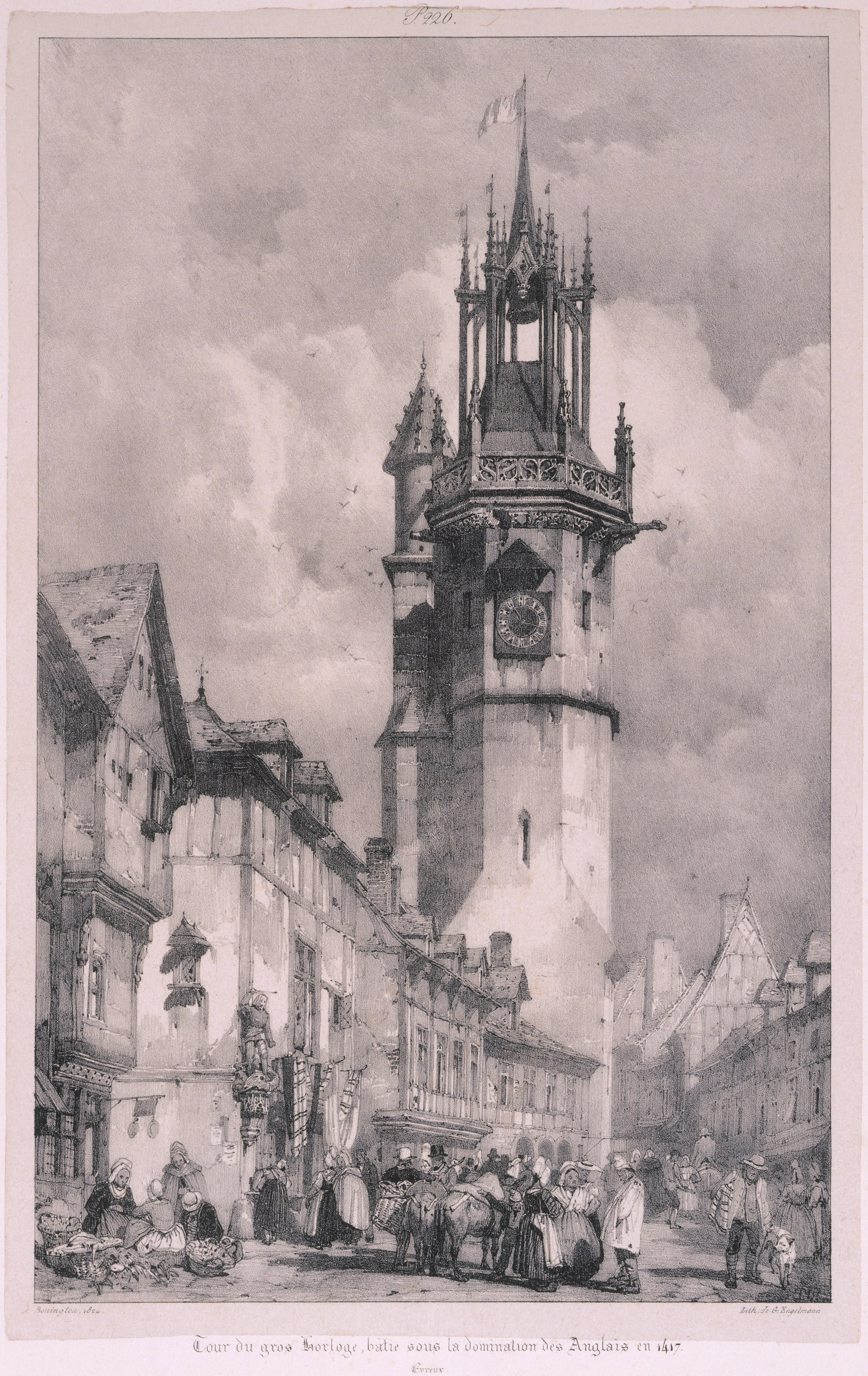 Large Clock Tower, Evreux (Tour du gros horloge, Evreux)
In the 1840s and 1850s a number of French painters began making original compositions in the medium of etching. Drawing with an etching needle through an acid-resistant ground onto a copper plate that is later immersed in acid, which etches only the exposed lines of the drawing, several of these so-called peintre-graveurs, or painter-etchers, including Charles-François Daubigny (1817–1878), Charles-Émile Jacque (1813–1894), and Charles Meryon (1821–1868), had begun their careers as commercial or reproductive printmakers. As original etchers, however, they specialized in landscapes and cityscapes. The artists of the so-called Barbizon school brought new freshness, naturalism, and majesty to the depiction of the native French landscape. They introduced these qualities to printmaking by taking their portable copperplates outside in order to better capture nature. Daubigny, who had earned a substantial living as an illustrator, began etching after his return from Italy in 1839 and had a studio boat specially built for the purpose of etching bucolic scenes from his river travels (fig. 2).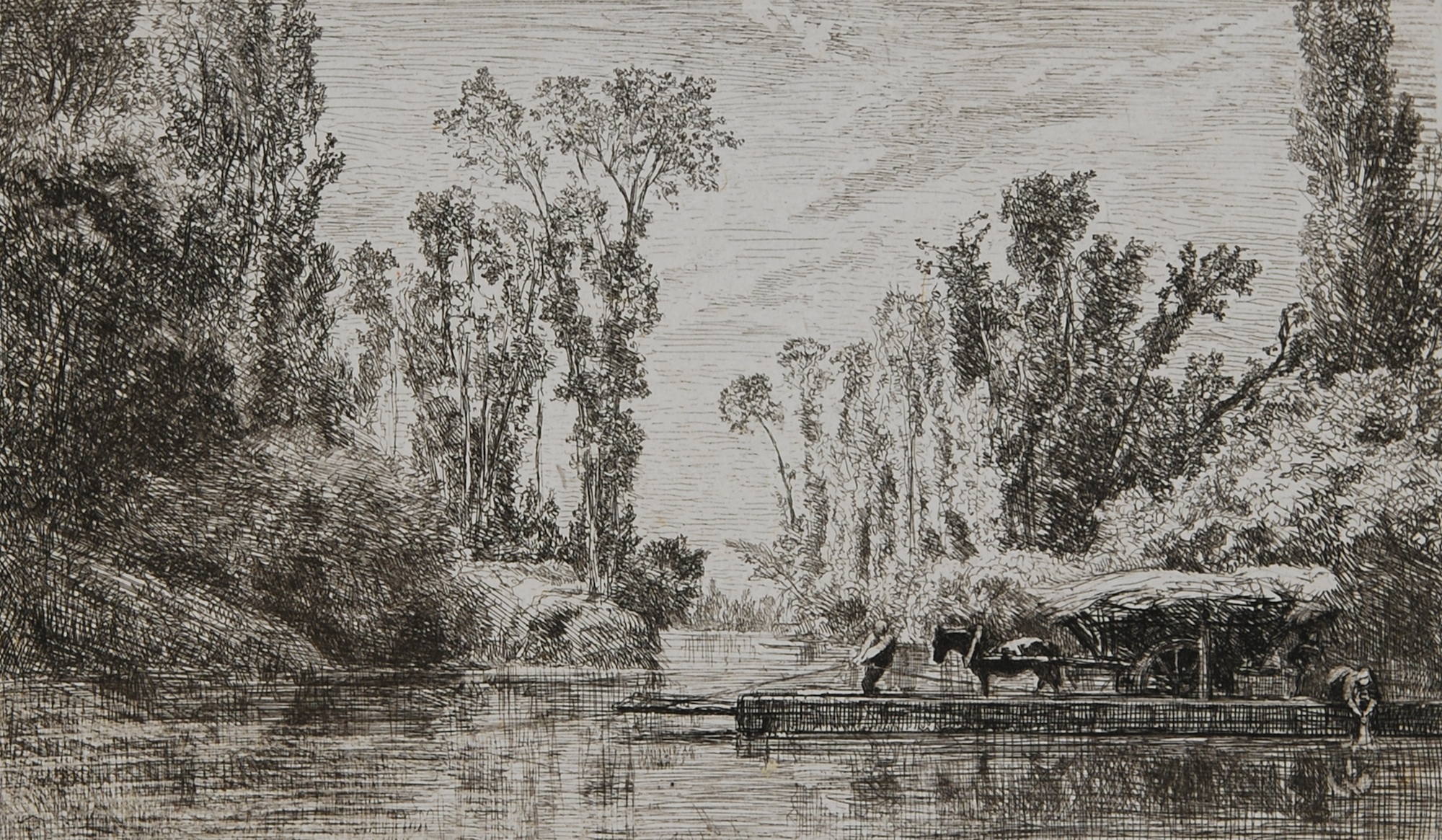 The Ferry at Bezons (Le bac de Bezons)
Jacque made more than four hundred etchings between 1842 and 1848, and introduced the technique to his neighbor Jean-François Millet (1814–1875), who also etched original compositions (fig. 3). Several Barbizon artists, most notably Jean-Baptiste-Camille Corot (1796–1875) and Daubigny, were the first to experiment with cliché verre. The process of cliché verre (meaning "glass negative") involves scratching through a prepared ground on a glass plate to create a design, which is then printed onto light-sensitive paper in a darkroom.(2) Like etching, it provided a relatively undemanding transition for painters (fig. 4).
Leaving for Work (Le départ pour le travail)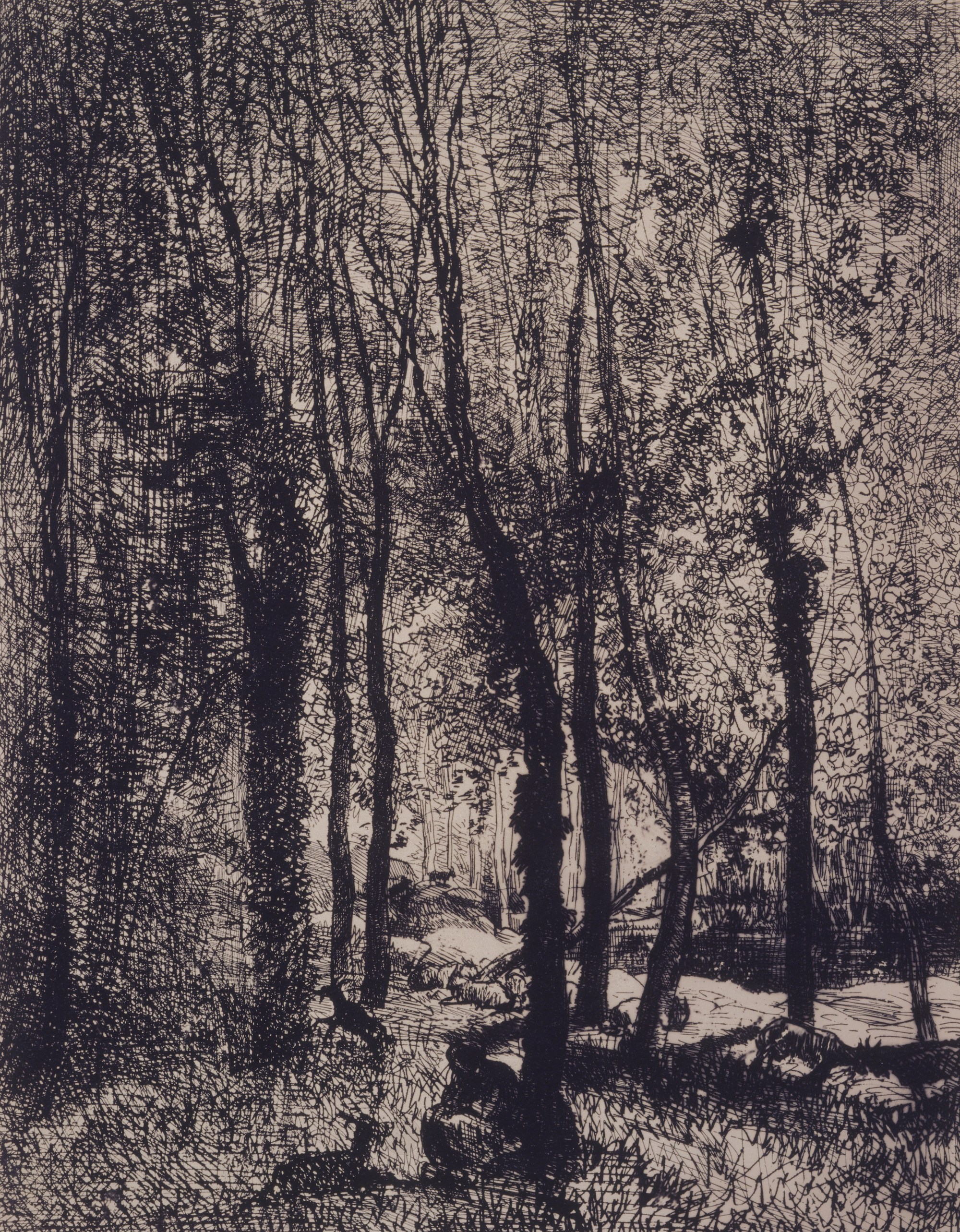 The Goat Herder (La gardeuse de chèvres)
Meryon, who began as a map engraver, was the first French artist of the period to make his career solely as an etcher, to the exclusion of painting or reproductive printmaking. Almost all of Meryon's oeuvre consists of etched views of Paris, rendered in precise detail and aided by highly finished preliminary drawings as well as photographs.(3) His best-known work, an 1852 album of prints titled Eaux-fortes sur Paris (Etchings of Paris), helped revive interest in the portfolio format. Topographically accurate but hardly picturesque, Meryon's views depict a personal and disturbing vision of a vast and indifferent city. He was admired by fellow artists and by critics and writers such as Charles Baudelaire and Victor Hugo, and his short career and distinctive use of the medium formed an important precedent for subsequent etchers.
The question of how an image was printed and editioned, and who should be involved in the process, was the focus of considerable debate. The artist and printer Auguste Delâtre (1822–1907), who had taken over Jacque's printing shop in 1847, printed etchings for the painters of the modern school, including Corot, Daubigny, Meryon, and Millet. Many of these artists insisted upon being present at the printing of their plates and being consulted in decisions about how they were printed. Several artists, including Meryon and Félix Bracquemond (1833–1914), printed their plates themselves and also acquired their own presses. Bracquemond determined to print his own works "because there were no good printers left,"(4) and experimented with innovative methods of printing, reworking his plates in various states.
To be continued...
1. For the history of reproductive engraving during this period, see Stephen Bann, Parallel Lines: Printmakers, Painters, and Photographers in Nineteenth-Century France (New Haven: Yale University Press, 2001).
2. Most cliché verre prints were produced by this method, but there is an alternative process that involves drawing with paint on uncoated glass. See Elizabeth Glassman and Marilyn F. Symmes, Cliché-Verre: Hand-Drawn, Light-Printed; A Survey of the Medium from 1839 to the Present, exh. cat. (Detroit: Detroit Institute of Art, 1980).
3. See James D. Burke, Charles Meryon: Prints and Drawings, exh. cat. (New Haven: Yale University Art Gallery, 1974).
4. Michel Melot, The Impressionist Print, trans. Caroline Beamish (New Haven: Yale University Press, 1996), 30.