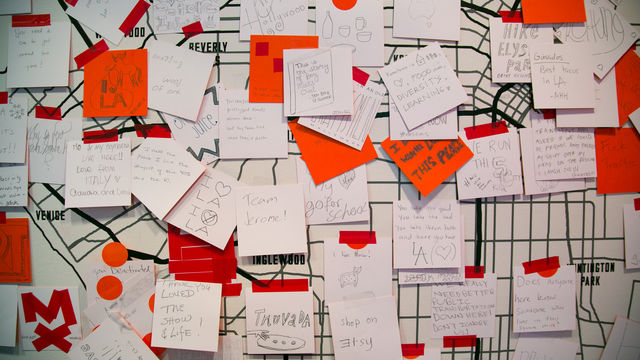 Between the museum store and elevator there is a space that Hammer staff has fondly designated "the Nook." Formerly an underutilized area that housed a small comment box tucked away in the corner, the Nook has grown into an active participatory space for visitors to share ideas, reflections, and feedback generated from their experience at the Hammer Museum.
The first iteration of the Nook launched in February 2014 in conjunction with the Take It or Leave It exhibition, which focused on the intersection of two genres of contemporary art—institutional critique and appropriation. Aiming to confront institutional critique in our own institution, the Hammer's Academic Programs and Visitor Experience departments teamed up to carve out a space for visitors to leave feedback of any kind on Post-Its they could affix to a wall. We didn't know what to expect, who would see the space let alone interact with it, or what types of information we would receive. By the end of the exhibition, the Nook generated over 1,400 responses, containing a mix of accolades, constructive criticism, and creative drawings. We knew we were on to something.
The opening of the Made in L.A. 2014 biennial offered us a chance to re-conceptualize the Nook. But how? Since Made in L.A. 2014 features just 35 of the thousands of creative Angelenos, we wanted to provide a space to hear from the rest of the creative community. We brainstormed with our Design department to come up with an attractive design solution that would be both inspiring and inviting to visitors. The solution was quintessentially L.A.—a sprawling map of our city's freeways and roads with the simple prompt, "What would you like to share about Los Angeles? Participate in a collective exploration of this city by adding your voice to the map."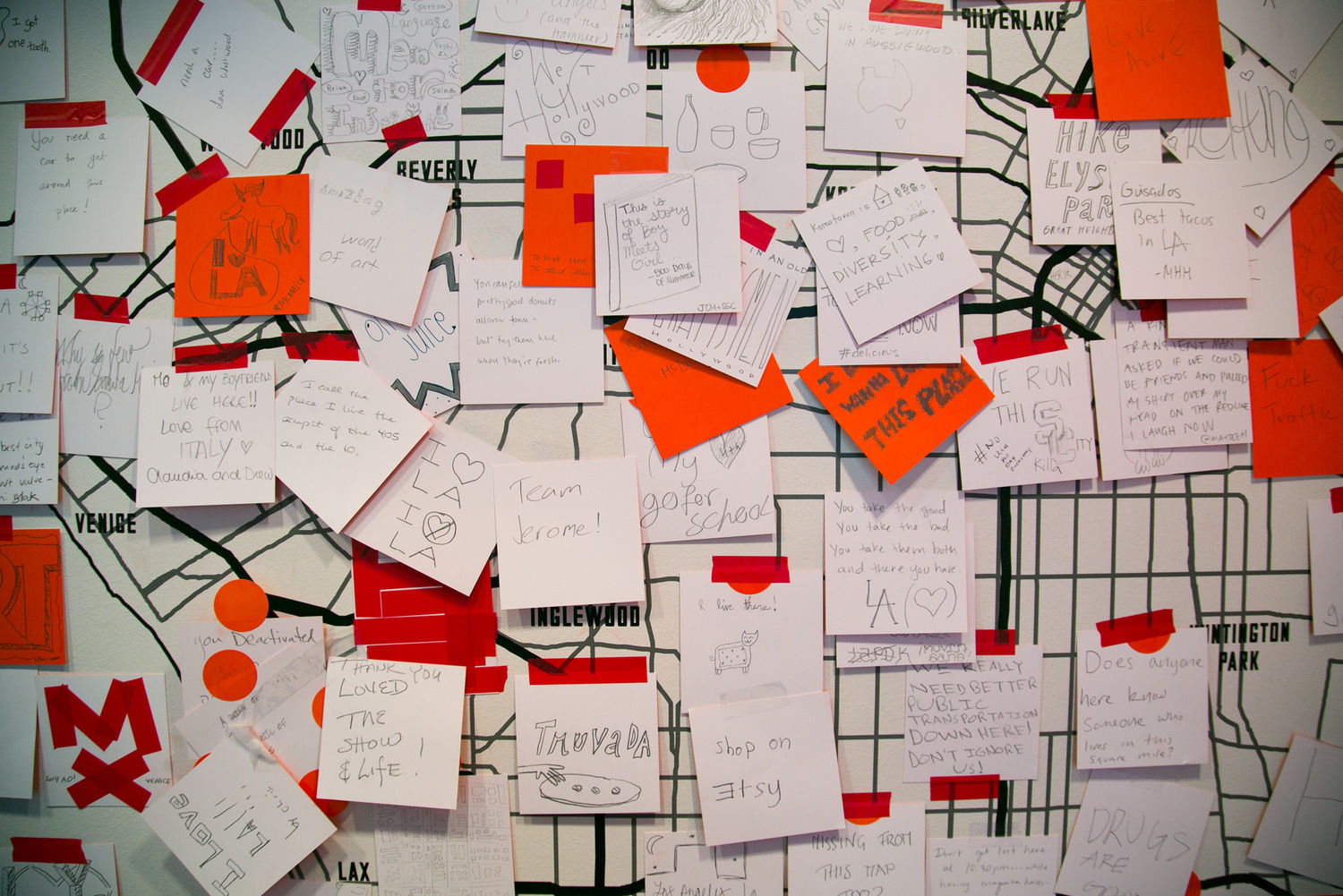 The open-ended nature of the prompt allowed for an incredibly diverse array of interactions—from heartwarming anecdotes, insightful feedback, humorous quips, and detailed drawings. What started as a corner with a comment box blossomed into a dynamic, fun, and infinitely more useful mechanism for understanding who our visitors are and what is important to them. Here are a few of the ways in which our visitors have been using the Nook and what we've learned from their responses.
Our visitors like to share—sometimes in comical ways and sometimes in a deeply personal manner. Visitors recounted memories of first romances (or first heartbreaks), lessons learned ("Don't get lost here at 10:30 pm…while having magenta hair"), and wishes ("We really need better public transportation down here.") Such examples reinforced our assumption that putting up a map of the city would be a catalyst for personal connections. It's a good reminder that some of our most vivid memories of a place are closely linked to the meaningful human interactions we have within it or to disappointments we feel when our needs are not met. Since we hope that visitors have vivid memories of their experience at the Hammer, these are good lessons to keep in mind when developing programs and exhibitions.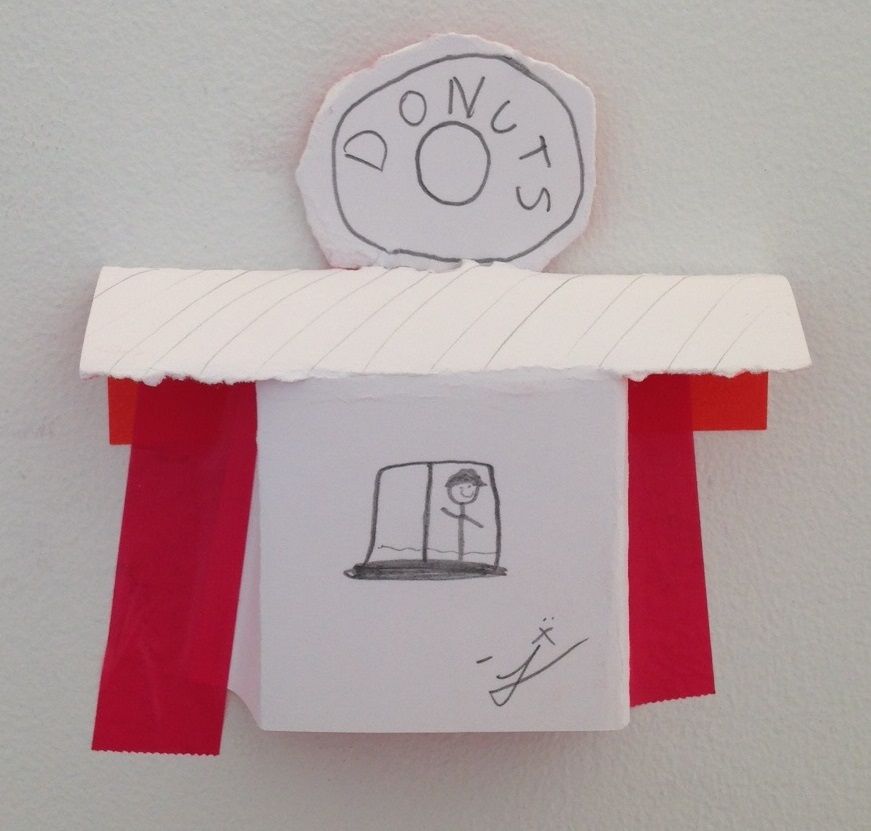 When designing this iteration of the Nook, we debated about pre-populating the map with landmarks and cultural institutions. Ultimately, we kept the map relatively bare. Besides a collection of neighborhoods and streets to help orient the viewer, the space is intentionally open for visitors to freely construct Los Angeles.
By not predefining the space, our map has been filled with locations we never thought to consider, including bike trails, schools, and dog parks. By far, the most common addition to the map has been restaurants. We have collected more than 40 eateries, including Randy's Doughnuts in Inglewood, NBC Seafood in Monterey Park, and Tito's Tacos in Culver City. Taken together, these additions reflect the rich diversity of Los Angeles and its profusion of offerings. 
Exchange Between Strangers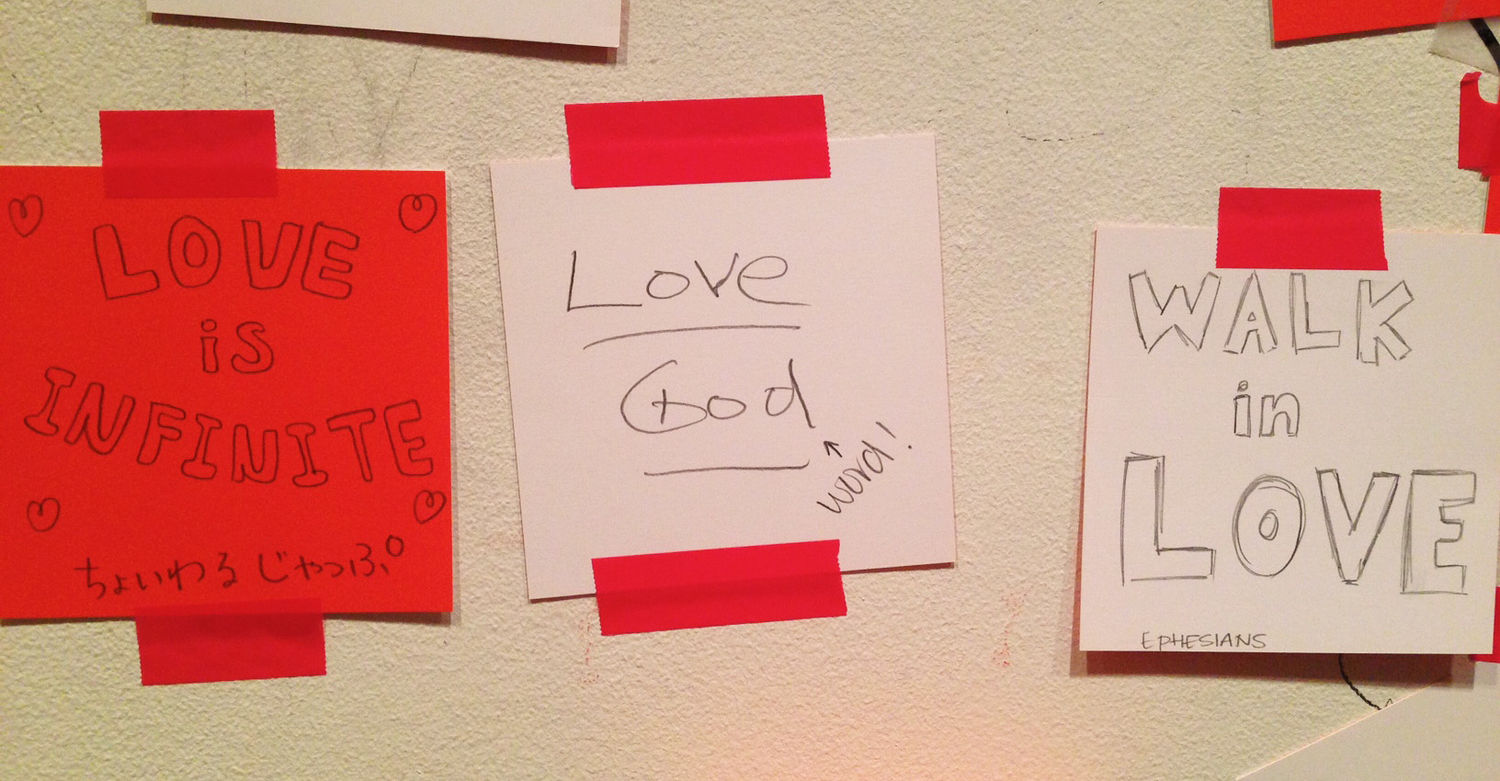 Some of our favorite uses of the map are conversations that spontaneously happen between different visitors. Over the past week, we observed the unfolding of a playful contest to see who could place their response card the highest on the map (the current winner is located in the vicinity of Santa Clarita). In some cases, ideas and comments build on one another, resulting in a unique exchange between visitors that is likely not possible in a room full of strangers.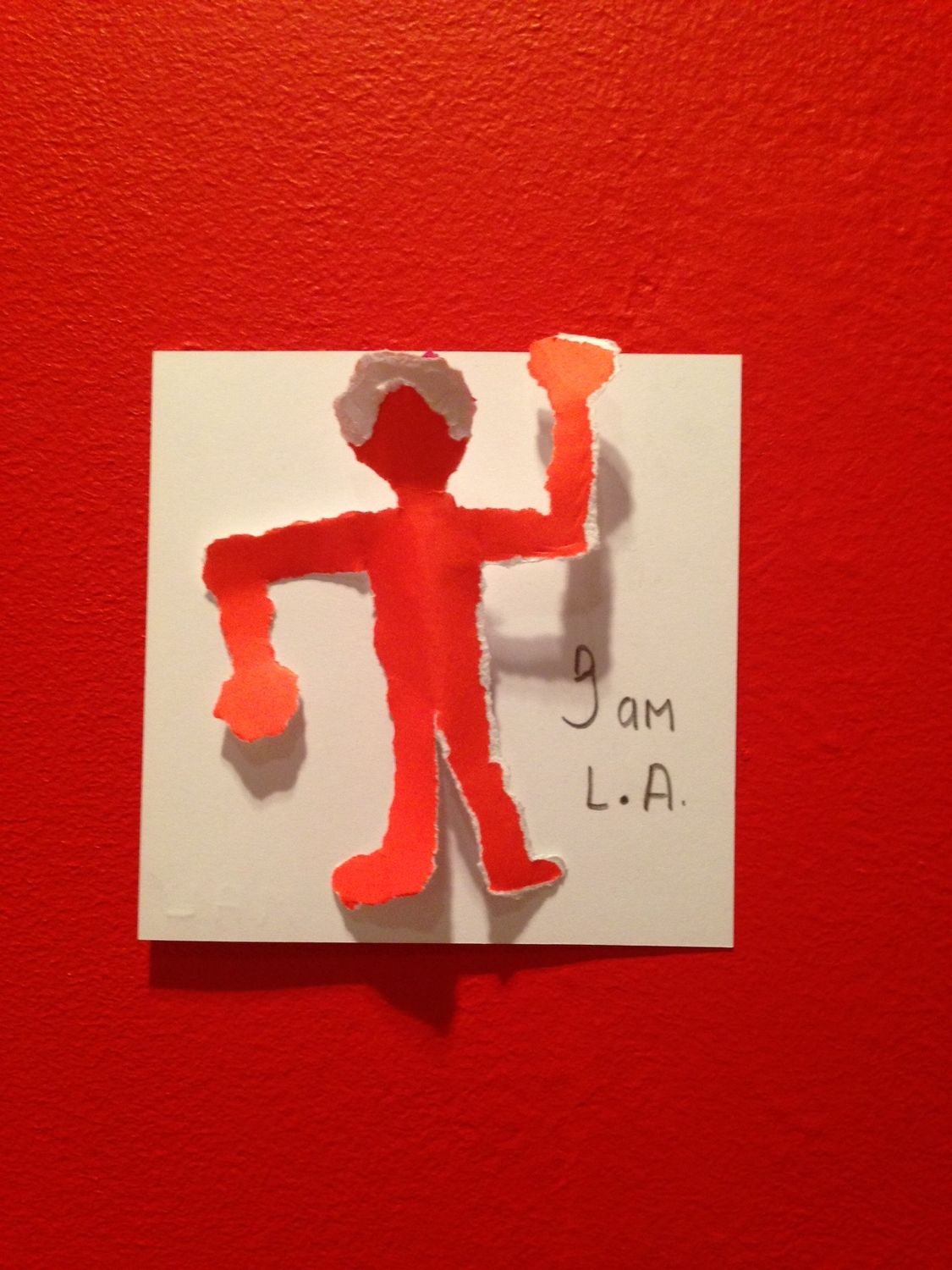 In a museum like the Hammer, which champions the work of living artists, it is no surprise that visitors have been leaving creative forms of self-expression. But the level of creativity evoked from squares of red and white paper, pencil, and red tape has greatly exceeded our expectations. From penning verse to words of wisdom, from constructing tiny paper sculptures to designing intricate folds meant to be opened, visitors have continually delighted staff and one another in the Nook. Clearly visitors of all ages want to make art and value the opportunity to share their creations. While most art museums provide art-making opportunities for kids and families, art workshops for adults are not as common. And if they do exist, they are often so closely linked to a particular art technique or exhibition that there is less room for more open-ended forms of self-expression. Art camp for adults? Gallery art kits for kids-at-heart? Parent Art Day at the Museum? The possibilities for fostering creativity in lifelong learners are endless.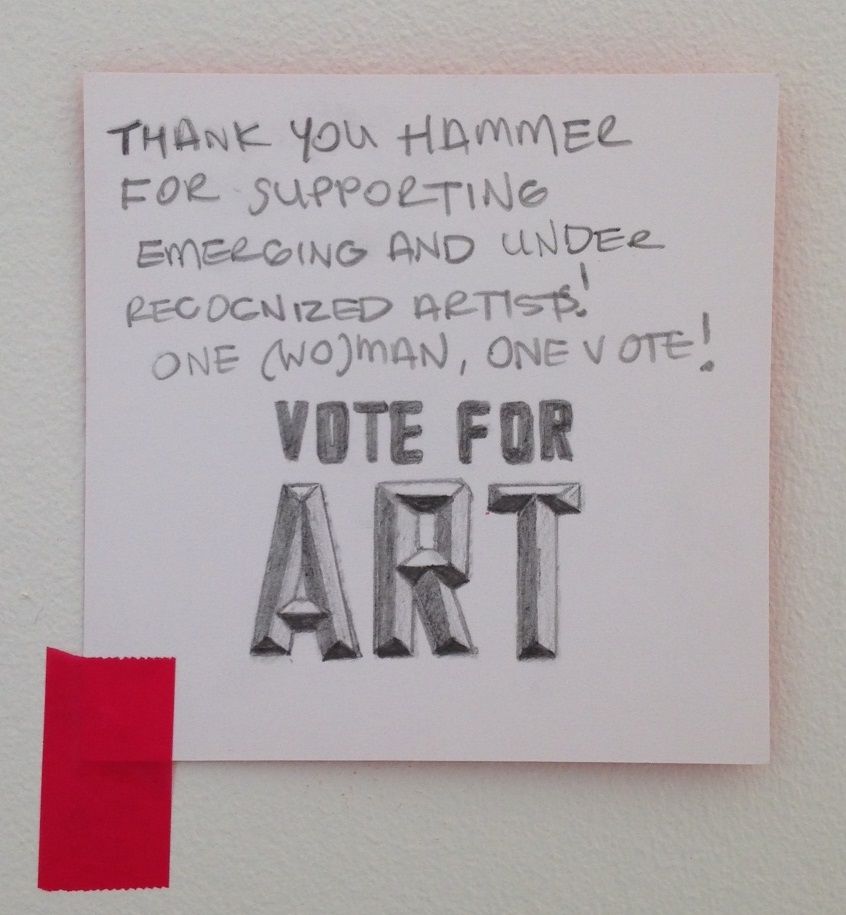 For the Visitor Experience department, it is important for the Nook to be a space where individuals can share not only about Los Angeles, but also the Hammer. Included on the map are a collection of general affirmations, as well as enriching insights on specific initiatives at the Museum.
For example, as part of Made in L.A. 2014, visitors were encouraged to vote for their favorite exhibited artist. Thanks to the generosity of Jarl and Pamela Mohn, the individual or group with the most votes by August 17 receives $25,000 (stay tuned for the announcement later this week!). While knowing how many people vote is easy, the Nook has helped us understand the motivation behind voting and the sense of efficacy that drives participation.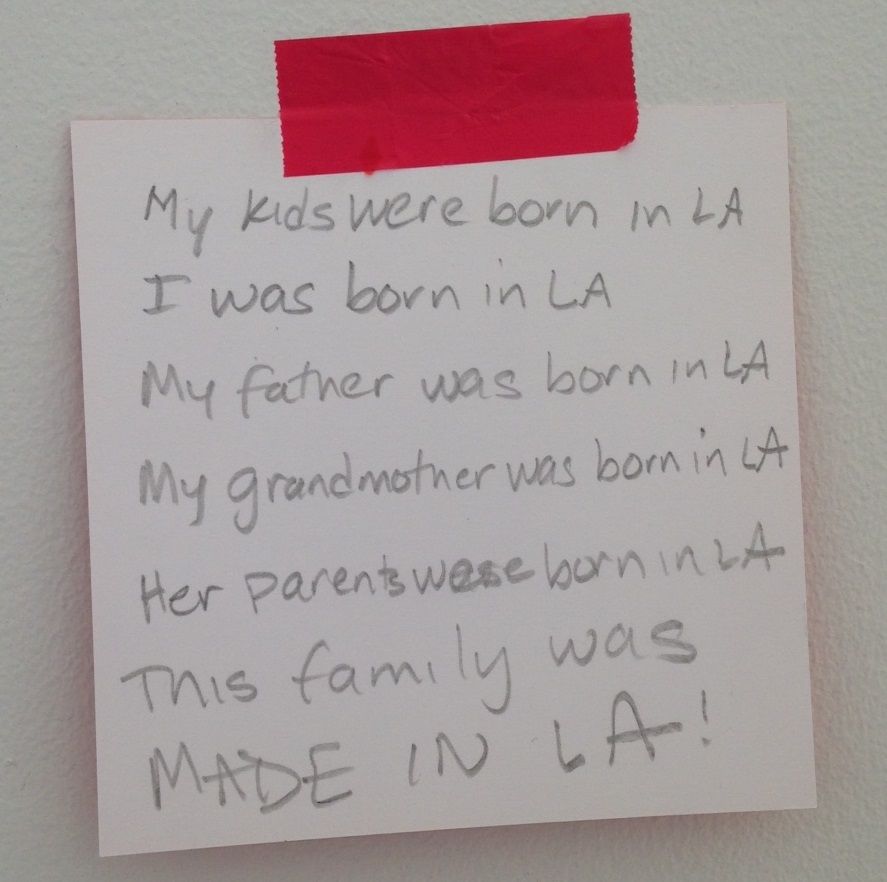 More than any other response, the Nook is covered in expressions of Los Angeles pride. In both words and drawings, countless visitors describe their admiration for being either "born and raised" in Los Angeles or transplanting to the community. Some visitors narrow in on specific neighborhoods or area codes, while others laud the city as a whole. Just as Made in L.A. 2014 celebrates Los Angeles, the Nook has become a sight for visitors to continue and engage in the jubilation.