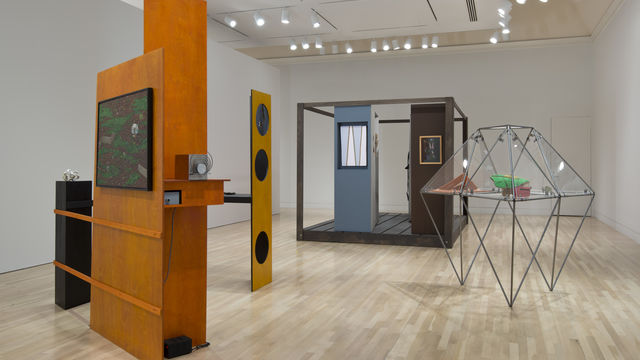 Made in L.A. 2014 Mohn Award Winners
Three awards are presented in conjunction with Made in L.A. 2014: The Mohn Award ($100,000) and the Career Achievement Award ($25,000), both selected by a professional jury, as well as the Public Recognition Award ($25,000), which is determined by public vote. All three awards are funded through the generosity of the Los Angeles philanthropists and art collectors Jarl and Pamela Mohn and the Mohn Family Foundation. All the artists in the exhibition are eligible to receive the awards. 
The Mohn Award
Jury award honoring artistic excellence 
The $100,000 Mohn Award will be granted over two years to an artist from the exhibition and includes a monograph of the artist's work. A professional jury of three curators will select the artist whose presentation of work in Made in L.A. 2014 stands out as exceptional. The jurors are Jack Bankowsky, Artforum editor-at-large, independent curator and art critic; Naomi Beckwith, the Marilyn and Larry Fields Curator at the Museum of Contemporary Art Chicago; and Apsara DiQuinzio, curator of modern and contemporary art and Phyllis C. Wattis MATRIX Curator at the UC Berkeley Museum and Pacific Film Archive. 
Career Achievement Award
Jury award honoring brilliance and resilience 
Offered for the first time, this $25,000 award will be given to one artist in the exhibition who has made a significant contribution to contemporary art throughout that artist's career. The recipient will also be chosen by the professional jury of curators—Bankowsky, Beckwith, and DiQuinzio.
Public Recognition Award
Awarded by public vote 
Visitors to Made in L.A. 2014 will choose the recipient of the inaugural $25,000 Public Recognition Award by voting for their favorite artist in the exhibition. Visitors vote on-site at kiosks located throughout the museum. Voting ends in mid-August.