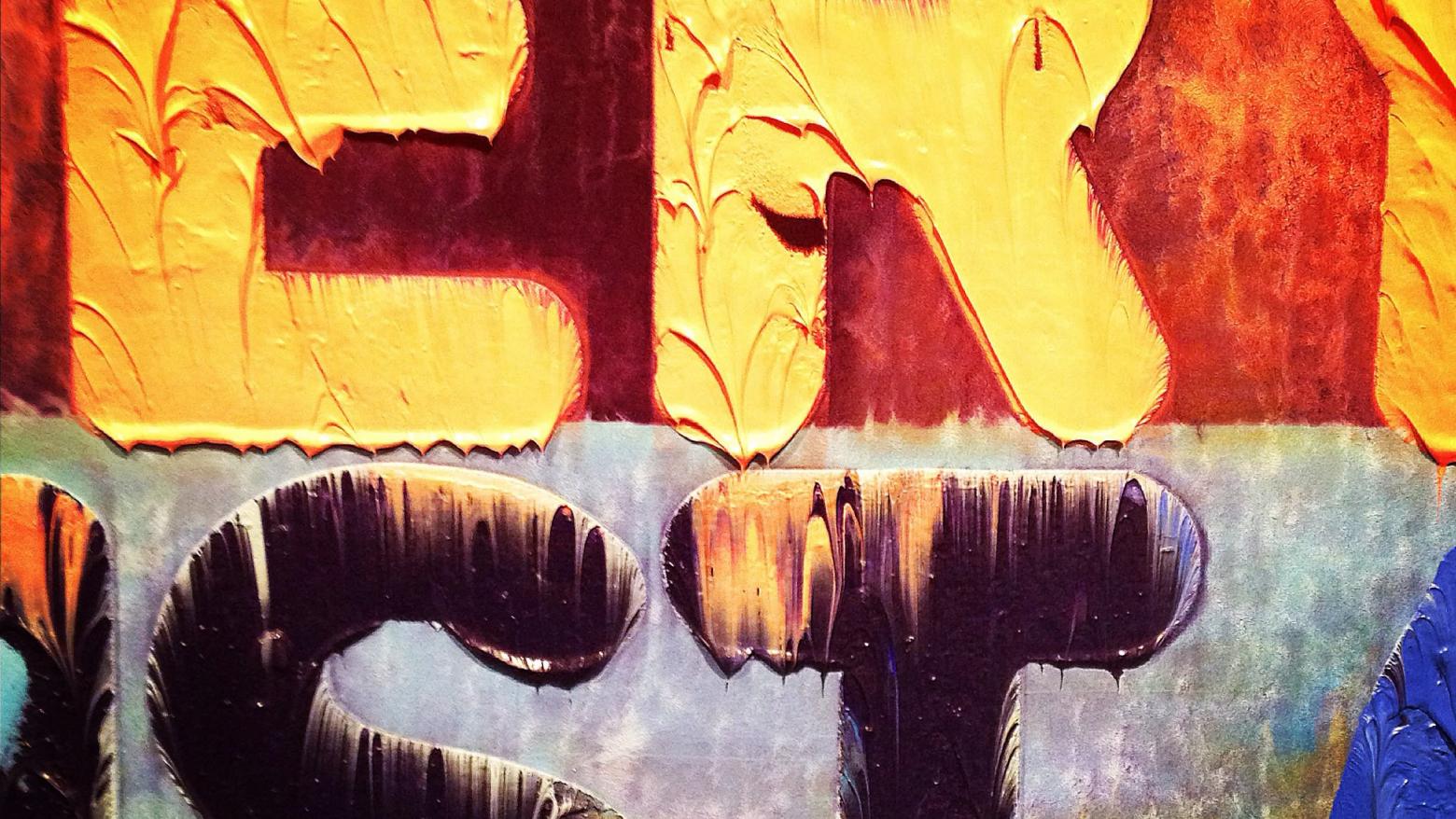 5 Things I Learned from Tent: Museums
When is an object art and when is it artifact?
How can a permanent collection be both comprehensive and flexible?
How does the cultural territory around a museum impact its mission and purpose?
How can museums be both culturally specific and expansive at the same time? 
These are only a handful of the questions I tackled with peers and mentors during Tent: Museums, a weeklong, intensive seminar organized by the Jewish Museum and Professor Jeffrey Shandler, chair of the Jewish Studies department at Rutgers, under the direction of the Yiddish Book Center. Exploring the connection between Jewishness and modern culture through a variety of disciplinary perspectives (including comedy, food, journalism, music, and fashion), Tent workshops pair 20 emerging professionals with leaders in the field to enrich their practice, open new avenues of inquiry, find new collaborators, and join a community. I was fortunate to be selected for the first Tent: Museums cohort this June, and I am happy to report that the friends I made and the mentors I met already are impacting my practice as the academic programs coordinator at the Hammer.
As I reflect on my experience during Tent, a few themes keep emerging. I am only scratching the surface here; these impressions and insights are inchoate at best. (And really, can anyone give a definite answer to those questions above?)
So, in the spirit of listicles, here are five things I learned from Tent: Museums.
Stories are Important
This one is pretty obvious. Humans are storytelling animals, and we construct narratives to make sense of the world around us.
Museums tell us stories about what is important, what "counts" as art or truth or the past. Museums also have staggering power to tell us about who we are.
But what about the stories that visitors bring to museums? We know that visitors tell their own stories when they visit us, whether we (as an institution) see and hear them or not. Should these stories have a visible place in our institutions? And if so, what should that place be?
The Tent conversation with Annie Polland, vice president of education at the The Tenement Museum, provided some compelling answers.  We learned that the Museum is practicing different ways of collecting visitor stories, whether on Pinterest, online, or on site. Projects like Learning through Objects, a collaboration with PS 130 in Brooklyn, explored the way objects can tell their family's immigration or migration experience. As both an online and temporary on-site installation, this project encourages historical thinking and storytelling through primary sources and forges ongoing relationships between the Museum and the community.
The Tenement Museum helps the community understand its own particular past on the one hand, and universal themes of heritage, migration, and immigration on the other. It's not a one way conversation, though; the stories that visitors bring to the Museum enrich and deepen the experience of everyone.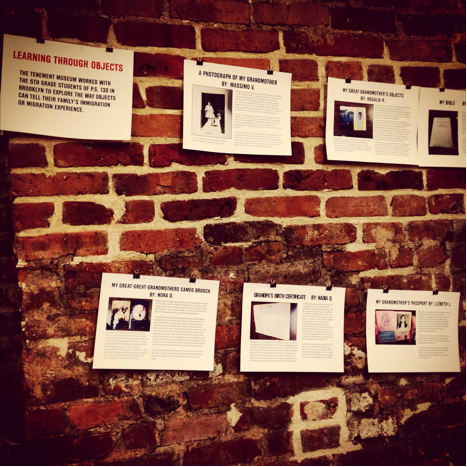 It starts with objects (or does it?)
I'll admit it up front: I am partial to real things. I naively assumed that all museum professionals felt the same way; after all, why would we be in this business if not to interpret, conserve, manage, or otherwise deal with cool or old or rare or important stuff?
Art museums tend to care a lot about the real thing; so do anthropology museums and most (but not all!) history museums. Things get a little tricky when you start talking about cultural centers. And things get very, very thorny when you come to memorials.
I thought about this conundrum while exploring the Voices of Liberty installation at the Museum of Jewish Heritage ("A living memorial to the Holocaust"). Overlooking New York Harbor, Voices of Liberty is a soundscape of diverse voices – testimonies of Holocaust survivors, refugees, and others who chose to make the United States their home. As I listened to Ernest Freuhauf from Wuerzburg, Germany marvel at what gets lost in translation (I remember she came home one day and she said, "You know that America had a Jewish president?" I turned and she said, "Yeah, his name was Abraham Lin-Cohen."), I wondered where the object was in that exhibition. Was it the words of the story that Ernest told? The historical circumstances surrounding his story? Was it the iPod that channeled the MP4, or the digital file itself? Or was the object the act of standing quietly in a room with other visitors, listening to strangers' stories of loss and redemption while looking out on the Statue of Liberty from a space dedicated to memorialization?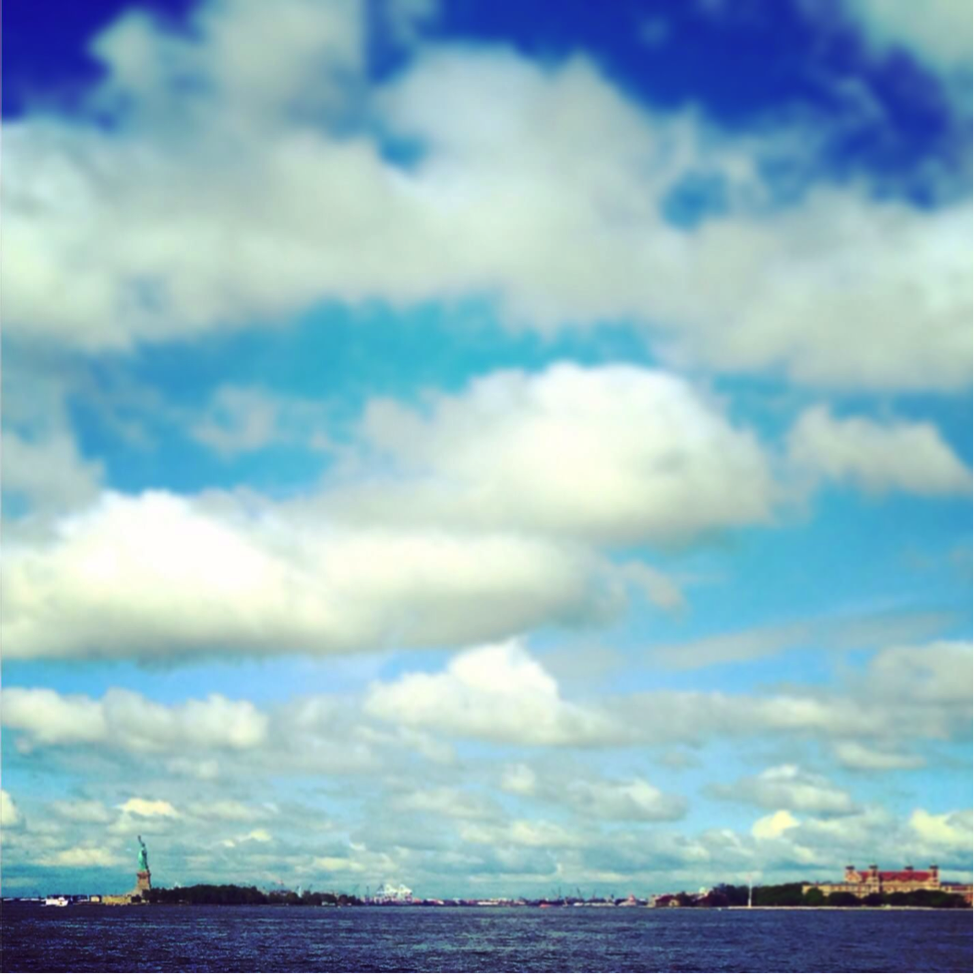 Travelling far from home to an empty room full of stories reminded me how awesome it is to work at a place where these sorts of questions are built into the fabric of our institution. Have you seen Marina Pinsky's lightboxes yet? As part of her installation for Made in L.A., Marina created large inkjet prints on backlit film for the Hammer courtyard.  See if you can find evidence of smudges on the prints—they're meant to be there! To paraphrase curatorial assistant Emily Gonzalez, we can think about transparency and the act of looking through as part of the object in Marina's work. So. Cool.
Place matters
Each institution we visited during Tent has a particular history that is intimately bound up in its location within New York City. The Jewish Museum was founded almost by accident, a byproduct of donations to the Jewish Theological Seminary from collectors and communities. The museum building itself—a former family mansion on 5th Ave--was donated in 1944 by Frieda Schiff Warburg, well before the rest of "Museum Mile" made its appearance. The Museum at Eldridge Street is housed in the basement of a beautiful 19th century synagogue, now in a primarily Chinese neighborhood. The Tenement Museum occupies two historic buildings on the Lower East Side, a neighborhood that has seen waves of immigrants for almost two centuries.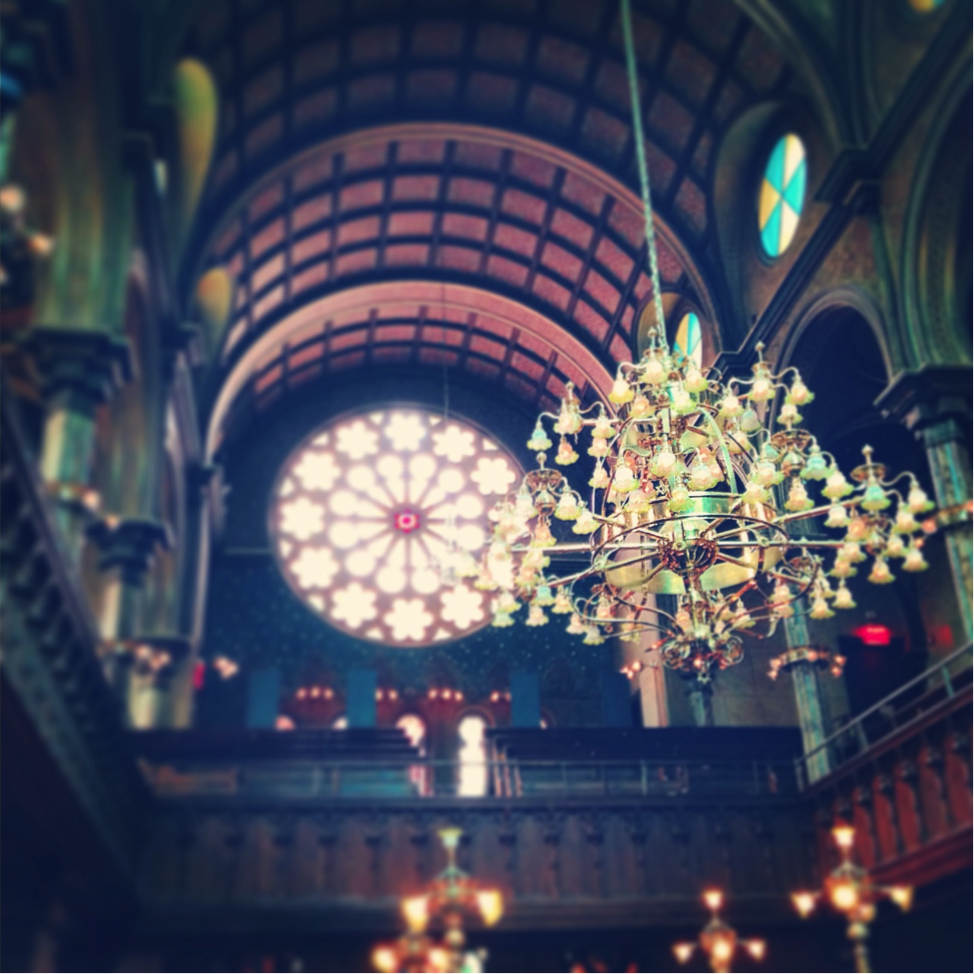 These museums carry with them (and within them) the history of their construction, the neighborhoods they occupy, and the relationships they have with other institutions in the city, the country, and the world. This is what Melissa Martens Yaverbaum, Director of Collections and Exhibitions at the Museum of Jewish Heritage, termed the "cultural territory" of museums. Jeff Shandler summarized it this way: museums are sites of cultural convergence.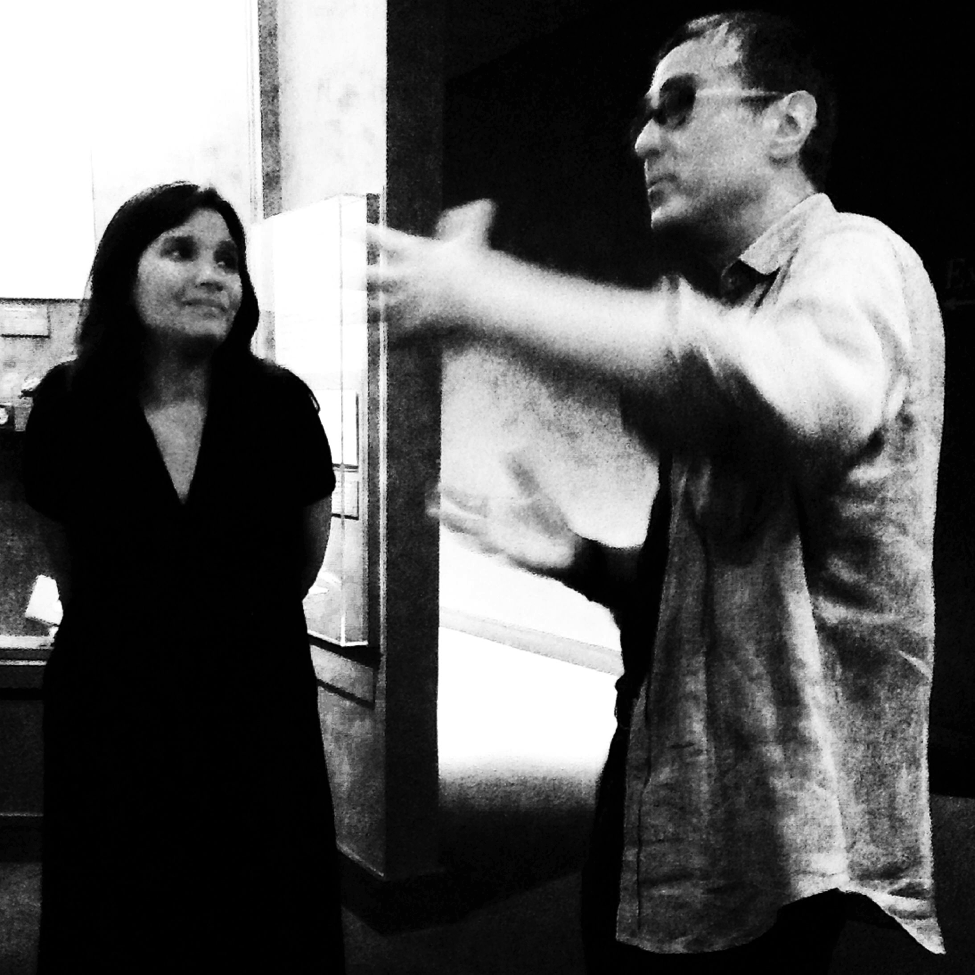 The Hammer has a very special relationship to L.A. As Director Ann Philbin has said:
Los Angeles really is the red-hot center of one of the most exciting cultural, creative communities in the world. Not just for artists, but for artists, for writers, for filmmakers, for musicians…We offer all of this for free.
Our exhibition this summer, Made in L.A., features 35 artists who became or renewed themselves in Los Angeles. The biennial is not at all-encompassing, but rather pinpoints aspects of certain communities that live and work in L.A. For me, the exhibition has been a stimulating way to discover webs of interconnectedness—communities of practice—across the city. L.A. is huge and sprawling and impossible to take in all at once. I love the way that the show provides a new lens through which I can see my home city in an entirely new way.
Design and experience go hand-in-hand
To paraphrase Italian teacher and psychologist Loris Malaguzzi, environment is the third teacher.
Choices made by museum exhibition designers—the size and shape of display cases, the color of the walls, the height of windows, the placement of doors—profoundly affect the experience visitors have in galleries. Daniel Kershaw, Senior Exhibition Designer at the Met, walked Tent participants through some of the design decisions he grappled with in the permanent and temporary galleries, including the galleries for Oceanic Art and the new exhibition of works by Lucas Samaras (who consulted on the design of the space and whose portrait by Chuck Close is on view in a nearby gallery).
Daniel shared with us some of the considerations he makes when designing exhibitions: the type of wood used to make the cases (apparently, cherry wood is highly toxic), the load-bearing capacity of shelves and supports, the tension between the opportunity to display and the need to conserve. In a broader view, we talked about general design principles in an art museum. Some of the galleries Daniel worked in have historically lent themselves to ethnographic-types display (dioramas, architecturally-situated objects, etc.). When redesigning the Oceanic galleries, Daniel approached the objects as artworks, not artifacts; this required a careful consideration of space and context, especially for "slippery" objects that could easily slide into ethnography. (Check out the incredible ceiling he installed in Gallery 354.) Daniel noted the careful placement of the Oceanic gallery next to Greek and Roman Art, with a visible doorway from one room to the next. As Daniel demonstrated through his design, the greatest revelations in encyclopedic museums are the surprising juxtapositions that catch your eye.
My favorite part of the walkthrough took place in Gallery 302, a tiny room beneath the Met's Great Staircase. Daniel discovered these rooms while snooping around the museum and successfully petitioned to turn this secret spandrel into a gallery for the art of the Christian community in Byzantine Egypt. I love that space: it is hushed, intimate, and improbably catacomb-like. Dim lighting protects the gorgeous late-antique textiles, a gold necklace sparkles from a vitrine that seems to hold up a low arch, and a humble terracotta ampulla rests near exquisite carved ivory. It's a jewel-box of a space that immediately pulls you back in time and out of place.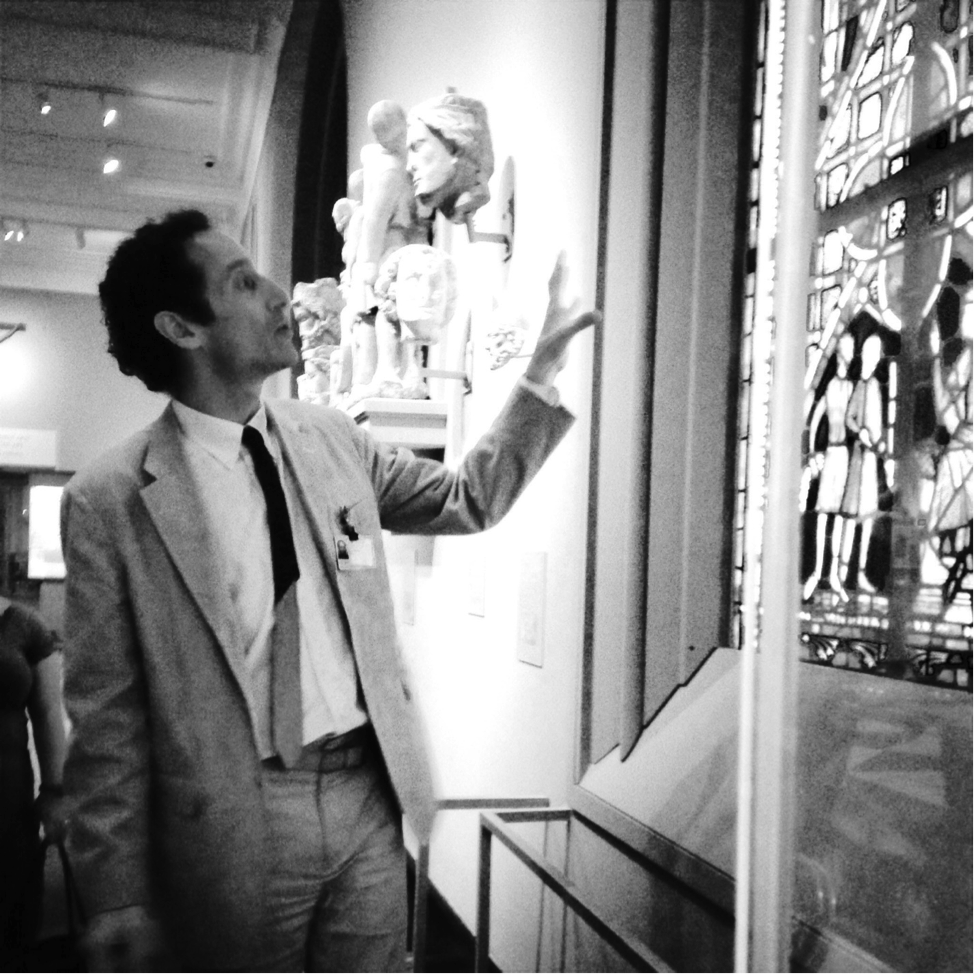 Here at the Hammer, we want kids, families, students, teachers, professors, and all of our visitors to have profound and meaningful experiences in our museum. Since attending Daniel's walkthrough, I have been thinking about design-based solutions to help our department meet our goals for visitor engagement. Hearing Daniel think aloud helped me envision what it would mean to approach academic programs as a design-thinker. Talking with Daniel renewed my interest in the iterative process of discovery, ideation, experimentation, and evaluation. I can't wait to apply design thinking to student programming this fall. (Watch out, Hammer Student Association!)
Really, it's all about the people
Over the course of the week, we heard incredible stories about and from the visionaries, curators, collectors, scholars, and leaders who make museums run. I profoundly appreciate their generosity in sharing their experiences and practices with us. The Jewish Museum were generous hosts, and Chris Gartrell, Jeff Shandler, and Josh Lambert conceived and produced an outstanding experience for all of the participants.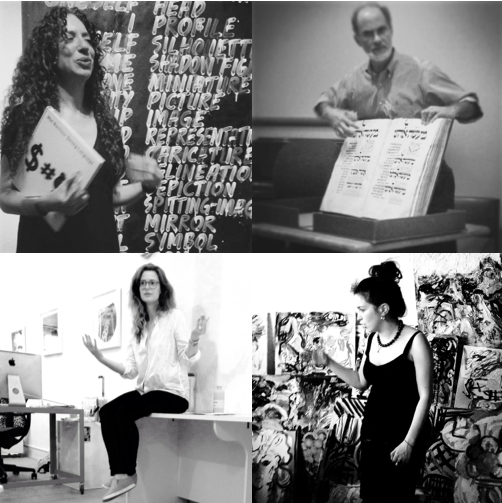 Above all, I am exceptionally grateful for meeting a group of peers from whom I learned so much and with whom I plan to collaborate in the future. I made friends with artists, archivists, scholars, students, teachers, and critics; I come away from the seminar energized by the connections I can make between the Hammer and their work in institutions across the country and the world (hello, Norway!).
If you are interested in participating in future Tent workshops, check out their website!