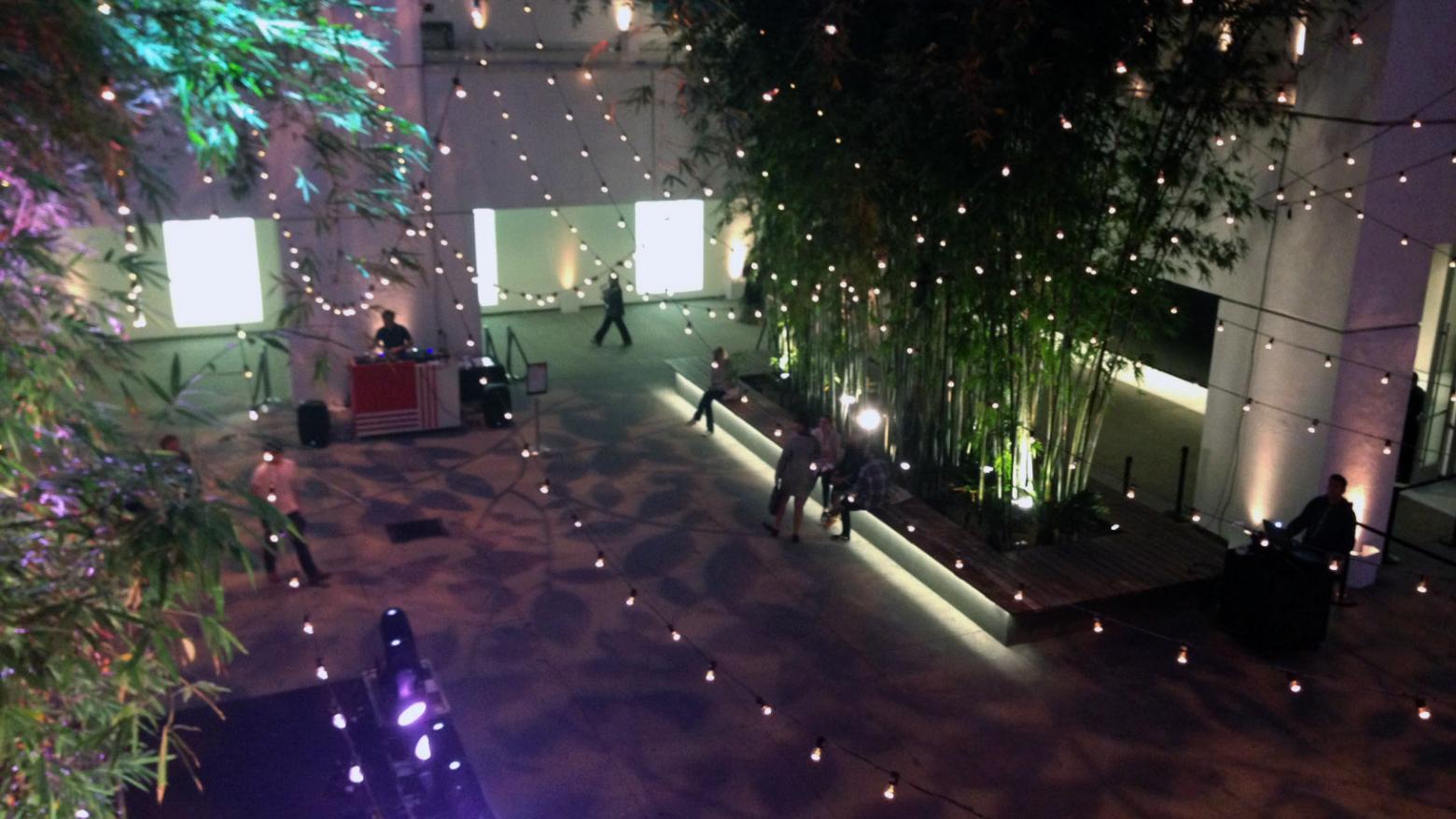 We always love to hear from artists about the process of making their work. Here's Andrew Choate illuminating his musical selections for a Forrest Bess pre-public program set.
Besides having a direct kinship with Tantric painting and the "Thought Forms" of Annie Bésant and C. W. Leadbeater, Forrest Bess's work to me has always been about the shaping of color. For my live broadcast* in the Hammer courtyard, I chose to play songs with titles that specifically reference certain colors, as a way of approaching his paintings from an altered, auditory viewpoint. I layered and juxtaposed those songs in ways that evoked specific Bess paintings. What follows is an explication of what songs I played, why, and the correspondence to each Bess painting.
"Complete Freedom" has such a variety of intense blues that I wanted to focus on that first. I started with a section of "Blue Shift" by the duo Vertex (Petter Vågan on lapsteel and acoustic guitars and electronics with Tor Haugerud on percussion, signal generator and field recordings). Then  I faded in "Blue Canadian Rockies" by the Byrds because it's so sweet and talks about lakes, spiking another layer of conjured blue. And the three triangular forms in the middle of the painting made me think it would be nice to have a specifically blue reference to things that are typically, roughly triangular shaped – mountains – as we head into that section musically.
To directly approach each triangular form, I started with the pinkish mountain on the left and played The Kinks' "Rosy Won't You Please Come Home." The color of the triangular form is more fleshy and pinky, and so I was thinking about flushed, rosy cheeks - the kind you might get when experiencing the 'complete freedom' of the title. (I'm not going to spend time telling you that I also love the song: I dearly love every song I played.)
This Bess image is absolutely arresting: the darkness of the blues at the edges and the crystalline blue that flows around the middle frame the triangular forms in a loving and comforting embrace. Yep.
The off-whitish triangle I reached via The Jackson 5's "Mama's Pearl"; the yellow triangle by clarinetist Xavier Charles's "Jaune". That improvisation is from his album Invisible, which I thought appropriate considering the title of the Forrest Bess exhibition: Seeing Things Invisible. I layered this with another improvisation by the sextet of Jacques Demierre on piano, Okkyung Lee on cello, Thomas Lehn on analog synthesizer, Dorothea Schürch on voice and singing saw, and Roger Turner on drums. (Turner and Lehn will be playing an extremely rare US gig with Tim Hodgkinson in their trio Konk Pack in San Diego on October 20th - it's a serious shame and embarrassment that they won't be playing in LA.) "Faintly White" is the name of their improv, and I chose it as a blender to deal with the changing blue and the emergence of a kind of horizon line in the center of the picture. We then hear The Mamas and the Papas' "European Blueboy", layered a little bit with "Faintly White." The combination of the intensity and variety of blues in this painting warranted this triple-blue focus, and I thought the bright tone of that song also resonated with the 'freedom' of the title. If time was of no concern, and I was feeling especially luxurious, I'd also play their "Blueberries for Breakfast" from the same album. But when choosing just one Mamas and Papas song, I had to go with "European Blueboy" in this context because of it's faint reference to Picasso's "Blue Boy".
My arrangement finishes with more layers of "Faintly White" and "Jaune." Because of the high-dynamic nature of that music and their respective recordings, there's a big boom right after I make my announcement about the next painting I'm going to cover. Fun boom! (It scared a button off my pants.)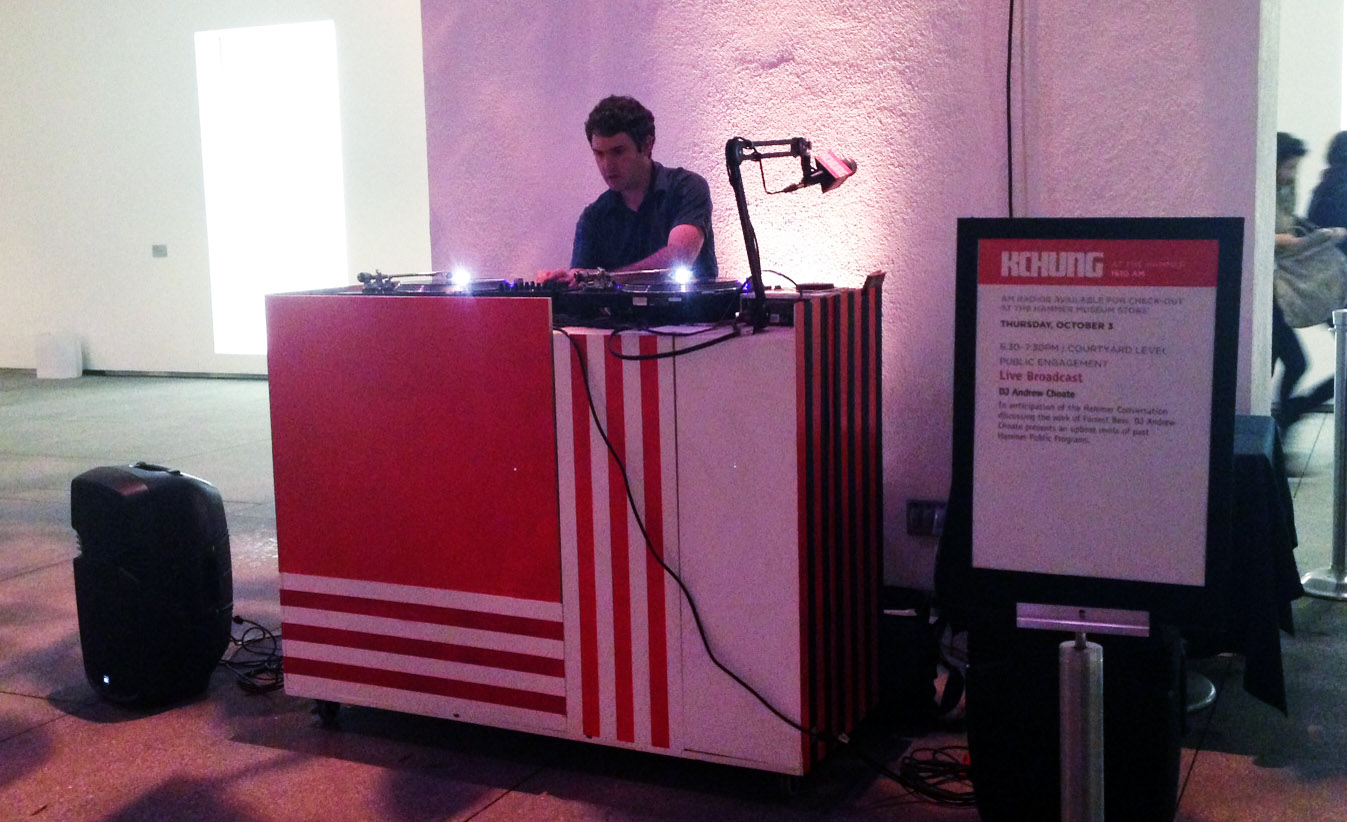 Bess's "Untitled (No. 5)" is the first painting of his I saw in person, and it has stuck with me permanently ever after. There are only three colors: a consistent grey blotch in the middle of the left side; a consistent, bright, hard red that rises from the bottom of the painting to the dead center; and a green that forms the entire background, and which fades from lightish green to darkish green from the top to the bottom. Unlike other paintings by Bess, the shapes are rough: no strict, long lines; the forms are blobby.
To start, I used a small intro from a piece simply titled "Green" by the great Dutch trio of Michiel Braam on piano, Wilbert De Joode on upright bass and Michael Vatcher on drums. Then I faded in the title track from Brian Eno's Another Green World. The tone of simultaneous finality, exuberance and welcoming that that song conjures couldn't have fit better. "Black to White" by The Margots followed. Even though I had songs with 'grey' in the title, I chose this one because the particular grey in this painting is so rich that you really see black and white in it, and how they fade into each other while still each remaining present. To deal with the incredible red, I played Eugene McDaniels's "Sagittarius Red." The lyrical content of this song ("I'll take red, you know passion suits me more" etc.) and the way it climactically builds made this choice clear to me as a perfect representation of the eye-popping, vaguely anthropomorphic red form that heralds itself in the center of this painting. Finally, I finished with Eno's "Over Fire Island" from Another Green World. The 'fire' in the title helped transition from the red, and the heavy bassline and spattered percussion give it a darker green feel to deal with the peculiarity of shading Bess accomplishes between the top and the bottom of the image.
Forrest Bess' biography is chockablock with tidbits that can limit the way you view his paintings, and "The Hermaphrodite" is especially susceptible to this kind of thinking/ viewing. I began my arrangement with Shellac's "My Black Ass." If there was ever a band whose sound was the sound of black, it's Shellac. I don't mean in terms of funk, but in terms of equipment: cables are black, microphones are black, amplifiers are black. And Shellac uses the old ones, and they sound even blacker. That means richer. Bess's painting has two depths of black–one inner and one outer–, so I paused the Shellac song midway and started Ike and Tina Turner's instrumental "Thinking Black." In the middle of the painting is a red and white form somewhat band-aid shaped. So then I paused the Ike and Tina Turner song, and played one of Poing + Maja S. K. Ratkje's miniature versions of the Minor Threat song "Seeing Red." Because so much of what I'm doing is an act of translation, I found it a better fit to play this cover/ translation rather than the original. Next, I went to pianist Jacques Demierre and clarinetist Isabelle Duthoit's "l'arbre blanc." Considering the prevalence of trunk-like forms, especially white ones in other Bess paintings, I thought this was an appropriate choice. I put it here because I thought the relative calmness and superficial placidity of this piece contrasted well with the overtness of "Seeing Red." I was also attempting to negotiate the lure of the biographical/overt reading of the painting with a more nuanced/timbral experience of confronting these forms. My one  (perhaps mistaken, perhaps justified) concession to Bess's biography was my decision to play Poing + Maja S. K. Ratkje's version of Cyndi Lauper's "True Colors" as the centerpiece of my adaptation. I couldn't resist. For one thing, they made an incredibly beautiful arrangement of the song–the accordion is an absolute rainbow of melancholy and peace–, and for another, the lyrical content fit the theme as well as the biography, and I thought it was worthwhile to take a moment and honor Bess's own explicitly articulated struggles with/solution to his sexuality. That was the center of my composition, and his, so I went back out to the edges of the painting, playing snatches from "l'arbre blanc", another version of "Seeing Red", the rest of "Thinking Black" and the end of "My Black Ass."
(Small technical note: because of my lack of familiarity with this particular equipment setup, my transitions between the vinyl records got flustered and are not as clean as I wanted them to be. Alas.)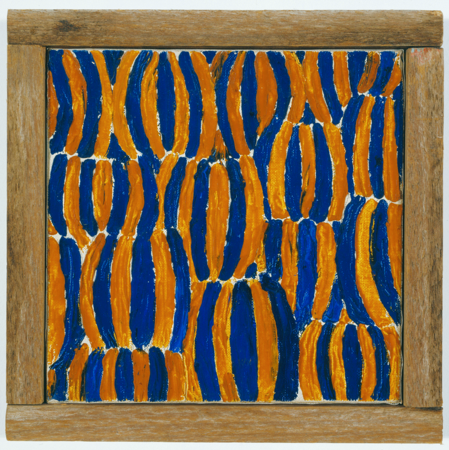 Forrest Bess. View of Maya, 1951. Oil on canvas. 8 x 8 inches. The Menil Collection, Houston. Bequest of Jermayne MacAgy. Photo: Paul Hester.
The last painting I confronted was View of Maya. The bent slivers of orange and blue immediately reminded me of Charles Mingus's "Orange Was The Color Of Her Dress Then Blue Silk." Because of the reasons I already stated about the act of translation occurring here, I chose Steve Lacy and Gil Evans' duet version of this tune. The white interstices between the undulating orange and blue worm forms I understood as background punctuation, so I interpolated snippets from White Hole's Snow album: the way snow–which is so, so white–falls between so many things.
*One note about the recording: there were some technical issues with the negotiation of the remote equipment and the server, so the first four minutes is a nice song that doesn't have any explicitly direct connection to a Bess painting–though it does have a color as a title; can you guess which one?–which I played as we negotiated, successfully, that dilemma. My arrangements begin at the 4 minute mark.
--Andrew Choate, KCHUNG DJ
----
KCHUNG DJ Andrew Choate played this live broadcast before the Hammer Conversations event with Robert Gober and Elisabeth Sussman on the work of Forrest Bess last week.
Established in 2011, KCHUNG is a creative hub of artists, musicians, philosophers, and tinkerers broadcasting live on 1630AM from a studio above a pho restaurant in Los Angeles's Chinatown. The radio station currently airs 74 live, original shows each month, including reports on wildlife conservation, on-air meditation, gestures of an economic and performative nature, as well as music. While in residence at the Hammer through the end of the year, KCHUNG presents the station's regular programing on-site as well as new programs developed for the museum. Visitors can look forward to projects such as audio tours composed by KCHUNG and remixes of past Hammer programs.