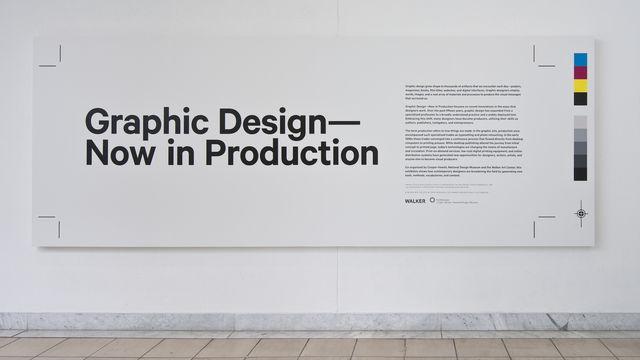 Graphic Design: Now in Production | Related Programs
EXHIBITION-RELATED PROGRAMS | FREE ADMISSION*
Exhibition Walkthrough with Brooke Hodge
Sunday, October 14, 2pm
Brooke Hodge, director, exhibitions management and publications, will lead a public walkthrough of the exhibition. *Free with museum admission.
Hammer Lectures: A Cooler Ride
With Michael Lejeune
Thursday, October 25, 7:30pm
Los Angeles County Metropolitan Transportation Authority (Metro) creative director Michael Lejeune and the supercharged creative team he leads have one goal: make public transportation cool. It's a daunting task in a region as car-crazy as Los Angeles. But by applying a bold design strategy to the work of the nation's third largest transit agency, Metro's 20-person in-house studio team is moving the needle, fostering big change, and earning major design kudos along the way.
Hammer Lectures: Three of a Kind
Brian Roettinger, Gail Swanlund, and Willem Henri Lucas
Tuesday, November 20, 7:30pm
Using the 20 essays from the Graphic Design: Now in Production catalogue as a roadmap, three L.A.-based independent designers discuss their work and that of others. The work of Brian Roettinger, the former design director of the Southern California Institute of Architecture, encompasses design, publishing, writing, and curating. Gail Swanlund is a designer whose professional practice includes work for art and design institutions and collaborative projects with visual artists such as Paul McCarthy, Jennifer Steinkamp, Laura Owens, and Benjamin Weissman. Primarily a book designer (exploring the sensibility of printed matter, in material as well as content) Willem Henri Lucas is interested in addressing social issues and bringing design back "to the street," and "humanity" back into design, encouraging future designers to be a valuable part of their communities.
Hammer Lectures: Chip Kidd
Wednesday, November 28, 7:30pm
Chip Kidd is a designer and writer in New York. His book cover designs for Alfred A. Knopf, where he has worked since 1986, have helped create a revolution in the art of American book packaging. Kidd has published two novels, The Cheese Monkeys and The Learners, as well as Batman: Death by Design, an original graphic novel published by DC Comics and illustrated by Dave Taylor. He is also the author of several books about comics, notably Peanuts: The Art of Charles M. Schulz, Mythology: The DC Comics Art of Alex Ross, Batman: Animated, and Jack Cole and Plasticman (with Art Spiegelman).
Hammer Conversations: Michael Bierut & Ellen Lupton
Thursday, November 29, 7:30pm
Graphic designer and design critic Michael Bierut is a partner at the renowned firm Pentagram, where his clients have included the Alliance for Downtown New York, Benetton, and the Council of Fashion Designers of America, to name a few. An AIGA Gold Medal recipient, he recently worked on the development of environmental graphics for the New York Times building. He is a senior critic in graphic design at the Yale School of Art. Ellen Lupton, co-curator of Graphic Design: Now in Production, is a designer, writer, and senior curator of contemporary design at Cooper-Hewitt, National Design Museum. She is the director of the Graphic Design MFA program at Maryland Institute College of Art, where she also serves as director of the Center for Design Thinking. In 2007 Lupton received the AIGA Gold Medal.