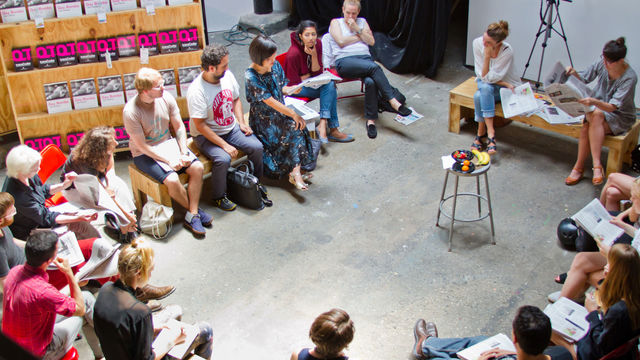 Jen Kennedy and Liz Linden
–

This is a past residency
Jen Kennedy and Liz Linden's spring residency investigated the semiotics of feminism, exploring both language and intent, questioning how the lens of feminism might support inclusion efforts and political resistance today. While in residence the artists encouraged visitors to share assumptions about feminism through an on-site interface, a reading group probing the language of the New York Times, and a new participatory performance piece, TELETHON.
The residency culminated in an online exhibition of contemporary perceptions of the feminist movement.
This residency is part of the Hammer's Bureau of Feminism initiative.
---
The New York Times Feminist Reading Group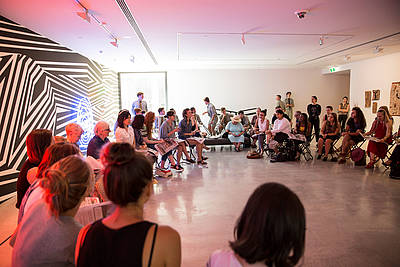 Thursdays, February 23 & March 2, 2017, 1:30–3 p.m.
Participants convene to review and discuss the iconic paper, deploying feminist techniques to deconstruct journalistic bias.
Annotated New York Times Pages from these sessions:
TELETHON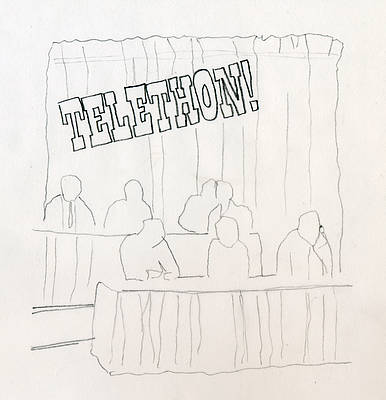 Saturday March 4, 2017, 3–4 p.m.
Inspired by experimental performances of the 1960s, TELETHON is a participatory performance staged in front of a live audience. The sounds of phone calls to random numbers—dial tones, ringing, voicemail, asking about feminism, surprised responses, clicks—are projected toward the audience to create a cacophonous illustration of contemporary feminism and connection.
The Hammer Museum's Public Engagement program is supported, in part, by the Los Angeles County Board of Supervisors through the Los Angeles County Arts Commission.
Public Engagement is organized by January Parkos Arnall, curatorial associate, Public Engagement.