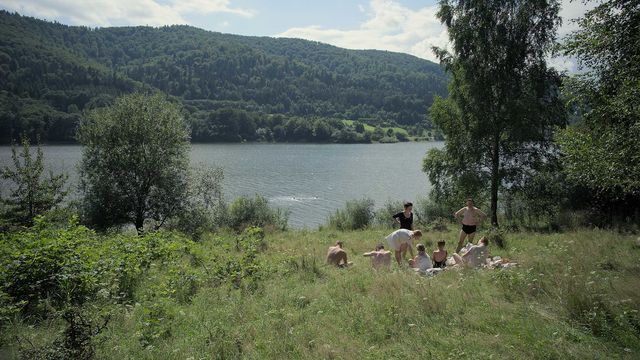 Followed by a Q&A with actors Christian Friedel and Sandra Hüller, cinematographer Łukasz Żal, sound designer Johnnie Burn, composer Mica Levi, editor Paul Watts, and producers Ewa Puszczyńska and Jim Wilson.
In his chilling, oblique study of evil, British director Jonathan Glazer (Under the Skin) situates the viewer at the center of frighteningly familiar banality. It's summer in the mid-1940s, and a German family merrily idles by a river. Father Rudolf Höss (Christian Friedel) and mother Hedwig (Sandra Hüller) tuck their kids in bed at night. They entertain family and guests in their vast backyard garden on the weekends. In the mornings, she oversees chores with a cadre of housekeepers and cooks; he goes to work as head Commandant of Auschwitz Concentration Camp. Their domestic life is paradisiacal. Yet over the wall abutting their home, we can see smokestacks, and at night we hear screams and occasional gunshots. Loosely inspired by the 2014 novel of the same name by Martin Amis, Glazer has created a singular, unsettlingly timeless representation of inhumanity and our capacity for indifference in the face of atrocity, filmed and edited with aptly cold precision and punctuated with an ominous score by Mica Levi. Winner of the Grand Prix at the 2023 Cannes Film Festival. Post-screening conversation moderated by critic Tim Grierson.
The Zone of Interest. 2023. USA/Great Britain/Poland. Written and directed by Jonathan Glazer. With Sandra Hüller, Christian Friedel, Freya Kreutzkam. DCP. 105 min. Courtesy A24
The Zone of Interest | Official Trailer
This film program is organized by Rajendra Roy, The Celeste Bartos Chief Curator of Film, and Sean Egan, Producer, Film Exhibitions and Special Projects, The Museum of Modern Art, New York.
The Hammer Museum's presentation is made possible by The Billy and Audrey L. Wilder Foundation.
ATTENDING THIS PROGRAM?
Ticketing: Limit 2 tickets per customer. Your seat(s) will be assigned to you when you pick up your ticket(s) at the box office. Box office opens at 6:00 p.m. Seats are assigned on a first come, first served basis. No late seating; any unclaimed tickets will be released at 6:50 p.m. No refunds and no exchanges. Post-screening guests are subject to change.
Member Benefit: Subject to availability, Hammer Members can choose their preferred seats. Members receive priority ticketing until 15 minutes before the program. Learn more about membership.
Parking: Valet parking is available on Lindbrook Drive for $10 cash only. Self-parking is available under the museum. Rates are $8 for the first three hours with museum validation, and $3 for each additional 20 minutes, with a $22 daily maximum. There is an $8 flat rate after 6 p.m. on weekdays, and all day on weekends.
Read our food, bag check, and photo policies.