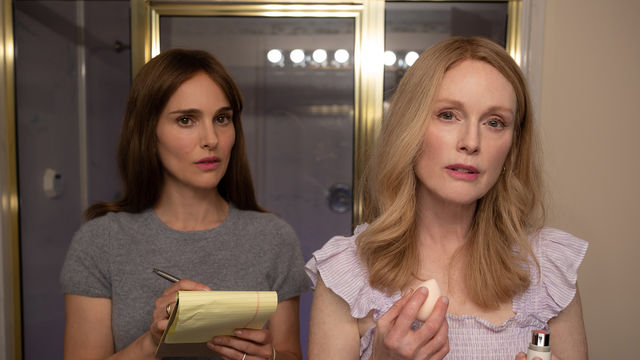 With special guests director Todd Haynes, screenwriter Samy Burch, and actor Charles Melton
In May December, popular television actor Elizabeth (Natalie Portman) heads to Savannah, Georgia, to research a part in a new film that follows a scandalous tabloid romance. That love affair — between Gracie (Julianne Moore) and Joe (Charles Melton) — was once a fixture of the gossip pages. After all, Joe is significantly younger than Gracie, who served time in prison when they were caught together. When she was released, the pair were married, and they now have three children together who are about to graduate from high school. At first glance, their untraditional marriage looks more predictable than Elizabeth expected. But soon, her observation brings long-dormant feelings to the surface, and the decades-old scandal reveals deeper and deeper layers. From first-time screenwriter Samy Burch, May December is a deliciously witty film about performance and exploitation that juggles surreal melodrama with humane perception. Post-screening conversation moderated by Museum of Modern Art Celeste Bartos Chief Curator of Film Rajendra Roy.
May December. 2023. USA. Directed by Todd Haynes. Screenplay by Samy Burch. With Natalie Portman, Julianne Moore, Charles Melton. DCP. 113 min. Courtesy Netflix
May December | Official Trailer
This film program is organized by Rajendra Roy, The Celeste Bartos Chief Curator of Film, and Sean Egan, Producer, Film Exhibitions and Special Projects, The Museum of Modern Art, New York.
The Hammer Museum's presentation is made possible by The Billy and Audrey L. Wilder Foundation.
ATTENDING THIS PROGRAM?
Ticketing: Limit 2 tickets per customer. Your seat(s) will be assigned to you when you pick up your ticket(s) at the box office. Box office opens at 6:00 p.m. Seats are assigned on a first come, first served basis. No late seating; any unclaimed tickets will be released at 6:50 p.m. No refunds and no exchanges. Post-screening guests are subject to change.
Member Benefit: Subject to availability, Hammer Members can choose their preferred seats. Members receive priority ticketing until 15 minutes before the program. Learn more about membership.
Parking: Valet parking is available on Lindbrook Drive for $10 cash only. Self-parking is available under the museum. Rates are $8 for the first three hours with museum validation, and $3 for each additional 20 minutes, with a $22 daily maximum. There is an $8 flat rate after 6 p.m. on weekdays, and all day on weekends.
Read our food, bag check, and photo policies.