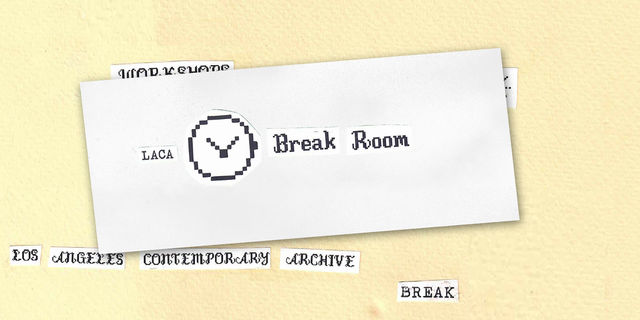 Los Angeles Contemporary Archive: Break Room Workshops
Break room workshops are led by artists who have co-organized a collection with Los Angeles Contemporary Archive (LACA). Together we will handle and discuss archive materials to question and explore moods and feelings that unfold from these collections.
Connect with three collections at the break room: MOCA Union Collection with Olivia Leiter; Private Practices: AAPI Sex Worker and Performance Art Collection with Kayla Tange; and Scheduling Conflicts and party ephemera with Christina Moushoul of Office Party.
Details and RSVP at www.lacarchive.com.
Cake by artist and baker DaMon Golatt.
Coffee and tea by artist Mikey Muench of Senses Coffee Project.
Museum Unions
Wednesday Oct 18, 2023 4:00 PM
We invite participants to engage with materials from the AFSCME Local 126 collection, which contains items that help to tell the story of the unionizing efforts at MOCA by workers who came together to collectively improve their working conditions. This discussion will be facilitated by artist and educator Olivia Leiter.
We will ask together: What items help tell the story of art workers unionizing efforts? What biases and fantasies are you bringing into the collection? What materials might be missing from this collection?
Private Practices
Saturday Nov 18, 2023 2:00 PM
Join artist and dancer Kayla Tange to reflect on Private Practices: AAPI Sex Worker and Performance Art collection. This collection highlights sexual labor and healing-focused celebrations of Asian perspectives and was organized shortly after the 2021 Atlanta shooting. It contains paystubs, apparel, set pieces, police reports, a nuisance lawsuit against an adult business operating in an apartment, and craigslist postings for live/work spaces.
We will ask together: In what ways do you think your own stories influence how you make sense of these materials? What feelings are you experiencing while going through a collection including private materials?
Scheduling Conflicts
Wednesday, Dec 9 2023 2PM
Join architect and editor Christina Moushoul to discuss the material remnants left behind in break room, including the "collective calendar" that visitors contributed to over the course of the exhibition's run. Moushoul will discuss her work with the research and design collective Office Party, which critically examines the role of parties and similar ephemeral spaces as the origin of complex social and material networks with urban, political, and environmental effects.
We will ask together: How can the media of scheduling operate both as tools of projection and tools of reflection? Between their intended rigidity and the complex dynamics of the workplace, where lies their ability to account for things that don't go according to plan?
ATTENDING THIS PROGRAM?
Ticketing: This free program is not ticketed.
Parking: Valet parking is available on Lindbrook Drive for $10 cash only. Self-parking is available under the museum. Rates are $8 for the first three hours with museum validation, and $3 for each additional 20 minutes, with a $22 daily maximum. There is an $8 flat rate after 5 p.m. on weekdays, and all day on weekends.
Read our food, bag check, and photo policies.
Read the Hammer's full COVID-19 safety guidelines.