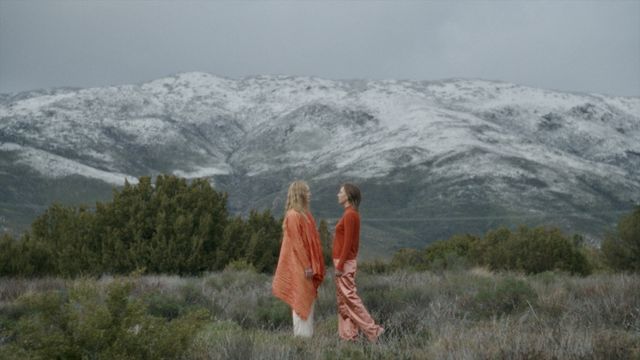 The Flux screening series brings the creative community together to celebrate outstanding short films and music videos from around the globe with wildly inventive filmmaker presentations and performances.
This spring program features dance artist and director Brittney Canda with filmmaker/photographer Monse Muro who join us from Montreal to showcase their new music video The Drudge for Hanorah. An exciting new collaboration from musician, author, poet, director Amyra León and installation artist Alexa Meade brings us The Embrace of Morning. Andrea Gavazzi's Call Away, a song and video from Gracie and Rachel explores themes of separation. Maegan Houang will be on hand to share a special sneak peek of her new short film Astonishing Little Feet. We are also proud to debut Oliver Würffell's collaboration with photographer Sven Marquardt, Rebellion NYC, a compelling portrait of notorious Berghain doorman. And, for the first time, you'll also see works from artists exploring AI tools at Flux.
The eclectic lineup of films includes comedy, dance, documentary, music, and animation and features new music videos for Ashnikko, Mae Muller, Slowthai, Tshegue and more.
Special in-person guests include Amyra León, Andrea Gavazzi, Brittney Canda, Jason Lester, Maegan Houang, and Monse Muro. A courtyard after-party follows with special guest DJ Xica Soul.
ATTENDING THIS PROGRAM?
Ticketing: Admission is free. Your seat will be assigned to you when you pick up your ticket at the box office. Seats are assigned on a first come, first served basis. One ticket per guest. Box office opens one hour before the event.
Member Benefit: Subject to availability, Hammer Members can choose their preferred seats. Members receive priority ticketing until 15 minutes before the program. Members can pickup a ticket for themselves and a guest. Learn more about membership.
Parking: Valet parking is available on Lindbrook Drive for $10 cash only. Self-parking is available under the museum. Rates are $8 for the first three hours with museum validation, and $3 for each additional 20 minutes, with a $22 daily maximum. There is an $8 flat rate after 6 p.m. on weekdays, and all day on weekends.
Read our food, bag check, and photo policies.
Read the Hammer's full COVID-19 safety guidelines.