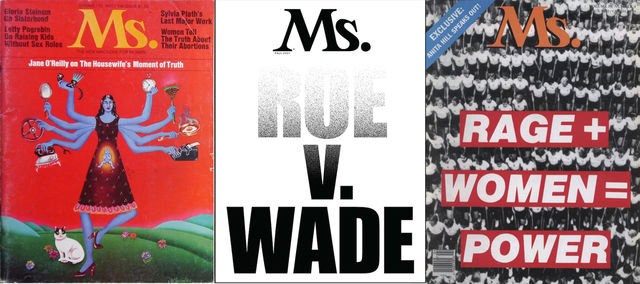 50 Years of Ms. Magazine, with Dolores Huerta and Eleanor Smeal
Since its founding in 1973, Ms. magazine has been a source for news, analysis, and commentary with a feminist point of view. In this panel, the magazine's executive editor Katherine Spillar looks back on the legacy of Ms. and the future of feminism alongside labor rights champion Dolores Huerta; Eleanor Smeal, cofounder of the Feminist Majority Foundation; Carmen Rios, consulting digital editor for Ms.; and Michele Bratcher Goodwin, award-winning author and host of the Ms. podcast On the Issues.
Following the Ms. panel there will be a book sale and signing with light refreshments. Dolores Herta, Ellie Smeal, Michele Bratcher Goodwin, Carmen Rios, Jennifer Weiss Wolf, and Katherine Spillar will be signing copies of 50 Years of Ms.: The Best of the Pathfinding Magazine That Ignited a Revolution. Copies of the book will be available for purchase at the program.
Bios
Katherine (Kathy) Spillar is the Executive Editor of Ms. and editor of and contributor to 50 Years of Ms: The Best of the Pathfinding Magazine that Ignited a Revolution. Under her oversight, Ms. has increased its investigative reporting and in-depth analysis and today is the largest print and online feminist platform—reaching millions from across the globe via the quarterly print magazine, a vibrant and popular website, a robust daily and weekly e-newsletter mailing list, social media, the innovative digital textbook resource Ms. Classroom and audio and video programming from Ms. Studios. Kathy is also the Executive Director of Feminist Majority Foundation and Feminist Majority, national organizations working for women's equality, empowerment and non-violence; one of the founders, she has been a driving force in executing the organizations' diverse programs securing women's rights both domestically and globally since its inception in 1987.
Dolores Huerta is a member of the Ms. Advisory Board and the Board of the Feminist Majority Foundation, which publishes Ms. magazine, and the founder and president of the Dolores Huerta Foundation. She was the co-founder, alongside Cesar Chavez, of the United Farm Workers Union. She remains a pillar of civil, labor, LGBTQ+ and women's rights activism, anti-poverty efforts and community organizing. Among her many accolades, Dolores was named Ms. magazine's One of the Three Most Important Women in 1997, and in 2012, she received the Presidential Medal of Freedom from President Barack Obama.
Eleanor (Ellie) Smeal is co-founder and president of the Feminist Majority Foundation, the publisher of Ms. One of the architects of the modern drive for women's equality, Ellie is a political analyst, strategist and grassroots organizer, and she has led efforts for the economic, political and social equality and empowerment of women worldwide for more than four decades—including the original drive to ratify the Equal Rights Amendment. She continues to be a leading strategist in the movement to ensure the ERA is added to the Constitution.
Dr. Michele Bratcher Goodwin is the Executive Producer of Ms. Studios, host of the popular Ms. podcast On the Issues with Michele Goodwin and a frequent contributor to Ms. whose work appears in the 50 Years of Ms. collection. She is the Linda D. & Timothy J. O'Neill Professor of Constitutional Law and Global Health Policy at Georgetown University. She previously held the chancellor's professorship at University of California, Irvine and founded and directed its Center for Biotechnology and Global Health Policy and its Reproductive Justice Initiative. Michele is an award-winning author and journalist whose work has been published by outlets like Forbes, Salon, L.A. Times, Politico, Chicago Sun Times, Houston Chronicle, Christian Science Monitor and the New York Times, and she is a global thought leader and advisor on matters related to law, society and global health.
Carmen Rios is the Consulting Digital Editor at Ms. and former Managing Digital Editor for the magazine. She is a feminist writer, broadcaster and community-builder whose pieces on queerness, gender, race and class have been published by BuzzFeed, Bust, CityLab, DAME, ElixHER, Everyday Feminism, Feministing, Feminist Formations, GirlBoss, GrokNation, MEL, Mic, the National Women's History Museum, SIGNS and the Women's Media Center; and she produced and hosted the popular feminist podcasts POPAGANDA, with Bitch Media, and THE BOSSY SHOW. Her work has been covered by outlets including NPR, CNN, the New York Times, the Washington Post, Vox, Good Morning America and Jezebel.
ATTENDING THIS PROGRAM?
Ticketing: Admission is free. Your seat will be assigned to you when you pick up your ticket at the box office. Seats are assigned on a first come, first served basis. One ticket per guest. Box office opens one hour before the event.
Member Benefit: Subject to availability, Hammer Members can choose their preferred seats. Members receive priority ticketing until 15 minutes before the program. Members can pickup a ticket for themselves and a guest. Learn more about membership.
Parking: Valet parking is available on Lindbrook Drive for $10 cash only. Self-parking is available under the museum. Rates are $8 for the first three hours with museum validation, and $3 for each additional 20 minutes, with a $22 daily maximum. There is an $8 flat rate after 6 p.m. on weekdays, and all day on weekends.
Read our food, bag check, and photo policies.
Read the Hammer's full COVID-19 safety guidelines.