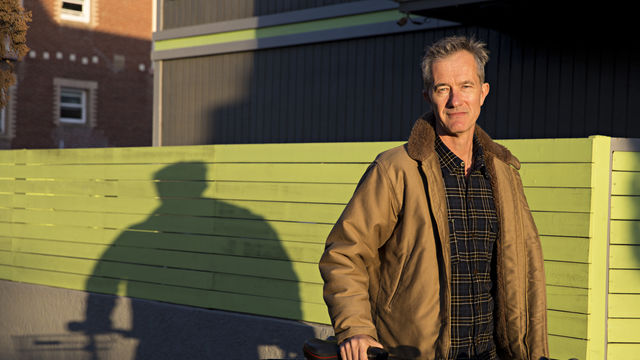 Some Favorite Writers: Geoff Dyer
Celebrated writer Geoff Dyer returns with The Last Days of Roger Federer, an extended meditation on late style and last works. Here Dyer reads from this latest collection, one of Esquire's best of spring 2022.
Readings are followed by a discussion with author and UCLA professor Mona Simpson, who organizes this series. Supported in part by the UCLA Department of English.
Hammer Channel includes 1,000+ talks, performances, artist profiles, and more. Search, clip, and share topics ranging from politics and activism to art, film, and literature.
Captions and full transcripts are available on Hammer Channel.
When artists and athletes age, what happens to their work? Does it ripen or rot? Achieve a new serenity or succumb to an escalating torment? As our bodies decay, how do we keep on? In this beguiling meditation, Geoff Dyer sets his own encounter with late middle age against the last days and last works of writers, painters, footballers, musicians, and tennis stars who've mattered to him throughout his life. With a playful charm and penetrating intelligence, he recounts Friedrich Nietzsche's breakdown in Turin, Bob Dylan's reinventions of old songs, J. M. W. Turner's paintings of abstracted light, John Coltrane's cosmic melodies, Bjorn Borg's defeats, and Beethoven's final quartets—and considers the intensifications and modifications of experience that come when an ending is within sight. Throughout, he stresses the accomplishments of uncouth geniuses who defied convention, and went on doing so even when their beautiful youths were over.
Ranging from Burning Man and the Doors to the nineteenth-century Alps and back, Dyer's book on last things is also a book about how to go on living with art and beauty—and on the entrancing effect and sudden illumination that an Art Pepper solo or Annie Dillard reflection can engender in even the most jaded and ironic sensibilities. Praised by Steve Martin for his "hilarious tics" and by Tom Bissell as "perhaps the most bafflingly great prose writer at work in the English language today," Dyer has now blended criticism, memoir, and humorous banter of the most serious kind into something entirely new. The Last Days of Roger Federer is a summation of Dyer's passions, and the perfect introduction to his sly and joyous work.
Biography
Geoff Dyer was born in Cheltenham, England, in 1958. He was educated at the local Grammar School and Corpus Christi College, Oxford. He is currently living in Los Angeles where he is a writer in residence at USC. His new book See/Saw: Looking at Photographs will be released in spring 2022.
He is the author of four novels: Paris Trance, The Search, The Colour of Memory, and Jeff in Venice, Death in Varanasi; a critical study of John Berger, Ways of Telling; two collections of essays, Anglo-English Attitudes and Working the Room; and many genre-defying books: But Beautiful, The Missing of the Somme, Out of Sheer Rage, Yoga For People Who Can't Be Bothered To Do It, The Ongoing Moment, Zona, about Andrei Tarkovsky's film Stalker, Another Great Day at Sea: Life Aboard the USS George H W Bush, White Sands: Experiences from the Outside World, The Street Philosophy of Garry Winogrand, and "Broadsword Calling Danny Boy", about the film Where Eagles Dare. He is the editor of John Berger: Selected Essays, Life with a Capital L: Selected Essays by D H Lawrence, and co-editor, with Margaret Sartor, of What Was True: The Photographs and Notebooks of William Gedney.
A selection of essays from Anglo-English Attitudes and Working the Room entitled Otherwise Known as the Human Condition was published in 2011 and won the National Book Critics Circle Award for Criticism.
He has been a visiting professor at the University of Iowa, Columbia University in New York, and the Michener Center for Writers at University of Texas in Austin. in 2014, he was a Mellon Distinguished Scholar at Wits University in Johannesburg. He is currently writer in residence at the University of Southern California, Los Angeles. He is a Fellow of the Royal Society of Literature, an Honorary Fellow of Corpus Christi College, Oxford, and in 2015 was elected to the American Academy of Arts and Sciences.