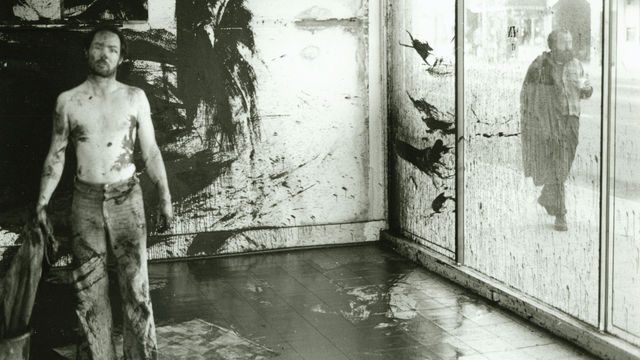 Black and White III & Color Compilation
Presenting two collections of the artist's earliest video works, Black and White III and Color Compilation, this program showcases McCarthy's interests in Structuralist film and foundational experiments in performance for the camera. An in-person introduction by artist Barbara T. Smith precedes the screening.
(Black and White III [Ma Bell; Face Painting—Floor, White Line; Split—While holding the camera; Spinning, short version; Whipping the Wall with Paint; Basement Tapes: Up Down Penis Show, Zippedy Doo Dance, Icicle Slobber, Pipe Shadow, Upside Down Spitting "Bat," Semen Drawing, Spitting on the Camera Lens, Upside Down Pipe; Whipping a Wall and a Window with Paint; Spit Dicking I; Karen Ketchup Dream #1; Spit Dicking II; Pissing, Microphone; Ass End I; Ass End II], 1971–75, dir. Paul McCarthy, 78 min.
Color Compilation [Heinz Ketchup Sauce; Glass; Basement Clown; Rattle Head; Mother/Father; Slapper; Spit Smear Face], 1974–75, dir. Paul McCarthy, 46 min.)
All public programs are free and made possible by a major gift from an anonymous donor.
Generous support is also provided by Susan Bay Nimoy and Leonard Nimoy, Good Works Foundation and Laura Donnelley, the Elizabeth Bixby Janeway Foundation, The Samuel Goldwyn Foundation, the City of Los Angeles Department of Cultural Affairs, an anonymous donor, and all Hammer members.
Digital presentation of Hammer public programs is made possible by The Billy and Audrey L. Wilder Foundation.
Hammer public programs are presented online in partnership with the #KeepThePromise campaign—a movement promoting social justice and human rights through the arts.