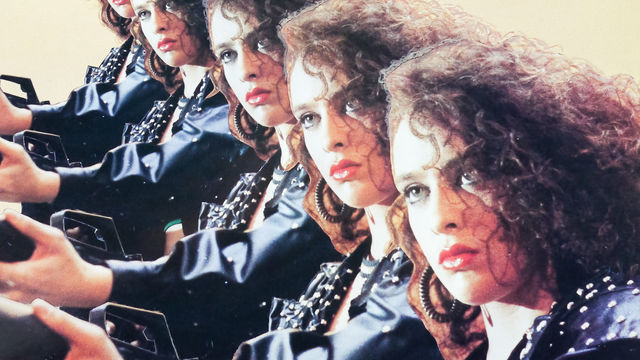 Lady Terminator / Sister Street Fighter
The
UCLA Film & Television Archive
presents classic film and contemporary cinema each weekend in the Hammer's Billy Wilder Theater. Archive tickets are $9 general admission and free for UCLA students.
Lady Terminator
Produced in Indonesia, Lady Terminator is an excessively perverted and mind-blowingly fun neon-soaked, fifty-uzi salute to plagiarism, explosions, and crotch violence against men. When a man steals a ghost snake from a sex-witch, she promises revenge on his great-great-granddaughter. One hundred years later, a female anthropologist is attacked by the same ghost snake and becomes a cyber-robotic master of death. Her purpose? Using sex, mutilation, and laser eyes in order to make life unbearable for a pop star who also happens to be the man's great-great granddaughter. (1988, dir. Jalil Jackson, 35mm, color, 82 min.)
Sister Street Fighter
After the massive success of The Street Fighter, Japanese studio Toei built a new karate series around a female lead, casting the young actress who had appeared in a cameo alongside her mentor Sonny Chiba in the origin film. Still a teenager at the time, Etsuko Shihomi exploded on screen and created a new character type: a tough fighter who was fierce, fearless, good-hearted and decidedly non-sexualised—a departure from Toei's typical formula. Shihomi plays the half-Chinese, half-Japanese Li Koryu, who travels to Yokohama to investigate the disappearance of her undercover cop brother. Li discovers a smuggling ring run by a drug lord with his own personal army of deadly fighters, and must penetrate his evil lair with the help of a fellow karate master (Sonny Chiba). Genre entertainment of the highest order, the Sister Street Fighter films are a wild ride through some of the best exploitation cinema Japan produced in the 1970s. Funky and over-the-top, filled with wall-to-wall action, and featuring some of the craziest villains ever depicted on screen, the series embodies female power in a male-dominated genre and is a magnificent showcase for the physical presence and martial arts skills of its lead star. 
(1974, dir. Kazuhiko Yamaguchi, DCP, color, Japanese with English subtitles, 92 min.)