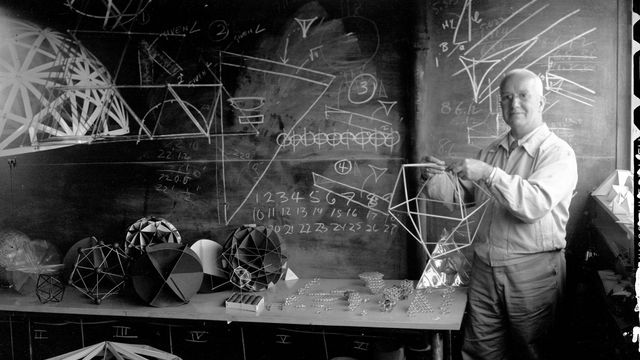 Explorations in the Geometry of Thinking
Copresented with the Buckminster Fuller Institute
Buckminster Fuller—the visionary, architect, author, mathematician, and inventor of geodesic domes—sought to discover nature's building principles. This workshop introduces synergetics, a comprehensive energetic geometry system developed by Fuller, through demonstrations and hands-on model building. Materials will be provided.  
Facilitated by inventor, writer, producer, and educator, Kurt Przybilla. Kurt invented Tetra Tops®, the world's first spinning top with more than one axis of spin. Inspired by the works of Buckminster Fuller, Tetra Tops® have been featured in The New York Times, Popular Science, Baby Einstein, Child and Discover Magazine, and the Smithsonian Institute. He is co-creator of the Molecularium Project at Rensselaer Polytechnic Institute where he produced and co-wrote the 3D animated film Molecules to the MAX!, the award winning digital dome feature Molecularium, and a game-based online theme park to teach kids about atoms and molecules NanoSpace.
Support for programming related to Leap Before You Look: Black Mountain College 1933-1957 is provided by Catherine Glynn Benkaim and Barbara Timmer.
All Hammer public programs are free and made possible by a major gift from the Dream Fund at UCLA. 
Generous support is also provided by Susan Bay Nimoy and Leonard Nimoy, Good Works Foundation and Laura Donnelley, an anonymous donor, and all Hammer members. 
The Hammer's digital presentation of its public programs is made possible by the Billy and Audrey L. Wilder Foundation.