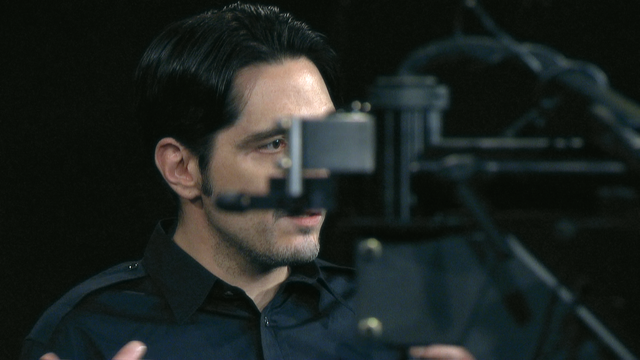 Public Engagement Flash Talk on I Am Not a Flopper
Wednesday
Dec 17, 2014
1:15 PM to 1:30 PM
This is a past program
Public Engagement Flash Talks provide an opportunity for visitors to glean a unique perspective on art works displayed in the galleries through speakers who are connected to the art in sometimes unusual ways.
For this talk on Mario Garcia Torres, I Am Not a Flopper, 2007-14, Emmy-nominated editor, producer and filmmaker, Tom Danon, will consider the peculiar live-editing techniques used by Garcia Torres to imbue the work with a constructed quality while addressing the idea of failure and film-making.
Biography
Tom Danon is an Emmy Award nominated editor, producer, filmmaker & writer, whose diverse credits include the award winning narrative and documentary features "Bleached," "Death: A Love Story," and "Laffghanistan: Comedy Down Range;" as well as far too many reality shows to retain any credibility as an artist, but, hey, you've got to pay the bills.  He is currently producing the charity/comedy show "Roustabout" for Comedy Central Studios and is at work on a memoir about Los Angeles County Jail and the many stupid – yet amusing – ways to end up there.
Part of the curatorial department, the Public Engagement program collaborates with artists to develop and present works that create an exchange with the institution and with visitors. Enacted both inside and outside the galleries, Public Engagement projects range from re-envisioned security guard uniforms to library and orchestra residencies. The Hammer Museum's Public Engagement program is supported, in part, by the Los Angeles County Board of Supervisors through the Los Angeles County Arts Commission.