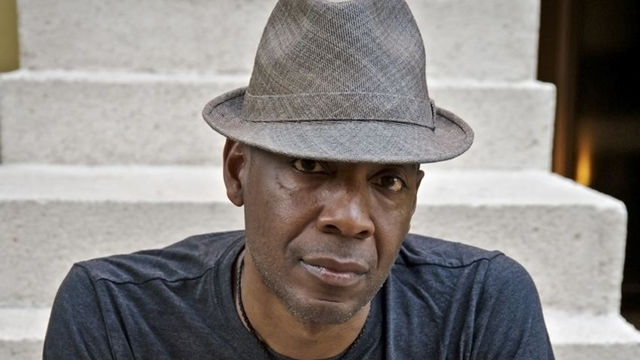 Made in L.A. Music: DEEP w/ DJ Marques Wyatt + DJ Doc Martin
to

This is a past program
Happy Hour 6:30-7:30PM | Music 7:30PM
The Hammer and public radio station KCRW present four nights of free live music in the courtyard. This year, the series spotlights some of L.A.'s most enduring club nights and residencies, showcasing the city's vibrant and diverse music scenes. 
DEEP featuring:
Marques Wyatt
Doc Martin
+ KCRW DJ Raul Campos
Join us at 6:30PM for a happy hour cash bar featuring the Georgia Peach, a hand-crafted cocktail created by The Cosmopolitan of Las Vegas, and a selection of L.A. brews. Snap a picture in our photo booth and check out the The Bumbys, an anonymous New York performance art duo, who will provide live typewritten "Fair & Honest Appraisals of Your Appearance." Galleries featuring Made in L.A. 2014 will be open late!
#WhereArtThouDino
Attend the concerts, snap a pic with the Dino swizzle stick given with the Georgia Peach cocktail, post on Instagram with #WhereArtThouDino, and enter to win a Las Vegas getaway. Details here.
DEEP
DEEP is nothing short of a phenomenon driving the dance music scene in Los Angeles and beyond. For 14 years, DEEP has prided itself on procuring and presenting the finest soulful electronic music DJs and artists from around the world. DEEP forges on as an internationally esteemed sanctuary for house music lovers.
For a decade, legions of music lovers have gathered to dance in freedom at LA's longest-running weekly house music event. The scene here is unlike any other in the city: freestyle dancers break it down in their Adidas kicks and ball-caps, posh girls wearing stilettos sway to the beat, and bohemian revelers spin in carefree circles across the dance floor. In a city of velvet ropes and dress codes, DEEP is a welcome relief from surface-level judgment and the cat-and-mouse game of club-spawned booty calls. From the old to the young, gay, straight and otherwise, a sense of unity threads together this patchwork of individual expression through music. Yes, this is so much more than a night at a dance club. This is DEEP.
Marques Wyatt
Sonic love travels in many dimensions – through visceral pathways of the senses, as a uniting force on dance floors everywhere, in movements spanning entire eras to unify – whether souls, states or nations. And as sonic love relates to house music, Marques Wyatt is a seminal pioneer.
In the mid '90s, at a time when the shape shifting of house music was rarely heard outside Chicago and New York, Marques introduced the East coast sound to his native Los Angeles via legendary house parties like BBC, MAC's Garage and Does Your Mama Know, to name a few. In the ensuing years, his prowess as a talented DJ, promoter, and producer earned him recognition as one of the most sought-after artists in the genre, domestically and internationally. Always true to his inner visionary, Marques continued his ventures into unchartered territory by introducing Los Angeles to acid jazz" through Brass, his unforgettable weekly which debuted live performances of high profile acts such as Jamiroquai and the Brand New Heavies way back when. At the same time, Marques continued playing his own brand of uncompromising, soulfully organic house alongside talents such as Frankie Knuckles, Louie Vega, David Morales, Danny Teneglia, King Britt, Mark Farina, and Miguel Migs. Marques' keen sixth sense for creating epic parties culminated in his weekly house institution, DEEP, now going strong in its thirteenth year.
Doc Martin
If there was a house DJ in America who could accurately claim to be the most important house DJ working today, it would be Doc Martin. But then, Doc would never accept such a title even if it happens to be true, because Doc is not only a legendary talent but a legendarily humble man.
Doc Martin's live sets truly bring people together. The variation in his style of music is endless. What makes him so different from the rest? A unique ability to spin everything from deep house vocals that have much depth and meaning to us all in some way, to his funky tribal Bass lines mixed with threads of acid, his passive collection of classics rare records that are only to be heard at his gigs. Doc Martin has developed the respect as a house DJ that so many of us admire. It is this respect that keeps him constantly touring; from New York to London, Japan, and everywhere in between.
Made in L.A. Music is sponsored by The Cosmopolitan of Las Vegas and IKEA Burbank.