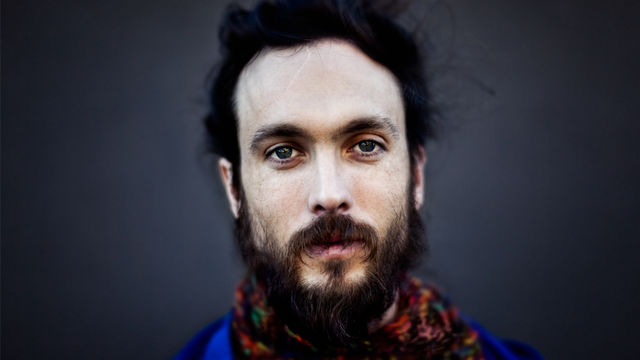 Made in L.A. Music: An Evening of Community Music hosted by Alex Ebert
to

This is a past program
Happy Hour 6:30-7:30PM | Music 7:30PM
The Hammer and public radio station KCRW present four nights of free live music in the courtyard. This year, the series spotlights some of L.A.'s most enduring club nights and residencies, showcasing the city's vibrant and diverse music scenes.
Community Music featuring Alex Ebert and friends
+ KCRW DJ Liza Richardson
(crash, The Shoe, My Hawaii, Alex Ebert, Jam session with crash)
Join us at 6:30PM for a happy hour cash bar featuring the Georgia Peach, a hand-crafted cocktail created by The Cosmopolitan of Las Vegas, and a selection of L.A. brews. Snap a picture in our photo booth and check out the The Bumbys, an anonymous New York performance art duo, who will provide live typewritten "Fair & Honest Appraisals of Your Appearance." Galleries featuring Made in L.A. 2014 will be open late!
#WhereArtThouDino
Attend the concerts, snap a pic with the Dino swizzle stick given with the Georgia Peach cocktail, post on Instagram with #WhereArtThouDino, and enter to win a Las Vegas getaway. Details here.
About Community Music
Our label
will always be about - collaboration, celebration, transparency and trust. The idea is not to look for bands to sign, but for friends to support.
Alex Ebert
Alexander Ebert, lead singer of LA hippie-entourage Edward Sharpe and the Magnetic Zeros, released his debut solo album Alexander on March 1, 2011 via Community Music (Rough Trade in Europe/UK). 
During breaks from touring with the Zeros over the past year, Alexander began building and recording the pieces that would become the songs for this album alone in his bedroom. Before this album, all of the music he worked on had been collaborative, especially with the 10-person Magnetic Zeros. "I wanted to be able to build an album basically with my hands, like building a house by myself," Alexander remarked of his inspiration for making this album without outside help.
There isn't a single sound on the ten-song album that Alexander didn't perform himself. Alone in his room, he had his guitar, a Lowery organ he picked up at a St. Vincent's thrift store in Los Angeles for seventy bucks, a clarinet he used for the bridge on the record's first single, "Truth", and a violin he'd found somewhere in Tucson on tour. He had his own voice, his breath, his knees to slap, his fingers to snap and his toes to tap. When he knew that he wanted to use a violin on the bridge of "Glimpses", he had an urge to call a friend to come play it for him, but then questioned why he wouldn't try it himself. Says Alexander, "To me, it's a very humble album with sky's-the-limit sort of qualities, and so I didn't really shy away from doing whatever I felt like doing."
As for the music itself, Alexander explains that some of the inspirations for the "mouth sounds" that you can hear throughout the record were from all-time-favorites of his like the 1970 chart-topping ditty "In The Summertime" by British band Mungo Jerry. He also notes that children's clapping games like Patty Cake and infectious and optimistic Disney tunes like "Zip A Dee Do Da" served as loose inspirations for him.
The Shoe
Jena Malone and Lem Jay Ignacio first met at a Christmas carol party at the Mandrake in Los Angeles, California in 2008. They ended up playing that night and meeting for the first time on stage. They performed "Walking in a Winter Wonderland" but Jena sang completely in scat-style gibberish and Lem Jay musically did not miss a beat. A unique musical friendship was born. Jena had built an instrument she called "The Shoe", which was simply an old steamer trunk she dollied around with a plethora of electronic instruments inside. She brought it over to Lem Jay's garage to jam soon after they met. Lem Jay, who is a pianist and music producer said, "From that night, it seemed like she was always over and we were always freestyling, making up songs, playing abstract piano duets, psychotherapy rants and love spells. We'd stay up all night recording all our jams. Sometimes we'd improvise complete songs from start to finish. I think we literally have over a hundred hours of nights like this. Since we did this so much, it was hard to know what it was, whether it was a band or an art project or just two friends constantly making music. Our first EP At Lem Jay's Garage came out of this first year of us getting together in my garage and pressing record." That EP came out in 2009 under Jena's label There Was An Old Woman Records. Their soon-to-be-released full-length album I'm Okay was recorded again in Lem Jay's garage during the summer of 2013. Of this newest effort Jena says, "This new record means so much more to me because I actually wanted to write songs. I wanted to craft them more than I had ever done. I love the art of freestyle. For me, I always start there as a songwriter, but this record was different. I wanted to tell stories everyone could feel and understand, not just me."
Jena Malone has been acting for over 19 years in independent and blockbuster films. Most recently seen in The Hunger Games: Catching Fireand soon to be seen in Paul Thomas Anderson's film Inherent Vice. She has been making music for eight years and has self-released two albums under Jena Malone and her Bloodstains.
Lem Jay has made music with many different artists, including Zooey Deschanel and Charlyne Yi. He has composed music for brands such as Pokémon and Converse and for art projects at MOCA, LACMA and The Hammer Museum.
crash
crash's story unfolds with that particularly Southern swagger and wit, a tale of a Louisiana boy bred on Waffle House breakfasts and monster truck rallies, local rodeos and the flicker of family bonfires. As a youth he pulled slingshots and shot bb's at the Popcorn trees, swam, fished and stomped his feet to the tune of his own Pawpaw's country band.
 
As adolescence crept in, crash found he had an itch for singing, passing through the French Quarter to learn at the feet of the New Orleans' legendary street performers, a young man searching for inspiration among the sodden Voodoo alleys of America's most soulful city. Later, he would steal his Mom's car to play the open mic nights at The Neutral Ground Coffeehouse, or to sneak into Nick's on Tulane, or shoot pool at Dixie Tavern. He started a folk act, a punk group and finally, just after high school, started singing on the regular and was appointed "Congregational Song Leader" in a Southern Louisiana Gospel Choir, which had him performing for hundreds at a time. 
Then, the rains came, Katrina bearing down hard and fast and the New Orleans that he once knew vanishing forever under poisoned water. Lost, crash reached out to his pal Knoxville, who responded with an offer of help – a job, a place to lay his head– an invite to head west, to Cali. And so he packed his guitar and went, straight into the heart of Tinseltown, to the sweet promise of a Golden State.
 
crash brought his music with him, quickly joining the critically adored local act Deadly Syndrome as lead singer and frontman, bringing his gris gris into the beautiful belly of the L.A. beast.  Since then, crash has been barreling ahead, recording prolifically with Deadly Syndrome, working with famed producer Daniel Lanios, composing a live stage score, acting in a few national commercials, and finally, after Deadly disbanded in 2013, heading out on the road with his pals, Edward Sharpe and The Magnetic Zeros, as percussionist and angelic vocal accompaniment.
 

Produced and engineered by the multitalented Ed Sharpe lead guitarist, Mark Noseworthy, (and featuring friends from the Zeros, Dawes, The Mystic Valley Band and more…) Hardly Criminal is the culmination of all that is strange and sad, hilarious and harmonious, about crash's own true tale. It is story – moving, funny, weird, and stunningly beautiful.
 
You can hear the South, yes, Neville swing and Dr. John ju-ju, but you can also hear smooth soul, booty funk, and ragged folk, a mix of sounds taken from his past and pushed into the future, all accompanied by a deadpan storytelling prowess and a voice like a Cajun Prince (as in "The Artist Formerly Known As"). Hardly Criminal is the sum of crash's best parts – the sonic celebration of his story so far. So, set down a spell, cool yer bones, cher… and listen.  
My Hawaii
With a palate of influences ranging from John Lennon to The High Llamas,
My Hawaii
carve out a niche all their own. Delicate vocals blend with lush soundscapes and instrumentation, forming impeccable arrangements for each song. Starting as a stage tech for Edward Sharpe and the Magnetic Zeros as well as Yoko Ono, band leader Yohei Shikano absorbed both classic and modern, creating a sound which is both, classic and modern.
Made in L.A. Music is sponsored by The Cosmopolitan of Las Vegas and IKEA Burbank.