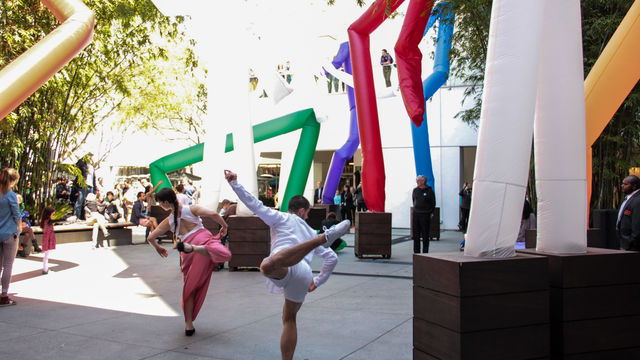 Terry Riley: In C, a performance installation by The Industry
to

This is a past program
Behind The Industry's IN C at the Hammer (Part III)
In conjunction with the Los Angeles Philharmonic's Minimalist Jukebox festival, The Industry, Los Angeles' widely-acclaimed experimental opera company, presents an exuberant visualization of Terry Riley's seminal minimalist composition, In C, at the Hammer Museum. Artistic Director Yuval Sharon's conceptualization includes icons of everyday life in LA—undulating inflatable figures similar to those adorning car dealerships and other businesses—that will transform the museum's courtyard into a wildly kinetic environment, while singers and musicians deliver an epic four-hour performance.
Visitors can experience the performance installation as they wish—for the duration of the piece or just dipping in for moments at a time. With the outdoor space as the permeable set for In C, the audience will be able to fully immerse in this landmark performance.
Performance Dates
Saturday, April 5, 1-5PM
Saturday, April 12, 1-5PM
Performed By
INSPIRAVI Chamber Choir
Ate9 dANCEcOMPANY
(Danielle Agami, Choreographer)
and solo singers and musicians
About The Industry
Founded and led by director Yuval Sharon, The Industry creates ambitious productions that expand the traditional definition of opera and explore new paradigms for interdisciplinary collaboration. The Industry's inaugural production, Anne LeBaron and Douglas Kearney's Crescent City, was instantly hailed as "reshaping LA opera" (Los Angeles Times) and "changing the face of music-theater in this city overnight" (Out West Arts). The large-scale multimedia production, featuring the work of six visual artists in a warehouse in Atwater Village, performed over three weeks in May 2012 to capacity audiences. In June 2013 The Industry presented First Take, a west coast opera workshop showcasing excerpts from six new operatic works-in-progress at the Hammer Museum's Billy Wilder Theater. Last fall Invisible Cities, a joint production by The Industry and L.A. Dance Project, performed to sold-out audiences during its run at Los Angeles' historic Union Station. TheIndustryLA.org.
In C received generous support from Catherine Benkaim and Barbara Timmer.