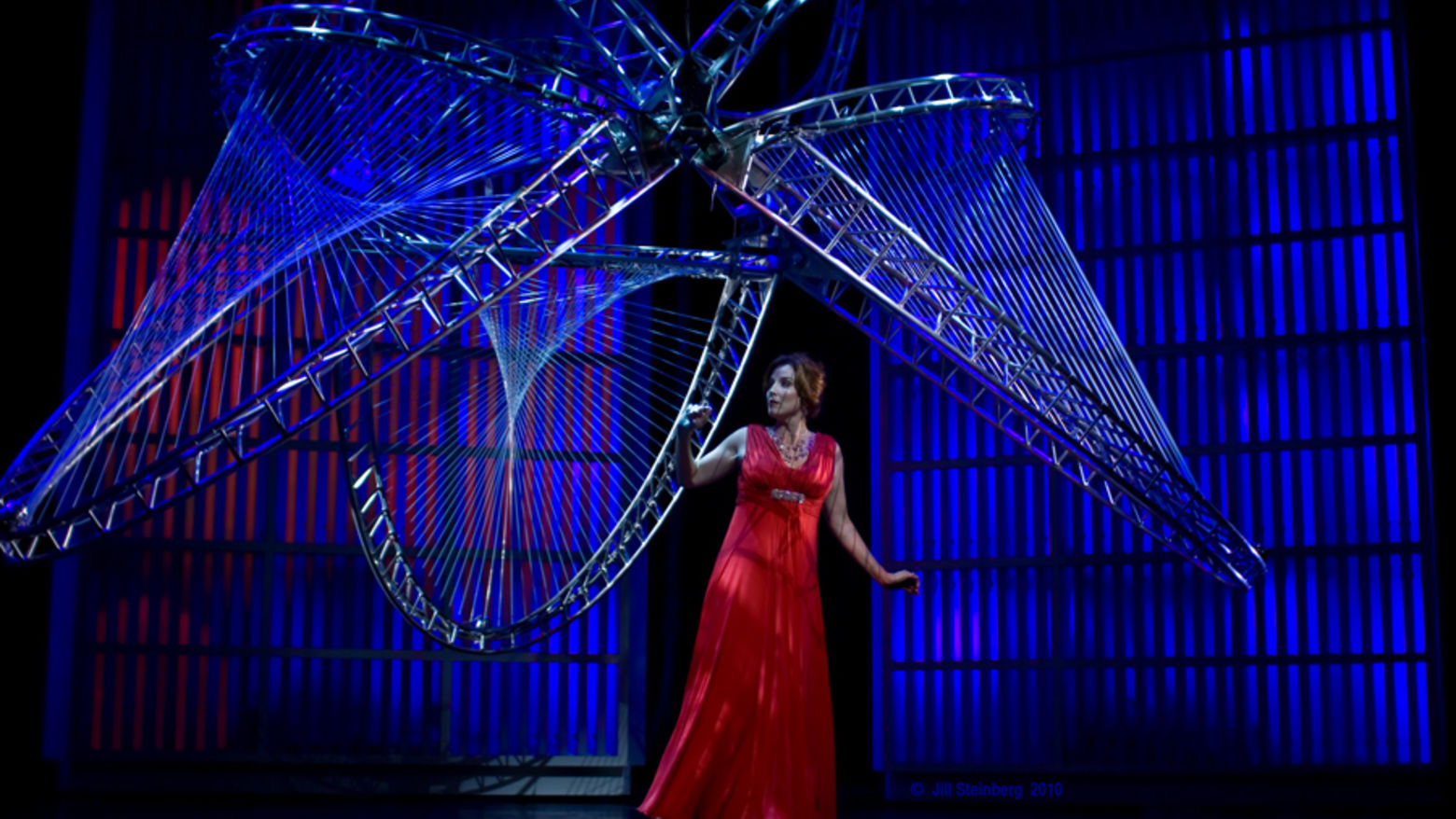 Death and the Powers Live Simulcast
Sunday
Feb 16, 2014
11:30 AM to 1:30 PM
This is a past program
Co-presented by The Industry
The production and performance are sheer genius and technical wizardry. —Keith Powers, Boston Herald
Tod Machover's new epic experimental opera Death and the Powers explores the existential thoughts of a man who transfers his consciousness to an omniscient robot "system" in order to perpetuate his existence beyond the decay of his physical being. Using pioneering performance technology, multi-camera video streaming, and surround sound, Death and the Powers is live simulcast from The Dallas Opera to the Hammer's Billy Wilder Theater. The remote experience is enhanced with multimedia content and interactive participation, which privileges the Hammer audience with an omniscient view of the action of the opera and access to the inner world of the main character, Simon Powers. Visitors are encourage to bring their fully-charged smart phones or tablets and headphones to access additional multi-media content.
Photos
View photos from the event here.
Download the Powers Live App Before You Arrive!
Downloading the app prior to arrival at the Hammer is strongly recommended.
E-mail helpline: [email protected]
1) OPERATING SYSTEM REQUIREMENTS
Please note the Death and the Powers app will only be supported on smartphones and tablet devices running Apple iOS6 or 7 and Android 4.0 or later. It is recommended that your device have 1 GB of RAM.
2) DOWNLOAD
Please proceed to the Apple App Store or Google Play for Android devices. Search for "Powers Live" to find the free app. Tap install to download to your device.
3) LAUNCH
Once downloaded to your device, touch the Powers Live icon to launch the app.
4) LOCATION
Select the venue where you are viewing the Death and the Powers Global Simulcast and tap [Submit / Continue].
5) WI-FI
Join the Wi-Fi network specified in your app, then tap [Continue / I'm Connected].
6) FACEBOOK
When prompted, log in to Facebook to have your likeness incorporated into your Powers Live experience, or tap [Skip] to opt out.
7) COMPLETION
Sit back and wait for the performance to commence! The app experience will automatically begin at the start of the performance.
Note: When you arrive at the Billy Wilder Theater, please connect to the WI-FI network HammerDATP.
All Hammer public programs are free and made possible by a major gift from the Dream Fund at UCLA.
Generous support is also provided by Susan Bay Nimoy and Leonard Nimoy, the Simms/Mann Family Foundation, The Brotman Foundation of California, Good Works Foundation and Laura Donnelley, and all Hammer members.