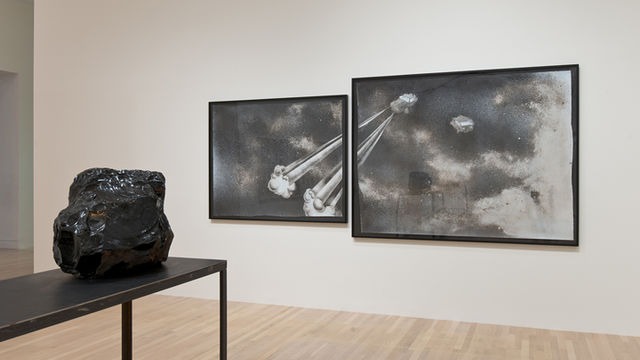 Gallery Talk: Edgar Arceneaux
Artist Edgar Arceneaux gives a brief talk on his untitled work in the exhibition Selections from the Grunwald Center and Hammer Contemporary Collections.
Biography
Born in 1972, Los Angeles-based artist Edgar Arceneaux received a BFA from the Art Center College of Design and a MFA from the California Institute of the Arts. Arceneaux constructs drawings, installations, video and film works as complex arrangements of association that examine adjacencies and points of contact between implausible relations. From 1999 to 2012 Arceneaux served as Director of the Watts House Project, an artist driven neighborhood redevelopment project centered around the historic Watts Towers. Edgar and art historian Sue Bell Yank co-founded WHP as an organization in 2009. Edgar cares about the relationship between art and the social space and has committed his professional life to its exploration.   
He has participated in artist residencies at Art Pace in San Antonio; Skowhegan School of Painting and Sculpture in Maine, and at the Fachhochschule Aachen, in Aachen, Germany. Solo exhibitions of his work have been presented at the Hammer Museum, Los Angeles; the Kitchen, New York; the San Francisco Museum of Modern Art; The Studio Museum in Harlem, and the Museum für Gegenwartskunst in Basel, Switzerland. His work was recently included in Marking Time at the Museum of Contemporary Art in Sydney, Australia; Mutatis, Mutandis, at the Vienna Secession, Vienna, Austria; the 2008 Whitney Biennial, New York. He is currently developing three new projects, a collaborative project with the US State Department and the country of Sao Tome, Africa;  a research project entitled New Financial Architectures for Creative Communities; and Beyond Entertainment, a web and TV series on medial literacy in popular cinema for the public television network KCET/Link, Los Angeles.