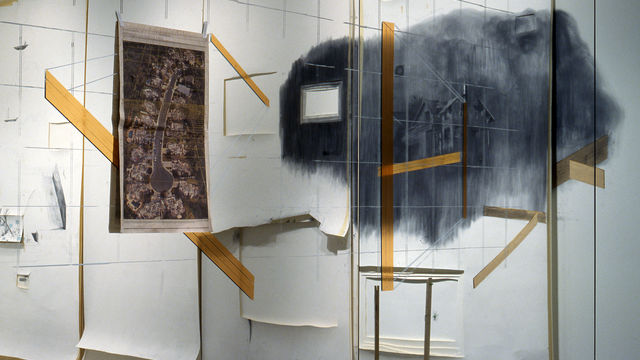 Hammer Projects: Edgar Arceneaux
–

This is a past exhibition
Edgar Arceneaux
's ongoing project
Drawings of Removal
(1999-) is a meditation on the fleeting nature of the present and the function of memory. During the run of the exhibition the artist's studio will be on site and the installation will feature a changing array of layered, cut-out, excavated, drawn, and re-drawn images. The constantly shifting work, inspired in part by his father's memory of his hometown of Beaumont, Texas as it existed in his youth and as it exists today, mimics the nature of memory itself. In the artist's own words, "the work not only represents the idea of loss or of the gap between memory and desire, but is literally active. Something is being built and something is breaking down."
Organized by James Elaine, curator of Hammer Projects, and Aimee Chang, curatorial assistant.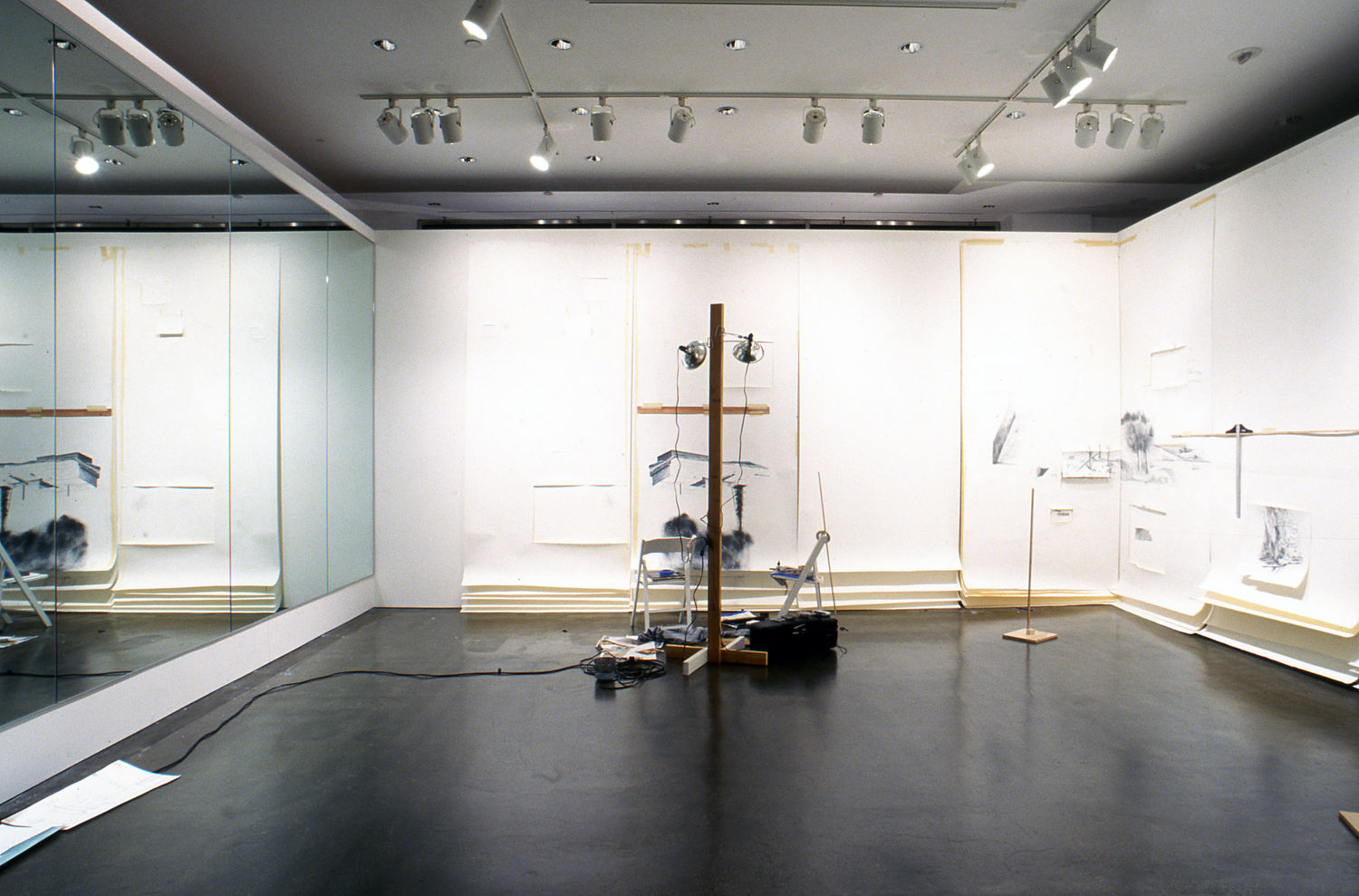 Biography
Edgar Arceneaux was born in 1972 in Los Angeles, California, where he continues to live and work. He received his BFA from the Art Center College of Design in Pasadena, California and his MFA from the California Institute of Arts in Valencia, California. In addition he has studied at the Skowhegan School of Painting and Sculpture in Maine and at the Fachhochschule Aachen in Germany. He has had solo exhibitions at the Kunstverein Ulm, Germany; Galerie Kamm, Berlin; Frehrkring Wiesehoefer, Cologne; Susanne Vielmetter Los Angeles Projects; The Studio Museum of Harlem, New York and the Project, New York. Recent group shows include True Stories at the Witte de With, Rotterdam; Social Strategies: Redefining Social Realism at the University Art Museum, Santa Barbara, Urban Aesthetics at the African American Museum of Art, Los Angeles, and One Planet Under a Groove at the Bronx Museum, New York.
Essay
By Aimee Chang
Edgar Arceneaux is interested in the relationship between artistic processes, most often drawing, and psychology, physics, and philosophy. His explorations—in the form of room-sized installations incorporating sculpture, drawings, and ephemera—favor a nonlinear and nonobjective logic, paying attention instead to unintended connections, interstitial spaces, and, in his words, "a different way to construct relationships between things."1 In early works he placed portraits of famous figures—Spock, Tuvac, and Tupac in one work and Ralph Waldo Emerson and Ralph Waldo Ellison in another—on single sheets of frosted vellum, delighting in alliteration and association while simultaneously probing the fundament of our culture. In keeping with his open-ended approach to information and with the way in which we receive information in our day-to-day lives, no distinction is made between fictional characters and real people, high and pop culture. More recent works—Drawings of Removal (1999–), The Trivium (2001), Rootlessness (2002), and Lost Library (2003)—take over entire rooms, allowing for more points of contact, an increased field of consideration, and deeper associations.
In 1998 Arceneaux and his parents took a road trip to his father's hometown, Beaumont, Texas. The artist was there for the first time, and his father had not been there in more than twenty-five years. They arrived in Texas and found the city practically unrecognizable. Recalling the trip, Arceneaux said: "The house [my father] grew up in is completely gone, [the site] is just a grassy field with a tree stump. The geography itself had changed. They'd put in new streets—literally reconfiguring the landscape."
Soon after, Arceneaux began working on Drawings of Removal, an ongoing exploration of memory through the medium of drawing. Consisting of layered sheets of drawings, some cut out and erased, and an on-site studio, the installation embodies the mnemonic process, displaying a conflation of theme and form that is emblematic of Arceneaux's work. Traditionally drawing is representative—a capturing of an image of something seen, imagined, or perhaps felt. In contrast, Arceneaux's drawings stand in for processes and exist as metaphors. They are not so much representation as event, process made manifest.
"Memory," wrote Charles Gaines, a mentor to Arceneaux, "has the structure of catachresis. And as such we understand how memory is a faculty operating in the present and not in the past. As a catachresis it is a misstatement that produces a paradox: the attempt to recover a moment in the past that is unrecoverable. The person who returns to a childhood neighborhood finds himself not in the objects that he remembered from his youth but in the empty space between that time and the moment of remembering."2 Drawings of Removal takes on this paradox and adds another one of its own. Time based and essentially unstable, the piece is, in the artist's words, "literally active—something is being built and something is breaking down." New pages replace old ones, and the layers build, reflecting the expansive process of memory itself. Images are also cut out, erased, and scattered—fragments forgotten or barely remembered. Glancing through the cutout holes, one can see additional drawings or, sometimes, the blank surface of an underlying sheet of paper or wall.
The work, like memory, is cumulative. Begun in 1999, Drawings of Removal has no foreseeable end. Also like memory, the work is bounded by space rather than by time. It contains all aspects of its own being and is created only within the makeshift studio that is a part of it. The tube in which the drawings are shipped from location to location stands in a corner, its mailing labels recording the work's itinerary. The tools—pencils, pens, rulers—that create the work are scattered about. Joining them are snapshots, exhibition announcements, books, and clipped articles. The artist appears from time to time, changing elements, adding, subtracting. Gallery becomes studio becomes installation—the work is not so much something to see as somewhere to be. Like memory, it is a creative space separate from the place remembered.
The presence of mirrors, new to this version of Drawings of Removal, is both an evocation of mirrored walls in the artist's own childhood home, and a new and continuing motif in Arceneaux's work. Echoing the dislocation of memory, mirror images are as close as we can come to seeing ourselves, yet what we see is never the "real" thing. Placed opposite each other, mirrors are also an intimation of the infinite—the flow of time and the unending mirroring of memory back upon itself.
Throughout his work, Arceneaux has shown an interest in systems. A recent installation, Library as Cosmos, tackled the library of Alexandria, different forms of cataloging, and the history of cartography. As a part of his larger body of work, Drawings of Removal traces a more organic organizational system. A chart of a lost landscape, it is perhaps also a shifting map of synaptic thought and an attempt to catalog, in Arceneaux's signature open-ended way, a specific memory, shared across time and space.
Notes
1. All quotations from the artist are from a conversation with the author, January 30, 2003.
2. Charles Gaines, "Memory and the Sublime: Looking for the Jersey Devil," in Edgar Arceneaux, 107th Street Watts, ed. Franklin Sirmans (Frankfurt am Main, Germany: Revolver Archiv für aktuelle Kunst, 2003), unpaginated.
Aimee Chang is curatorial assistant at the UCLA Hammer Museum.
Hammer Projects are made possible with support from The Horace W. Goldsmith Foundation, The Annenberg Foundation, the Los Angeles County Arts Commission and members of the Hammer Circle.