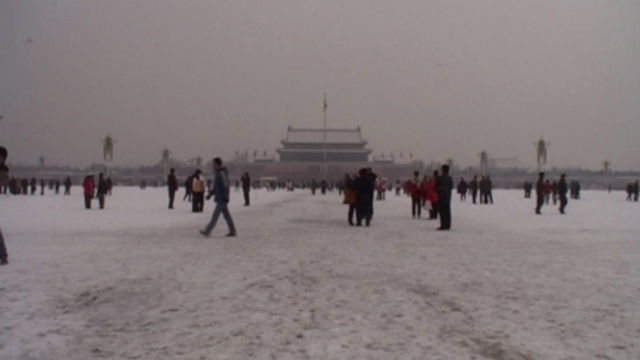 Chang'an Boulevard by Ai Weiwei
to

This is a past program
Screening runs from 11AM-8PM.
The film is a record of Chang'an Boulevard at a sequence of measured distances along its 45 kilometers length from east to west. At each measured increment, the artist records a single frame for one minute. The whole film is composed of 608 one-minute segments. The length of the film is 10 hours and 13 minutes. Beijing, the capitol of China for over 600 years, has a prime architectural orientation and order to its urban fabric. The structure of the city is divided in half by Chang'an Boulevard along the east-west axis. After 1949, Chang'an Boulevard and the heart of the city, Tiananmen Square, became China's main cultural political center and landmark.
The film records the city through the transformation of urban landscape. The act of recording is minimal: it is filmed in a peaceful, quiet manner, focusing on the nature of time and pure observation. The work reveals Beijing as an organic whole, capturing the rhythms of the city, its social structure, cityscape, socialist-planned economy, capitalist market, political power center, commercial buildings, and industrial units as pieces of a multi-layered urban collage.
Ai Weiwei Documentaries
The Hammer presents three days of documentaries about and by China's most famous international artist and its most outspoken domestic critic—Ai Weiwei. Ai's detainment for three months in a secret detention center sparked a global outcry from human rights activists and the art world. 
Never Sorry
Monday, September 24, 7:30PM

Chang'an Boulevard by Ai Weiwei
Tuesday, September 25, 11:00AM-8:00PM
Disturbing the Peace by Ai Weiwei
Tuesday, September 25, 7:30PM
Beijing The Second Ring & The Third Ring by Ai Weiwei
Wednesday, September 26, 11:00AM-8:00PM
One Recluse by Ai Weiwei
Wednesday, September 26, 7:30PM
All Hammer public programs are free and made possible by a major gift from the Dream Fund at UCLA.
Generous support is also provided by Susan Bay Nimoy and Leonard Nimoy, the Simms/Mann Family Foundation, The Brotman Foundation of California, Good Works Foundation and Laura Donnelley, and all Hammer members.