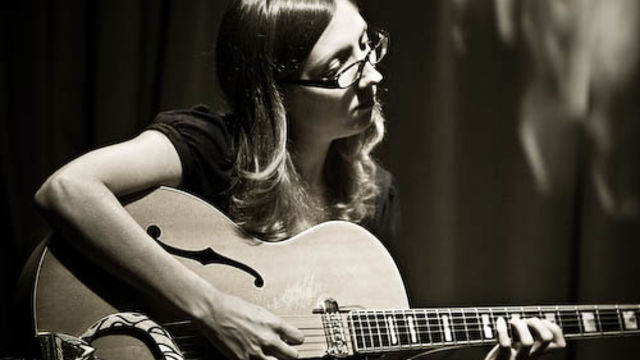 JazzPOP: Mary Halvorson Trio
Friday
Aug 7, 2009
8:00 PM to 10:00 PM
This is a past program
"Light years ahead of her peers, (Halvorson) is the most impressive guitarist of her generation. The future of jazz guitar starts here." —Troy Collins, All About Jazz
"Probably the most original jazz guitarist to emerge this decade." —Peter Margasak, Chicago Reader
Brooklyn-based guitarist Mary Halvorson shreds, and also surprises. Her music bristles with intensity and density, yet also simmers with clarity and focus. The young bandleader, whose compositions combine intricate song forms with magnetic group improvisation, chamber stillness and visceral rock attitude, cites influences as diverse as Eric Dolphy, Jimi Hendrix and Anthony Braxton, but the angular rhythms, gnarly textures and elastic harmonies of her music sound strikingly original. Halvorson's debut trio recording appeared prominently on many jazz critics' "Best of" lists for 2008, including the New York Times and Time Out New York.
JAZZPop
Now in its fourth year, JAZZPop returns to the Hammer courtyard for three Thursdays of jazz without boundaries. Veteran artists and bold new voices present a series of free performances of original, adventurous music that combines inventive composition with improvisational prowess and propulsive groove. JAZZPOP draws on influences as far-ranging as jagged noise rock, impressionistic electric jazz, moody country blues and gutbucket soul, to re-imagine jazz as a music of our contemporary moment.
Organized by San Francisco musician and curator Lisa Mezzacappa.
ALL HAMMER PUBLIC PROGRAMS ARE FREE. Seating is on a first come, first served basis. Hammer members receive priority seating, subject to availability. Reservations not accepted, RSVPs not required.
Parking is available under the museum for $3 after 6:00p.m.
Public programs are made possible, in part, by a major gift from Ann and Jerry Moss. 
Additional support is provided by Bronya and Andrew Galef, Good Works Foundation and Laura Donnelley, an anonymous donor, and the Hammer Programs Committee.