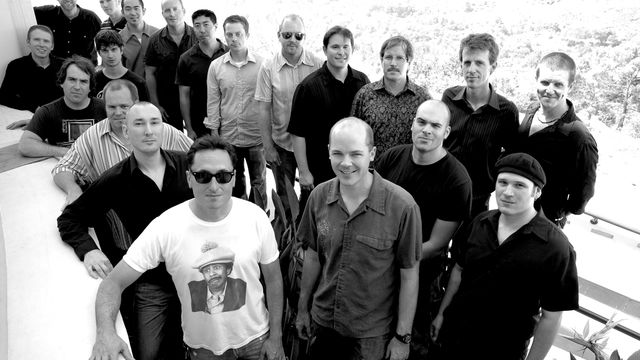 JazzPOP: Los Angeles Jazz Collective with Special Guest Anthony Wilson
Friday
Jul 31, 2009
8:00 PM to 10:00 PM
This is a past program
". . .L.A.'s new jazz on display, with some fine veteran company in the mix. The young cats can be hard to find, playing little joints on under-publicized nights around downtown, but this time, the LAJC has flipped on the lights. Check it out." —Brick Wahl, LA Weekly
The LA Jazz Collective boasts the creative output of more than a dozen area jazz artists who represent some of the best and brightest voices in the music today. Co-founded by pianist Gary Fukushima and saxophonist Matt Otto, the group is committed to bringing the highly original and eclectic music of LA's indie jazz community, often overshadowed by the city's massive commercial music industry, out from the underground and into the light of day. At the Hammer, the LAJC showcases the imaginative compositions and superb musicianship of some of its core members, including guitarist Anthony Wilson, saxophonist Walter Smith, pianist Joe Bagg, trumpeter Brian Swartz, drummer Jason Harnell, and guitarist Jamie Rosenn.
JAZZPop
Now in its fourth year, JAZZPop returns to the Hammer courtyard for three Thursdays of jazz without boundaries. Veteran artists and bold new voices present a series of free performances of original, adventurous music that combines inventive composition with improvisational prowess and propulsive groove. JAZZPOP draws on influences as far-ranging as jagged noise rock, impressionistic electric jazz, moody country blues and gutbucket soul, to re-imagine jazz as a music of our contemporary moment.
Organized by San Francisco musician and curator Lisa Mezzacappa.
ALL HAMMER PUBLIC PROGRAMS ARE FREE. Seating is on a first come, first served basis. Hammer members receive priority seating, subject to availability. Reservations not accepted, RSVPs not required.
Parking is available under the museum for $3 after 6:00p.m.
Public programs are made possible, in part, by a major gift from Ann and Jerry Moss. 
Additional support is provided by Bronya and Andrew Galef, Good Works Foundation and Laura Donnelley, an anonymous donor, and the Hammer Programs Committee.