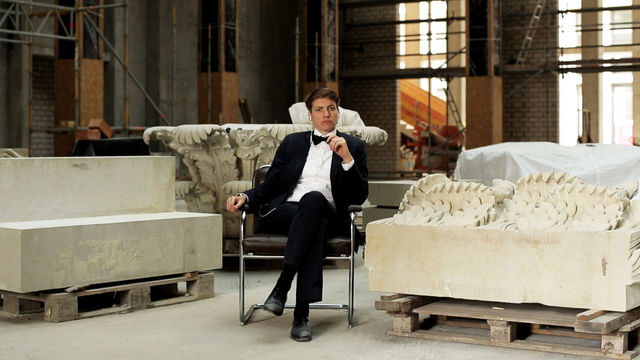 Kerstin Honeit, my castle your castle, 2017. Single-channel video, 15 min. Selected by Video-Forum, Neuer Berliner Kunstverein (n.b.k.)
my castle your castle by Kerstin Honeit focuses on the debate about the reconstruction of the Berlin Palace on the foundation of the Palace of the Republic, the former seat of the People's Chamber, the legislature of the German Democratic Republic (East Germany). Honeit invites two of the craftsmen involved in the construction and demolition of the palace to a conversation at the palace construction site. The setting plays with the ambience of a television talk show and thus underscores the stage-like nature of the large construction site, which serves as a platform for a wide variety of stakeholders and interest groups. A musical interlude by two queer cowboys interrupts and caricatures this reference. The castle as an identity-forming building of national importance is thus reoccupied as a space by protagonists whose voices are otherwise lost in the debate.
Artist Q&A
Where are you from and how did you become interested in moving image work?
I was born and raised in Berlin where I grew up watching a lot of television. It was the 1980s and I was able to flick between images of capitalism and socialism. The meeting of these two opposed worlds in the same television set, disgorging their mixed messages into my living room, fascinated me from early on and shaped my interest in the production of moving images.
What inspired/influenced you to make the work?
I still live in Berlin and I usually find the stories and political issues I am interested in literally outside my front door. The drastic changes this city has experienced during the last 30 years since the wall came down, for example, are impossible to overlook and have almost rendered the city unrecognizable. Neoliberal urban planning policies, gentrification, as well as large reactionary building projects like the resurrection of the Prussian city palace, create a city exclusively for tourists and the rich, while long-established communities are pushed out. Nevertheless, there is still a lot of activist energy left in the city to fight against investors and rampant privatization. There is currently a huge campaign for a referendum to de-privatize 240,000 apartments, bringing them under public control. These gestures of resistance—and also solidarity–inspire me.
Biography
Kerstin Honeit (German, b. 1977) works as a filmmaker and artist with different forms of staging. Honeit's artistic research focuses on the investigation of representational mechanisms in the production of hegemonic imagery in connection with cultural and linguistic modes of translation, especially in the cinematographic context. Her works have been shown at HMKV Dortmund, International Short Film Festival São Paulo, Ruhrtriennale, Kunsthalle Rostock, Off Biennale Cairo, Videoart at Midnight, MMOMA - D'EST, HKW Berlin, SixtyEight Art Institute Kopenhagen, Kunstmuseum Bonn, and many more.