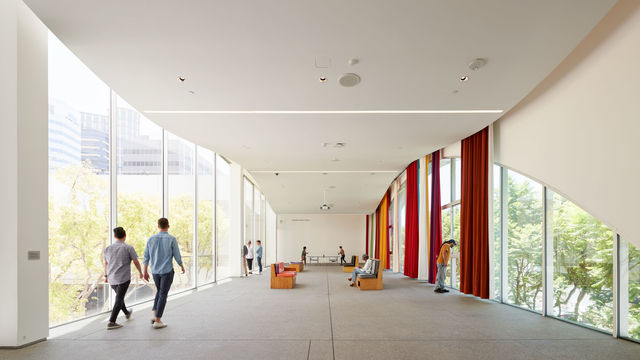 Capital Campaign
In support of its ambitious transformation plan, the Hammer Museum announced the launch of a $180 million capital campaign in February 2018. The announcement coincided with a lead gift of $30 million from L.A. philanthropists Lynda and Stewart Resnick—the largest in the museum's history. In recognition of this generous gift, the Hammer's building will be dedicated as the Lynda and Stewart Resnick Cultural Center.
Of the $180 million goal, approximately $90 million will support the building project. The remaining $90 million will expand the Hammer's endowment and support its acclaimed programs and exhibitions. The campaign was initiated by a generous inaugural gift of $20 million from trailblazing television producer Marcy Carsey, who has served as board chair since 2014. Other major support has come from the museum's Board of Directors and Board of Overseers, as well as other generous families and foundations in Los Angeles. To date, the campaign has raised over $150 million.
It is with great appreciation that the Hammer thanks the generous supporters of its capital campaign.
Capital Campaign
Lynda and Stewart Resnick
Marcy Carsey
Annenberg Foundation
Erika J Glazer
Jarl & Pamela Mohn
Susan Bay Nimoy and Leonard Nimoy
Anthony & Jeanne Pritzker Family Foundation
Darren Star
The Audrey and Sydney Irmas Charitable Foundation
Linda and Jerry Janger
Estate of Margo Leavin
Leslie and Bill McMorrow
Y & S Nazarian Family Foundation
Chara Schreyer
Robert Soros
The Ahmanson Foundation
Jiwon Choi and Steven Song
Beth Rudin DeWoody and The May and Samuel Rudin Family Foundation
Alice and Nahum Lainer Family Foundation
Susan and Larry Marx
Cindy Miscikowski
The Joy and Jerry Monkarsh Family Foundation
Chip and Kathleen Rosenbloom
Catherine Glynn Benkaim and Barbara Timmer
Shana Eddy-Grouf and Nick Grouf
Carla Emil and Rich Silverstein
Eric and Melina Esrailian
The Fran and Ray Stark Foundation
Linda and Bob Gersh
Bill Hair
Karen Hillenburg
Jill and Peter Kraus
Dori Peterman Mostov and Charles H. Mostov
The Ralph M. Parsons Foundation
Michael Rubel and Kristin Rey
Susan Steinhauser, Daniel Greenberg and The Greenberg Foundation
Jill and John Walsh
Ron Watson
Ann Soh Woods
Artist Fund Contributors
Kevin Beasley
Larry Bell
Andrea Bowers
Frank Bowling
Mark Bradford
Cecily Brown
Vija Celmins
Judy Chicago
Jimmie Durham
Charles Gaines
Robert Gober
Mark Grotjahn
Jennifer Guidi
Jim Hodges
Max Hooper Schneider
Luchita Hurtado
Rashid Johnson
Barbara Kruger
Shio Kusaka
Glenn Ligon
Sarah Lucas
Tala Madani
Brice Marden
Nathaniel Mary Quinn
Marisa Merz
Meleko Mokgosi
Catherine Opie
Gabriel Orozco
Laura Owens
Raymond Pettibon
Lari Pittman
Sigmar Polke
Christina Quarles
Charles Ray
Sterling Ruby
Ed Ruscha
Analia Saban
Kenny Scharf
Cindy Sherman
Lorna Simpson
Haim Steinbach
Kaari Upson
Henry Taylor
Kara Walker
Mary Weatherford
Ai Weiwei
Jonas Wood
Contact
To learn more about the campaign and transformation please contact campaign@hammer.ucla.edu.
Image: Rendering of the Hammer's new gallery space (Courtesy Michael Maltzan Architecture)