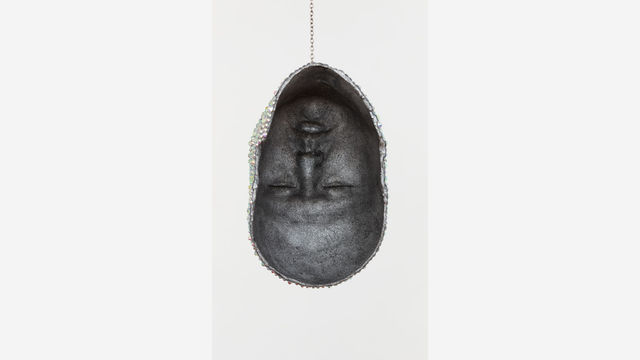 In their sculptural practice, Young Joon Kwak frequently constructs works from cast bodies that are abstracted through cropping, bold color, and texture. Recently they have been working on reverse-cast "skin" pieces, delicate vessels that capture the impressions of members of their community. By covering these bodily forms with a layer of glittering rhinestones, Kwak seeks to change the way viewers look at bodies in the first place. In using a material derived from drag culture, they suggest both hypervisibility and the pleasure in and need for camouflage. Kwak's object-based practice grew out of their work as a drag performer and lead singer of the "drag-electronic-dance-noise band" Xina Xurner, created with their partner Marvin Astorga in 2011.
Recently Kwak's interest in abstracted forms has extended to rhinestone-covered paintings of color-changing chameleon skins that appear to shift in form and color with the movement of the viewer. Abstraction disorients the moment of recognition wherein identity and meaning are assigned to a body. Kwak understands their work to be exploring the transitional nature of all bodies but in particular the experience of living in a trans body.
Young Joon Kwak (b. 1984, Queens, New York) received a BFA from the School of the Art Institute of Chicago in 2007, an MA from the University of Chicago in 2010, and an MFA from the University of Southern California in 2014. Kwak is the founder of Mutant Salon, a roving beauty salon and platform for collaborative performances and installations with their community of queer/trans/POC artists and performers. Kwak is also lead performer in the electronic-dance-noise band Xina Xurner. Their work has been shown in solo exhibitions at Arko Art Center, Seoul (2022); Korean Cultural Center, Los Angeles (2021); Commonwealth and Council, Los Angeles (2021, 2017, 2016, 2014); Los Angeles Contemporary Exhibitions (2018); and Walter Phillips Gallery, Banff Centre, Alberta, Canada (2018). Group exhibitions and performances include those at Hauser & Wirth, New York (2021); Antenna Space, Shanghai (2019); CCA Wattis Institute for Contemporary Arts, San Francisco (2019); 47 Canal, New York (2018); Anonymous Gallery, Mexico City (2018); Museo de Arte de la Universidad Nacional de Colombia, Bogotá (2018); Hammer Museum, Los Angeles (2016); The Broad, Los Angeles (2016); and Le Pavillon Vendôme–Centre d'Art Contemporain, Clichy, France (2016).