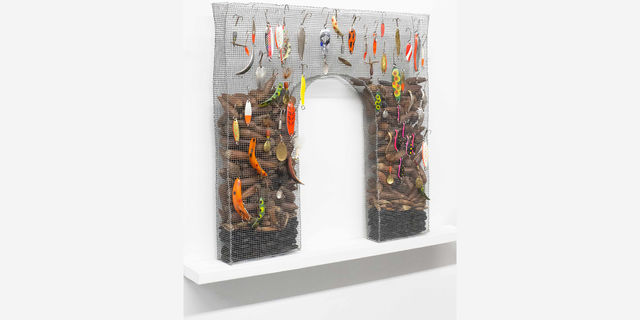 Miller Robinson employs a combination of handcrafted, found, and industrially produced objects to create intimately scaled works that challenge ideas of permanence and the separation of ourselves from the world around us. Robinson's practice is informed by an expansive interest in the history of art making and craft and grounded in a worldview drawn from its Karuk and Yurok heritage, shaped by a belief that self and identity are unfixed. Following the practices of the Karuk and Yurok languages, which do not use gendered pronouns, Robinson uses the pronouns it and its, reflecting an approach to selfhood that is not rooted in colonial Western binaries and perimeters. This extends to its art practice, in which there is a constant dialogue between material, object, and self, in which each can influence and shape the other.
Robinson's objects are made from diverse materials from the real world that are tied to its life and experiences, such as fishing lures, egg yolks, testosterone, and its own blood and hair. Silicone rubber that is treated to look like salmon skin recurs in a number of works, a reference to the critical role salmon play as sustenance and within cultural practices for Karuk and Yurok people. These individual objects can be combined into larger installations and often changed through performances. This form of personal ritual and engagement with artworks as things meant to be activated and to undergo change embodies the artist's belief in the open and evolving nature of life and self. These objects and actions reflect the ways in which we connect to our world, creating meaning for ourselves and our communities from the materials of our lives.
Bio
Miller Robinson (b. 1980, Redwood City, California) received a BFA from Otis College of Art and Design in 2014. They have performed and exhibited at Craft Contemporary, Los Angeles (2022); Transmitter, Brooklyn (2020); Furth Yashar &, Los Angeles (2020); Visitor Welcome Center, Los Angeles (2020); Southwest Museum, Los Angeles (2019, 2018); 1410 Pleasant Ave., Los Angeles (2016); and PES Artist in Residence Program, Project for Empty Space, Los Angeles (2015). Robinson is a recipient of the Los Angeles Artadia Award (2022).