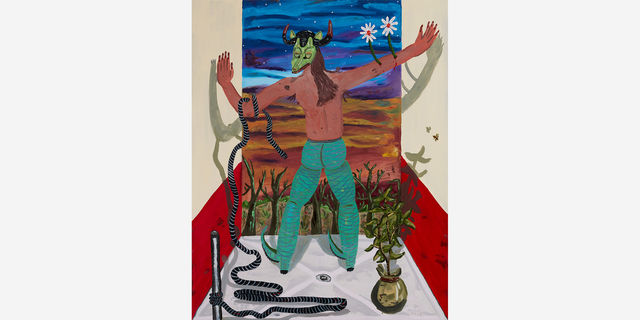 Marcel Alcalá uses a bright, flat style to depict imagined scenes that hover between surreal myth and everyday life, revealing humor and tragedy on the same canvas. The artist's aesthetic draws on folk traditions, and their compositions are full of symbols that point to Mexican history and landscape as well as their own family history and life in Los Angeles. Alcalá frequently paints brown genderqueer or nonbinary bodies inspired in part by their community and experiences of queer nightlife. 
Alcalá is also a performer and writer who took on the guise of an irreverent alter ego named Payasa (the feminine form of the Spanish word for "clown") in their early performance works. Alcalá's performances are often a medium for talking about things that they feel are otherwise unacceptable to voice, including thoughts about race and gender politics, reflecting their experiences as a Mexican American raised in Santa Ana with family in Jalisco.
Bio
Marcel Alcalá (b. 1990, Santa Ana, California) received a BFA from the School of the Art Institute of Chicago in 2012. Their work has been included in recent solo exhibitions at Night Gallery, Los Angeles (2020); Mickey Gallery, Chicago (2019); Deli Gallery, New York (2018); and Galerie Frangulyan, Paris (2018). Recent group exhi¬bitions were held at the Mistake Room, Los Angeles (2022); Lyles & King, New York (2022); Anat Egbi, Los Angeles (2021); Ballroom Marfa, Texas (2019); Simon Lee Gallery, New York (2019); and Swiss Institute, New York (2018), among other venues. They were an artist-in-residence at the Skowhegan School of Painting and Sculpture (2022).