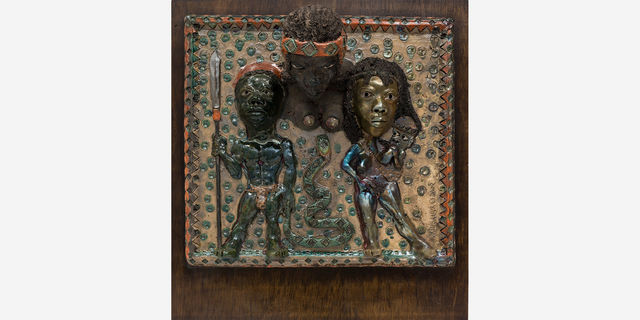 Like many of the other artists represented in this exhibition, Akinsanya Kambon creates objects that are vehicles, both materially and symbolically, for histories that have often been suppressed by forces of colonization and subjugation. Having worked in clay for almost four decades, Kambon creates sculptures in the form of vessels, figures, and wall plaques. These ceramics are visual entries into narratives of the Black diaspora, including African histories and mythologies as well as stories of violence and revolution from throughout Africa and the Americas. Kambon has made it his life's work to study and share these histories, highlighting everyday lives, historical achievements, the ever-present specter of violence, and acts of resistance.
Kambon was lieutenant of culture for the Sacramento chapter of the Black Panther Party, a radical Black political group active in the US during the 1960s and 1970s. The ideology of Black Power and its belief in the value of culture as a necessary tool in political and social liberation are closely aligned with the artist's beliefs. His work is a continuation of this legacy and an expression of the resilience and resistance of the Black diaspora across centuries.
Bio
Akinsanya Kambon (b. 1946, Sacramento) earned a BA and an MA from California State University, Fresno, in 1974 and 1976, respectively. Solo exhibitions include those at Jack Shainman Gallery, New York (2022); Crocker Art Museum, Sacramento (2020); Pan African Art Gallery & Studio, Long Beach, California (1991); and the Oak Park School of Afro-American Thought, Sacramento City College (1969). Recent group exhibitions include those at Oakland Museum of California (2016) and Joyce Gordon Gallery, Oakland (2016). He is the recipient of awards from the National Council on Education for the Ceramic Arts (2022); City of Long Beach (1996, 1994); County of Los Angeles (1994); and California Wellness Foundation, Violence Prevention Initiative (1993).