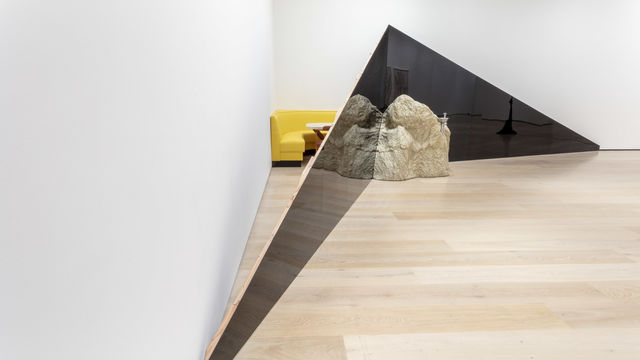 The Los Angeles–born sculptor Patrick Jackson works with both discrete objects and immersive installations. His practice often involves interventions in the architecture of the gallery space to evoke a psychologically charged alternative environment. These installations possess a cinematic, "back-lot" quality—an uncanny rendering of reality. Literature and theory are also central to Jackson's work; his projects are invested in unpacking a complex network of cultural references.
Jackson's Proposal for a Monument examines the ability of public sculpture to communicate to both present and future populations and to be, as Carl Sagan wrote in a different context, "a symbol invariant of all [the] possible changes." Jackson aggregates objects around the geometric structure: a "rock," a drinking fountain, original furniture made by his grandfather for the Culver City house where both Jackson and his mother grew up. These additional elements counter the monumental ambition of the sculpture but simultaneously present meaningful objects, ones that we touch, gather around, and remember.
In Made in L.A. 2020: a version, the artist's work is present in two institutions, across Los Angeles. See Patrick Jackson's work on view at The Huntington.
Biography
Patrick Jackson was born in 1978 in Los Angeles. He earned his BFA at the San Francisco Art Institute and his MFA at the University of Southern California. Jackson works primarily as a sculptor, creating both discrete objects and immersive installations, occasionally altering the space of the museum/gallery to evoke eerie alternative environments that elicit psychoanalytic readings. In this manner his work considers the material nature of objects and architecture, the relationships of physical objects in space, and how viewers engage with and navigate an exhibition. His mixed-media environments possess a cinematic quality, akin to a stilled narrative. On multiple occasions Jackson has presented site-specific projects in his Los Angeles apartment complex, transforming his living space into exhibitions. Literature and theory are also central to his work; his projects are steeped in his cultural consumption. He outlines each of his exhibitions like a showrunner, pinning index cards to his studio wall, aggregating the language that informs his practice and subsequently piecing together texts and excerpts as source material and context. Jackson has had solo exhibitions at CCA Wattis Institute for Contemporary Arts, San Francisco (2017); François Ghebaly Gallery, Los Angeles (2016, 2013, 2008); and Nicole Klagsbrun Gallery, New York (2010).