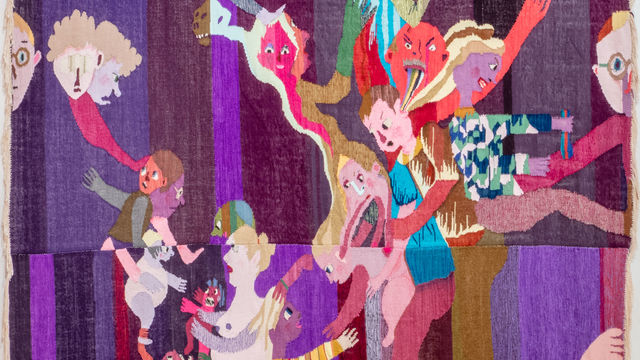 Christina Forrer's textile practice is rooted in classical tapestry, with her compositions taking inspiration from folk traditions and history painting. Yet her subject matter and style are purposely naive and expressively transgressive. Simultaneously playful and filled with dread, Forrer's works depict scenes of violence and torture, intermixed with hints of glee and joyous celebration. Her figures—with their large, cartoonish eyes and exaggerated features—argue with and assault one another. At the core of her work is a focus on human relationships, intimacy, and the collapse of communications, which create conflict, tension, and emotional unrest.
In two large-scale works produced for Made in L.A. 2020 (one on view at The Huntington and the other at the Hammer Museum), Forrer meditates on transference and trauma, considering how prejudice, anxiety, and strife can permeate generations—for example, from grandmother to mother to daughter—infectiously, via body language and mannerisms, and how these learned or genetically transmitted anxieties reverberate and perpetuate.
In Made in L.A. 2020: a version, the artist's work is present in two institutions, across Los Angeles. See Christina Forrer's work on view at The Huntington.
BIOGRAPHY
Christina Forrer was born in 1978 in Zurich. She creates tapestries, paintings, and works on paper depicting wildly dense scenes of conflict and debate. Crude figures argue, revolt, and assault one another; the compositions depict scenes of violence, torture, and aggressive embrace. The figures in Forrer's works possess large eyes, mouths agape, and aghast expressions; they appear to be generationally tied, as if all part of the same wild, comically horrifying family. Forrer's practice is rooted in a tradition of tapestry and invested in the materials that construct such works, carefully weaving in color to create eclectic palettes and crafty, abject characters. She has had solo exhibitions at Luhring Augustine, New York (2019); SCAD Museum of Art, Savannah (2019); Swiss Institute, New York (2017); The Finley, Los Angeles (2016); and Grice Bench, Los Angeles (2016; 2014). She has also participated in group exhibitions at Lever House, New York (2017); Jewish Museum, New York (2015); and Midway Contemporary, Minneapolis (2015).