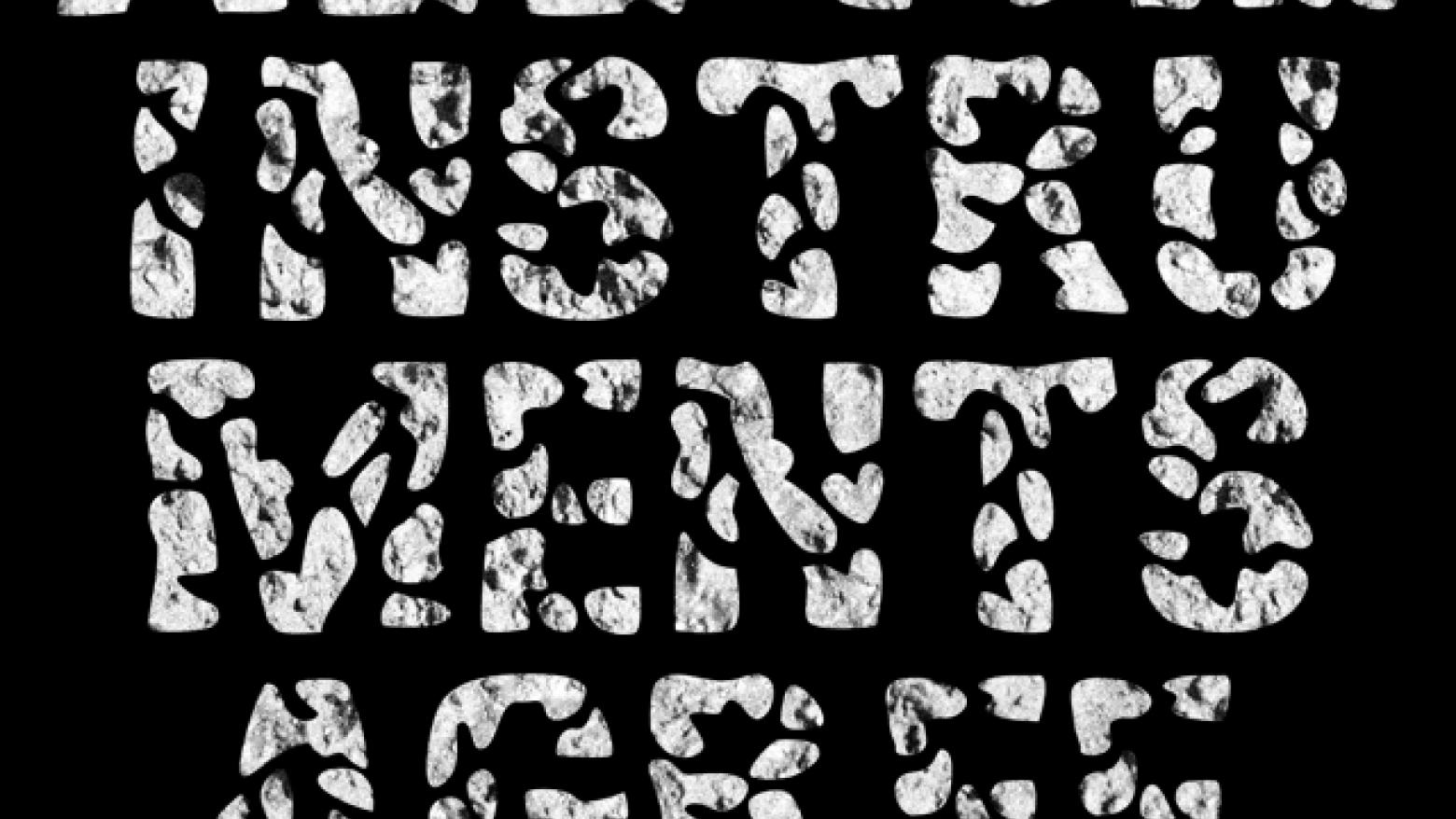 ALL THE INSTRUMENTS AGREE: an exhibition or a concert
Sunday
Sep 27, 2015
12:00 PM to 10:00 PM
This is a past program
SAT, SEPTEMBER 26, 2015: 12-10 PMSUN, SEPTEMBER 27, 2015: 12-10 PM
ALL THE INSTRUMENTS AGREE: an exhibition or a concert is a program of back-to-back live performances by local, national, and international sound artists, music collectives, art bands, and visual artists whose practices extend to the production of sound. Conceived as an exhibition in the form of a concert, the continuous program of performances will alternate between two outdoor stages in the Hammer courtyard. Spanning a range of influences, genres, and styles, participating artists include industrial music pioneer Genesis Breyer P-Orridge; Cairo-based artist Hassan Khan, whose live-mixed multi-track work Taraban will be performed for the first time in the U.S.; and GLITTERBUST, a new project by Kim Gordon and Alex Knost. ALL THE INSTRUMENTS AGREE brings together a variety of disparate approaches to underscore the unruliness, temporality, and communal nature of musical and sonic performance as an art form that is inherently at odds with the conventions of exhibition and display while remaining essential to the production and social sphere of contemporary art.
Cash bars will be available on-site throughout the day, with grab-and-go food options by Ammo from 12–5 p.m. and food trucks from 5–10 p.m.
This event will be streamed live online.
#ALLTHEINSTRUMENTS
Schedule
All times are approximate and subject to change.
Saturday
Afternoon: 12–4 p.m.
French Vanilla (Max Albeck, Ali Day, Sally Spitz, Daniel Trautfield)
Waiting to Exhale (Frank Benson, Erik Frydenborg, Ernest Gibson, Matt Johnson)
Simone Forti
The LAFMS Shoe (Dennis Duck, Ace Farren Ford, Joseph Hammer, Paul McCarthy, Fredrik Nilsen, Joe Potts, Rick Potts, Tom Recchion, Vetza)
Martin Creed
Xina Xurner (Marvin Astorga, Young Joon Kwak)
Evening: 4–7 p.m.
Odwalla 88 (Chloe Maratta, Flannery Silva)
Tarek Atoui
LOBOTOMAXXX featuring Ron Littles (Nathan Carter, Tony Cox, Matthew Ronay)
Concert (Chris Evans, Morten Norbye Halvorsen, Benjamin Seror)
Kisk (Paul Cherwick, Tony Fernandez, Antonio Ortiz, Jon Pylypchuk)
Night: 7–10 p.m.
Genesis Breyer P-Orridge
Landed (Bjorn Copeland, Shawn Greenlee, Matthew Johnson, Joel Kyack, Rick Pelletier, Dan St. Jacques)
GLITTERBUST (Kim Gordon, Alex Knost)
Learn more about the artists at the bottom of this page.
sunday
Afternoon: 12–4 p.m.
Abraham Cruzvillegas / RIVOAH (Matthew Groves, Paul Macis, Analisa Rivera, Miranda Rivera, Steven Rivera)
Joseph Hammer and William Leavitt
Active Pass (Paul Kajander, HaeAhn Kwon, Mike Loncaric)
Brendan Fowler
Tobias Spichtig and Paolo Thorsen-Nagel
Penis (Samara Davis, Sophia Cleary)
Isambard Kingston Brunel (Lawrence Abu Hamdan, Shakeeb Abu Hamdan)
Evening: 4–7 p.m.
The Bushes (Nick Lowe, Ry Rocklen)
Rodney Graham with Paul Rigby
Net Shaker (Erik Frydenborg, Ernest Gibson)
Adam Linder with Dzang
Night: 7–10 p.m.
Tashweesh (Basel Abbas, Ruanne Abou-Rahme, boikutt)
The God in Hackney (Andy Cooke, Dan Fox, Ashley Marlowe, Nathaniel Mellors)
Hassan Khan
Lonnie Holley with Aaron Embry, Walt McClements, and Stevie Nistor
Learn more about the artists at the bottom of this page.
ABOUT THE ARTISTS
Active Pass is a music project by the Canadian visual artist Paul Kajander.
Tarek Atoui is an electroacoustic musician, artist, and curator currently based in Paris.
The Los Angeles–based artists Nick Lowe and Ry Rocklen collaborate to form the rap duo The Bushes.
Concert is the musical side project of Chris Evans, Morten Norbye Halvorsen, and Benjamin Seror, whose debut album, Behave Like an Audience, was released in 2013 by Sternberg Press.
Martin Creed is a British artist and musician who performs regularly and has released eight studio albums. 
The Los Angeles-based band, RIVOAH (Matthew Groves, Paul Macis, Analisa Rivera,  Miranda Rivera, Steven Rivera), performs songs composed for lyrics contributed by the Mexico City-based artist Abraham Cruzvillegas. 
The Los Angeles–based dancer, artist, and writer Simone Forti sings a selection of "hippie gospel songs." 
Known for his earlier work as BARR, the Los Angeles–based artist Brendan Fowler cultivates a practice that includes the creation of sound and music while also emphasizing distribution though such platforms as the record label VR/DM8H493.
French Vanilla is a feminist art-punk band consisting of Max Albeck, Ali Day, Sally Spitz, and Daniel Trautfield.
GLITTERBUST is a musical side project and collaboration between Kim Gordon, a visual artist and cofounder of the band Sonic Youth, and Alex Knost, an artist and member of Tomorrows Tulips. 
The God in Hackney (Andy Cooke, Dan Fox, Ashley Marlow, and Nathaniel Mellors) constructs multidimensional music utilizing a broad range of tools and instruments, from the more typical drums, guitars, and synths to the less conventional shells, earth, teeth, and bits of trees.
The Vancouver-based contemporary artist Rodney Graham, a regarded practitioner of photo-based conceptual art and an integral member of the Rodney Graham Band, performs with the musician Paul Rigby.
The Birmingham, Alabama–based multimedia artist Lonnie Holley cultivates a soulful crooning vocal sound combined with fluid and seemingly improvisatory instrumentation.
Isambard Kingston Brunel is the industrial-noise side project of brothers Lawrence Abu Hamdan and Shakeeb Abu Hamdan (Keeby).
Working with image, sound, text, space, and situation, Hassan Khan creates multilayered performances that weave together electronica with classical Arabic instrumentation and vocalizations.
Formed as a tribute to Kiss—the ultimate performance-comeback rock band—KISK is the brainchild of artists and musicians Paul Cherwick, Tony Fernandez, Antonio Ortiz, and Jon Pylypchuk. 
Landed—formed in 1997 in Providence, Rhode Island, by Shawn Greenlee, Joel Kyack, and Dan St. Jacques—is known for its experimental rhythmic noise and physically intense live performances.
Maintaining individual practices, Joseph Hammer and William Leavitt perform together to create improvisatory sounds generated from experimental electroacoustic instrumentation.
Choreographer Adam Linder performs a medley of music composed for the stage and a recently released EP.
LOBOTOMAXXX featuring Ron Littles, a new music project by Nathan Carter and Matthew Ronay (formerly of the Final Run-Ins) and Tony Cox, combines elements of heavy electronic boom-bap with freestyle oratory by Ron Littles.
Since the early 1970s the Los Angeles Free Music Society (LAFMS) has referred to a loose collective of experimental musicians united by an aesthetic of radicalism and playfulness. 
Net Shaker, a musical side project of the artist Erik Frydenborg and the musician Ernest Gibson, exists between pop and experimental sound in the outlands of postindustrial music.
Chloe Maratta and Flannery Silva's Odwalla 88 is an experimental noise project cultivating a sound somewhere between spoken word and electronic poetry. 
Penis, a self-described feminist punk band formed by Samara Davis and Sophia Clearly, is inspired by the riot grrrl groundswell of the 1990s while maintaining a commitment to transformation, both cultural and musical.  
Having fronted the pioneering industrial rock band Throbbing Gristle, Genesis Breyer P-Orridge is an English singer-songwriter, musician, poet, and performance and visual artist who has been regarded as a provocateur and an icon of the British avant-garde since the early 1970s.
Artists Tobias Spichtig and Paolo Thorsen-Nagel use sound and voice in expected and unexpected ways.
Tashweesh is a collaboration between the visual artists Basel Abbas and Ruanne Abou-Rahme and the musician boikutt that experiments with a variety of musical forms, including live instrumentation, vocalizations, field recordings, and archival materials.
Formed by Matt Johnson, Frank Benson, Erik Frydenborg, and Ernest Gibson, Waiting to Exhale is an improvisational music group that has not performed since 2002, when Frydenborg and Gibson moved to Los Angeles, joining Johnson and Benson, who were enrolled in the MFA program at UCLA.
Xina Xurner is a drag–noise–dance music and performance collaboration between Marvin Astorga and Young Joon Kwak.
ATTENDING THIS PROGRAM?
ALL HAMMER PROGRAMS ARE FREE
Location: Courtyard 
Ticketing: This drop-in program is not ticketed.
Parking: Under the museum, $3 flat rate (cash only)
ALL THE INSTRUMENTS AGREE is organized by Aram Moshayedi, curator, with January Parkos Arnall, curatorial assistant, Public Engagement. 
ALL THE INSTRUMENTS AGREE is made possible by the Teiger Foundation. Additional support is provided by Richard Massey and the Danielson Foundation.
Media sponsorship is provided by Hyperallergic.

Special thanks to 303 Gallery, New York; the French Mission for Culture and Higher Education; Galerie Bernhard, Zürich; Galerie Chantal Crousel, Paris; Karyn Kohl; Office for Contemporary Art Norway; and the Young Arab Theater Fund.