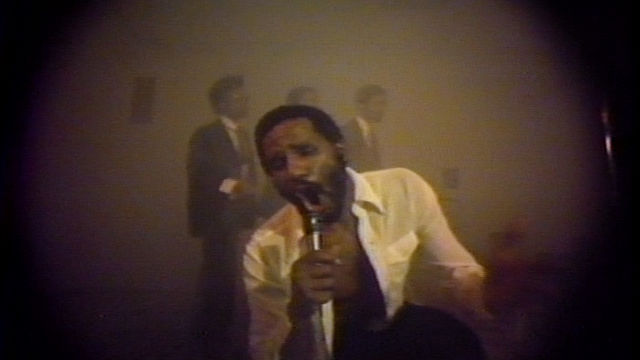 Ulysses Jenkins: Without Your Interpretation
–

This is a past exhibition
The Hammer will be open 2–8 p.m. on Sunday, May 15. The museum will be closed for a special fundraiser event 11 a.m.–2 p.m.
The first major retrospective of the groundbreaking video and performance artist.
A pivotal influence on contemporary art for over 50 years, Ulysses Jenkins (b. 1946, Los Angeles) is a groundbreaking video artist who emerged in the late-1970s. His video and media work is remarkable for its fusion of forms to conjure vibrant expressions of how image, sound, and cultural iconography inform representation. Using archival footage, photographs, image processing, and elegiac soundtracks, Jenkins pulls together strands of thought to construct an "other" history that consistently interrogates questions of race and gender as they relate to ritual, history, and state power.
Beginning as a painter and muralist, Jenkins was introduced to video just as the first consumer cameras were made available to individuals, and he quickly seized upon television technology as a means to broadcast alternative and critical depictions of multiculturalism—citing the catalyst of Melvin Van Peebles's Sweet Sweetback's Baadasssss Song (1971) and its call to Black filmmakers to control their subject-hood by controlling the media depicting them. Adopting the role of a "video griot," Jenkins draws upon the inspiration of oral traditions in videos that are often structured around music and poetic recitation, as well as dynamic performances.
From Jenkins's work with Video Venice News, an L.A. media collective he founded in the early 1970s, to his involvement with the artist group Studio Z (alongside David Hammons, Senga Nengudi, and Maren Hassinger), to his individual video and performance works with Othervisions Studio, Jenkins explicitly comments on how white supremacy is embedded in popular culture and how that effects subjectivity. Throughout his career, Jenkins studied under Charles White, Chris Burden, and Betye Saar, and has worked collaboratively with a plethora of artists including Kerry James Marshall, who performed in Jenkins's influential video Two-Zone Transfer (1979); Hammons, who was the subject of the documentary film King David (1978); and Nengudi and Hassinger, who both appeared in Jenkins's video Dream City (1981).
Requiring three years of intensive research by the curators involving studio visits, digitizing a sprawling archive, and conversations with Jenkins and his collaborators, the exhibition was organized closely with the artist. This first major retrospective encompasses a broad range of Jenkins's video pieces, collaborative works, mural paintings, photography, and performances highlighting the scope of the artist's practice.
Among the many video works included in the exhibition is Mass of Images (1978), a groundbreaking piece considered one of the first works in the genre by a Black artist. In the video, Jenkins critiques the media's role in perpetuating racist and harmful images of Black people in America. This and many other video works and performances included in the exhibition are grounded in the issues at the heart of current conversations regarding inequality and environmental devastation amplified by unchecked capitalism, governmental oppression, and systemic racism's impact on Black cultural production.
Technology's role in building community is a primary concern across Jenkins's work. Just as he innovatively used nascent technology to address pressing issues of his day, the exhibition utilizes current technology to capture the artist's original intent to foster international collaboration, increase access to shared experiences, and provide a platform for marginalized voices.
Cited as a major influence by many emerging Black video artists who came of age in the 1990s and early 2000s, Jenkins's prescient work is only now being revisited by scholars and curators. The political and social commentary present in Jenkins's work makes it particularly relevant in today's context, such as the importance of Native American cultural production in Being Witness: The Haida Project (1990), interrogations of Black stereotypes in the American entertainment industry in Mass of Images (1978) and Two Zone Transfer (1979), and calls to protect the rights of Indigenous groups and champion environmental conservation in Bay Window (1991) and Talking Hut (1994).
The exhibition is accompanied by the first publication devoted to the artist's work, jointly produced by ICA and the Hammer, and designed by Los Angeles–based design studio ELLA. The publication features contributions by exhibition curators Erin Christovale and Meg Onli, as well as by Ikechukwu Onyewuenyi. Also included will be a reprint of "Written and Bitten: Ulysses Jenkins and the Non-Ontology of Blackness" by the scholar and artist Aria Dean and reflections by the artists David Hammons, Maren Hassinger, Senga Nengudi, Kerry James Marshall, Cauleen Smith, May Sun, and the art historian and curator Kellie Jones.
Learn more about Ulysses Jenkins by downloading the free Bloomberg Connects museum guide. The guide features audio commentary, video, and more—plus content from more than 50 other museums worldwide.
Ulysses Jenkins: Without Your Interpretation was co‐organized by the Hammer Museum, Los Angeles, and the Institute of Contemporary Art, University of Pennsylvania.
The exhibition is organized by Meg Onli, Andrea B. Laporte Associate Curator, Institute of Contemporary Art, University of Pennsylvania, and Erin Christovale, Associate Curator, Hammer Museum with Ikechukwu Onyewuenyi, Curatorial Assistant.
Ulysses Jenkins: Without Your Interpretation is supported by Pamela J. Joyner and Alfred J. Giuffrida and by Lyndon J. Barrois and Janine Sherman Barrois.
Original support for Ulysses Jenkins was provided by The Pew Center for Arts & Heritage, Philadelphia.